Whether you're baking in the kitchen or wrapping presents in front of the fire, there's nothing better than a holly jolly Christmas playlist to keep you company!
I polled some friends for their Christmas music favorites and kicked off a magnificent Spotify playlist of holiday cheer. It's a few hours long and growing … because who like repeats? With classics from The Nutcracker and Ella Fitzgerald to the gorgeous crooning of Lauren Daigle and Audrey Assad, this playlist is hoppin'! And the Pentatonix … you know I included them!
Ready to listen? You'll find the playlist here >>> The Perfect Christmas Playlist.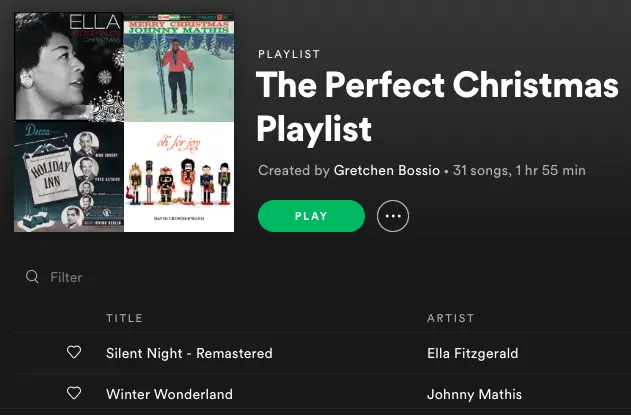 Lea Michele's Christmas in New York is absolutely gorgeous and for years I've loved Point of Grace's rendition of O Holy Night. And I couldn't leave out Gwen Stefani and Blake Shelton's You Make It Feel Like Christmas! There are plenty of classics too. Classics make Christmas what it is! Do you have a favorite Christmas song? I'd love to hear … and add it to this Christmas playlist for us all to enjoy!
This line up of songs pairs perfectly with casual Christmas parties and holiday art projects at the table … like these crafts! We've had it on loop and I just love hearing my kids singing along to the sounds of the season. There is just nothing like good Christmas music!