Four years ago I was in the middle of my maternity leave and pumping like crazy to prepare for my return to work the first week of February. I was nervous; anxious even. How would I pump enough? How would I emotionally handle being away from my baby? How would I balance work and motherhood?
Truly, if I learned anything, it was to take things one day at a time. Nursing is an ever-evolving relationship, trying to plan 6 months in the future isn't realistic. 6 weeks is even a stretch. Planning for tomorrow, now that's doable. Ample support is a must too. Knowing you're not alone and that other mamas are transversing the road of working away from home while nurturing a breastfeeding relationship is the breath of fresh air many of us need.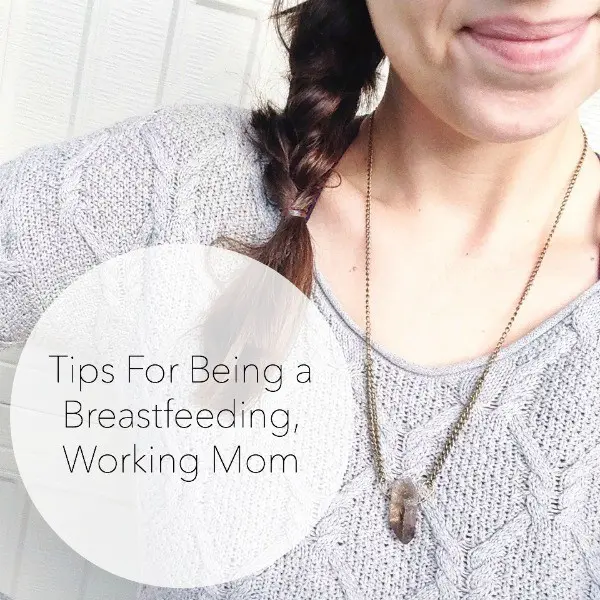 I collaborated with a few wise mamas who have, or who are currently, juggling a breastfed little one and working hours. Here are their tips!
The best thing I did was having a quiet, peaceful place at work to pump, no interruptions. – Diane
My husband comes to have lunch with me so I can nurse! -Pamalee
With my first I worked outside of the house 3 days a week, but I kept my hours to 6 hours a day. These shorter hours are the only way I was able to have him drink mama's milk exclusively to one year. It was hard to keep up! Double pumping bra and a car charger adapter were my best friends, just throw a towel over the boobers or the truckers will stare 🙂 -Oonagh
I put in my schedule my pump times so people know NO meetings. I have her picture all over the place. I use Joy essential oil (YL) and that really helps when I'm having a hard day. My hubby is home with her so he has brought her in on my lunch break to nurse. – Katiedawn
My little won't take a bottle. So we nurse all night which I think helps my supply. I work four 10s so I try to pump 2 to 3 times a day [to maintain my supply]. – Jeanette
I had a sign made for our mothers room door so nobody will bother me. I watch the newest video I took of her a few times to trigger letdown, then I try to relax. But I also nurse all night on demand and eat lots of foods that help with production… Beans, lentils, beets, basil, barley beer (wow, lots of Bs) and drink lots of water. -Kati
I started pumping the day my milk came in (both times) and started my freezer stock right away. I would nurse at drop-off and at pick-up and pump once during my lunch break. I nursed my firstborn for 31 months and am still nursing my second (21 months now). The thing that helped me most was keeping a schedule. – Brittany
Preparation! I switched to co-sleeping at night so I could nurse a lot and keep up milk supply while still getting lots of sleep. A double electric breastmilk pump is a must, along with a small cooler to schlep milk home, a tupperware container for storing pump parts in the fridge between pump sessions (so you don't have to wash), and a nice, bigger purse for carrying everything around in a stylish manner (I got Mat & Nat diaper bag and its perfect). I leave my electric pump at work and if I need to, I use a my hand pump at home. Oh yes, and a hands-free pumping bra! I work on my laptop while pumping. – Laura
Other great resources to browse …
Foods to help you boost supply – here's a post with lots of ideas!
How Can We Preserve the Nursing Relationship When Returning To Work Earlier Than Expected?
If you've experienced breastfeeding loss in any way, this post will help heal your heart for sure.
P.S. I'm sure many of you are wondering about my necklace in the photo above … it's a favorite of mine from Archer + Hare!
Are you inspired? Feeling a part of an awesome community of mamas who are in the same boat as you? What tips would you add from your experience?