When your child is ready to enter kindergarten, this marks a huge transition in their life, but with the right tips and some planning, it can be effortless and easy! So we're sharing ten tips with you on making this new stage a little easier for everyone.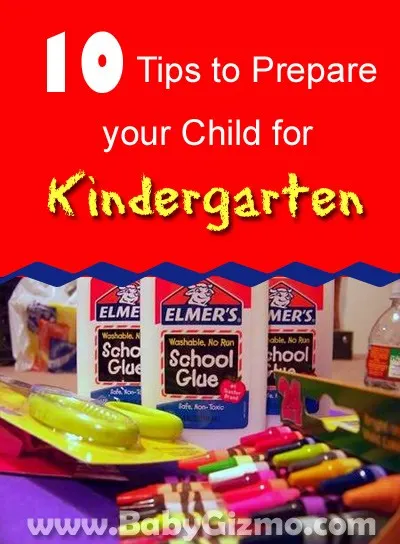 1. Build social skills. Provide your child with plenty of opportunities to spend time with other children playing and talking. The more your children get to interact with other children before they go to school, the more they will learn and the more their social skills will improve. Simply taking your children to playgrounds and setting up play dates can make a world of difference.
2. Start a schedule. Maintaining a daily routine will help those early school days go more smoothly.
3. Start teaching them now. Prepare your children for school by teaching them all of their letters and numbers, cutting, writing their name, and other simple things before they go. Start with some kindergarten prep books.
4. Read to your child everyday. This encourages them to make up their own stories, and enhances their reading and language skills from a young age. Here are 10 great books for kindergarten to get you started.
5. Talk about it. Pump your kids up about school and let them know how much fun it will be! Encourage them and talk only about the positive things. Just don't talk about it so much that it becomes anxiety for them.
6. Go for a visit. It helps to visit the school your child is going to attend, so they can familiarize themselves with their new environment, the classroom and the teacher. It will make the first day so much less scary.
7. Get to know other kindergarteners. If at all possible, organize a play date with some other kids who will be in your child's class so they already have friends they know on the first day.
8. Practice everyday activities. If your child has never been to school before, practice everyday activities with them like using the bathroom on their own, taking off their shoes and jackets, and other small things.
9. Teach your child life lessons. Small but important lessons like sharing, listening, empathy and taking turns will help your child when they are surrounded by other children all day.
10. Reassure them. More than anything reassure them. You are your child's biggest cheerleader and support system. Let them know that if a problem ever arises, you would be there in a snap! Keep in mind, children often don't tell us things because they are worried we will get mad. So remind your little one that no matter what it is, you are there to listen.