I am a baby person. I love visiting new little bundles, and get extremely excited when friends and people in my life have a baby. Sometimes I have to dial back my excitement and remember what it was like to be the one with the new baby 🙂 Here's some things to keep in mind when scheduling a visit with a new mom and baby: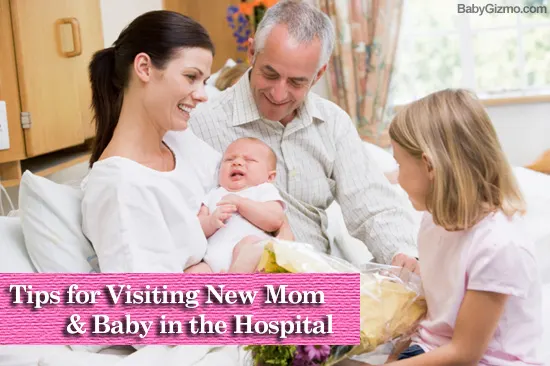 Call (or text is a great idea) and see if they are up for a visit and what would be the best time. If you don't hear back right away don't be offended as she's probably too sleep deprived to hold a conversation. She will get back to you when she is ready.
Don't ask to visit on their first day home. If you want her to know you're thinking of them, leave a care package (a meal and/or snacks are a great idea) at the house in the morning before they get there.
Only visit if you are healthy!
Be a good listener.
Unless you are the closest of friends (and it is obvious mom wants you there) don't stay more than a half hour. Chances are that she wants to feed her baby in quiet and rest.
No one wants to entertain when they have a brand new baby, but most of us always want to be a good hostess, so take the work out of it, and bring drinks and snacks, or lunch for everyone.
Do something helpful while you're there if they're comfortable with it, for example, take their trash out, do the dishes, prep a meal, take the dog for a walk if they have one etc. If you are a super close friend or family, perhaps do some laundry or offer to hold the baby while they take a shower or rest.
Obviously, if this is not a first time mom, give the older sibling attention and snacks.
***Keep in mind, this is just personal opinion, and everyone is different 🙂 And if its not the mom's first rodeo, more than likely things will be a little bit different … just good things to keep in mind.
What to bring with you:
Make a meal (and bring it in a disposable serving dish or Tupperware you don't want back etc… there's nothing worse than to add work to a new moms plate!)
Better yet, set up a meal-train/schedule meal deliveries with other friends (if it's okay with the family). Be sure to make it clear to everyone the plan should it be a quiet time in the house where to leave the food (i.e. a cooler on the porch) and to ask about allergies to foods.
Groceries/ easy no-prep snacks i.e. trail mix, cut veggies & dip, fruit salad, if you know the mom is nursing perhaps consider snacks that have oatmeal (the energy balls are a great one, or chips/veggies and hummus).
Aromatherapy hot pack. Grandpas garden makes fantastic warmers.
A great natural hand lotion or salve (lots of hand washing, hand sanitizer, and time inside can by drying).
Magazines (with lots of pictures)
A nice outfit, especially if they didn't know the sex of baby, is always fun (sizing up can be a good idea and unless you really know her taste well, air on the side of no writing/characters etc… Zutano & Kissy Kissy are great brands)
Diapers size 1 or 2- don't get newborn! If you don't know their brand def. go natural. The Honest Company's adorable diapers make great gifts.
If there is an older sibling(s) bring something special for them. An activity book or puzzle, something that will entertain them is a great idea.
Can't visit your friend and her new baby yet but want to show her your thinking of them? Here are a few ideas of things to send:
Gift certificate for a one-time house cleaning.
Spa gift certificate.
Care package- perhaps include some favorite magazines, snacks, hand lotion or luxurious products for mom.
Hulu Plus membership for a few months.
Amazon.com gift card.
***Note that while I've listed out some great gift ideas, all which would be appreciated, as cliché as it sounds, its not about the size of the gift or the money spent, its truly about the thought…a lovely note and batch of cookies would also be amazing 🙂
Hope this is helpful! What do you appreciate most during your first days home with baby?
Originally posted on Mainely Mama.