Babies are curious little beings, aren't they? As a parent, one of my biggest pleasures of the job is watching my baby discover new things for the first time. However, with that curiosity comes many opportunities to get themselves into trouble. My daughter is now 14 months old and into everything. Today, I wanted to share some baby proofing tips that help in our home. This post is sponsored by Huggies.
To provide you with a bit of background on my household situation – I have my 14 month old daughter, and a son who is 3.5. My son is very independent. While I've had to baby proof to keep my daughter safe, I also have had to keep in mind that my son still needs independent access to certain things. I'll explain this more in a bit.
When it comes to baby proofing, my husband and I would like to consider ourselves minimalists. There are certain areas of the home that need to be baby proofed, but we also try to not go overboard, and to teach (some might call it 'train') our daughter to not go near certain things.
I hope the below tips are helpful in identifying the bare-minimum areas to baby proof your home. My husband and I try not to let our house look like it's been overrun with baby / kid things, so we aim not to have too much 'stuff' all over.
Whether you consider yourself a minimalist or extreme baby proofer, there's one thing all parents can agree on – changing the diaper of an active, squirmy baby is never easy. You have to be quick and efficient because you typically only have one chance to get that diaper on before your baby has wriggled out of your grip and is halfway on the other side of the room!
Huggies Little Movers Diapers provide a comfortable fit for baby. They have double grip strips that secure the diaper in place and ensure it stays right where it should – even on a squirmy baby! As a busy mom, I don't have time to worry about a leaking diaper – I need to trust that the diaper she is wearing is built for an active, wiggly baby, which is why I chose Huggies Little Movers Diapers. They are designed with a Moving Baby System that allows babies to move freely and thrive as they go exploring. I also appreciate that they have a DryTouch liner that helps keep my daughter feeling dry. The trusted Leak Lock System is also great, which provides up to 12 hours of protection to prevent leaks.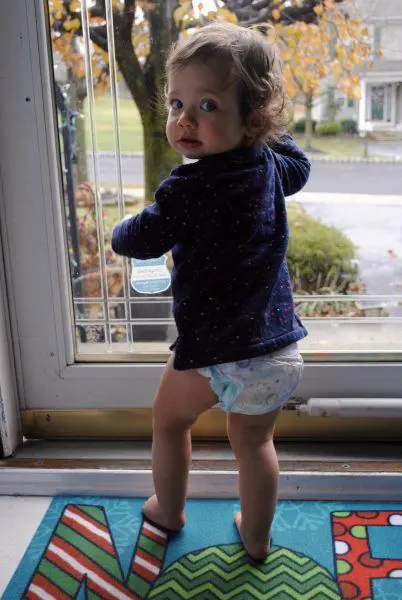 Top 5 Baby Proofing Areas Minimalist and Extreme Parents Can Agree On
Huggies® believes deeply in the Power of Hugs. The simple, loving act is proven to support babies' emotional and physiological well-being. Huggies® diapers and wipes are inspired by a parent's hug, – to nurture baby with care, cradle baby in comfort and surround baby in protection. Huggies® Little Movers Diapers have a Moving Baby System™, so baby can explore more with a comfy fit that lasts. Learn more at Huggies.com. #HuggiesCouncil