Once upon a time, before I was a mom, I baulked at expensive toys. I just couldn't comprehend spending upwards of $50 on something my children would merely play with. I figured that if they did fall in love with something spendy, I would keep my eye out for a huge sale or cross my fingers that I'd find it second hand.
But, as with many lessons I've learned in motherhood, sometimes what I thought before doesn't ring true now. One such thing I've learned is that bargain shopping for toys isn't always in my best interest. Often, having fewer, more valuable toys is worth its weight in gold. A toy investment, like the one I made this Christmas with Playmags, is proving to provide endless hours of fun and, more importantly, open-ended learning.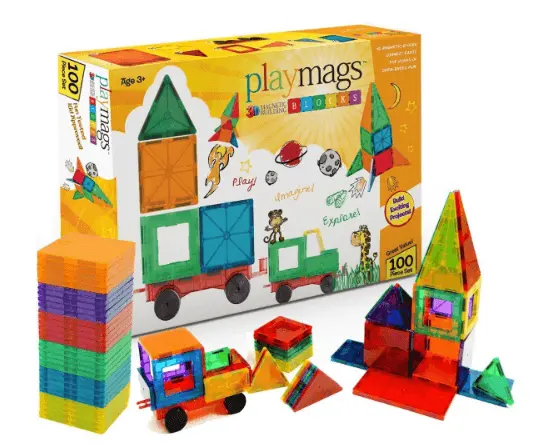 I purchased the 100 piece Playmags 3D magnet building blocks set for my 3 year old son and 5 year old daughter. It seemed like the perfect toy investment for our coming year as we welcome a new sibling and they expand their horizons with independent play.
I didn't make this purchase lightly though … it was $90 on sale, after all! It took much research and recommendations from fellow mamas to convince me to take the plunge. But truly, I'm so happy I did!
Since Christmas my little ones have had a blast with their playmates. They're not as difficult as LEGOs which make them accessible to my early preschooler. These blocks easily connect and as I mentioned, they're full of learning opportunities. After all, the benefits of open-ended toys are countless and Playmags definitely fall into that category.
Both of my kids love sorting their Playmags by shape and color, coming up with individual and collaborative designs, and then watching their masterpieces come to life. Playmags are no doubt the perfect toy investment for growing families. Add them to your list as an upcoming gift and forgo the trendier, more directed play options out there.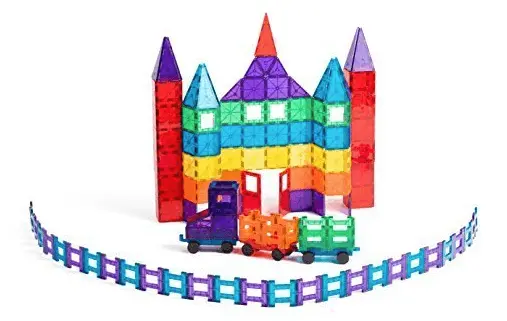 Various Playmags sets are available for as low as $35 and as high as $135. Keep an eye on Amazon and your local toy store for sales throughout the year – you won't be sorry!
BUY Playmags HERE