It's hot out there. I'm probably just being lazy, but when my toddler asks to go outside, I groan a little (a lot) inside because I'm such a wimp when it comes to being in the heat. If we do have to go outside, I'd like there to be water involved, so I can get a spray here and there to cool off. We don't have a pool (besides the itty-bitty blow up "pool" I got for $5 at my grocery store), so I've rounded up some other fun ways too cool off with water this summer! Enjoy!
Let's get the obvious ones out of the way:
Squirt guns (or water bottles with holes in the lid, if you don't want to run to the dollar store)
Slip and Slides (or as I like to call them: Slip and Break-Some-Bones)
Splash balls (instead of buying them, you can use those big car-washing sponges)
Now for the more creative ideas:
Baseball with water balloons: I played this with the fifth graders I taught at the end of the school year. Everyone had a blast! Instead of using a ball, use water balloons. A kid stands on the sidelines and throws a real ball to be chased (you can use a sponge ball that's soaking wet) while the batter runs for first base. If the balloon doesn't explode on impact with the bat (like it's supposed to), be nice and let them keep trying until it does. That's where the fun, getting wet part comes in.
Pass the water: This game is best to use in a relay race type activity with lots of friends/family. Everyone lines up and has a cup. The first person in line has a full cup of water and must lift it over their head and try to dump as much water into the person's cup behind them as possible without looking. This goes down the line and whichever line has the most water at the end, wins! Kids will get wet.
Duck, Duck, Splash: You've probably played the chasing game called Duck, Duck, Goose, right? Everyone sits in a circle, one kid taps everyone on the head and finally chooses a "goose" to chase him until he can get safely back in the kid's spot. This game incorporates water by dumping a cupful on whoever is chosen to do the chasing!
Car Wash: This is probably one of the few chores your little kids can help with (that might actually be helpful) and that can be fun and messy! Get the sponges, rags, bubbles and the hose and have fun! Don't be afraid to get silly and distracted!
DIY Bottle Sprinkler (from Frugal Coupon Living): In just a few steps, you've created your own sprinkler for the kids to run through!
Water Blob (from hello, Wonderful): MAN I wish I had known about this as a kid! I can't wait to try this and let my toddler "float" on the blob, especially since she's a little terrified of actually floating in water.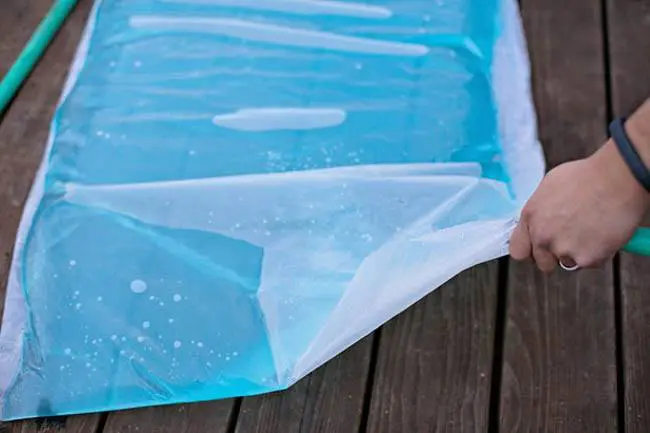 Rainbow Ice Cube Painting (from Things to Share and Remember): Freeze liquid watercolors with water and use the ice cubes to "paint" on fabric or paper! Best to do this outside on a hot day, so the ice cubes will melt.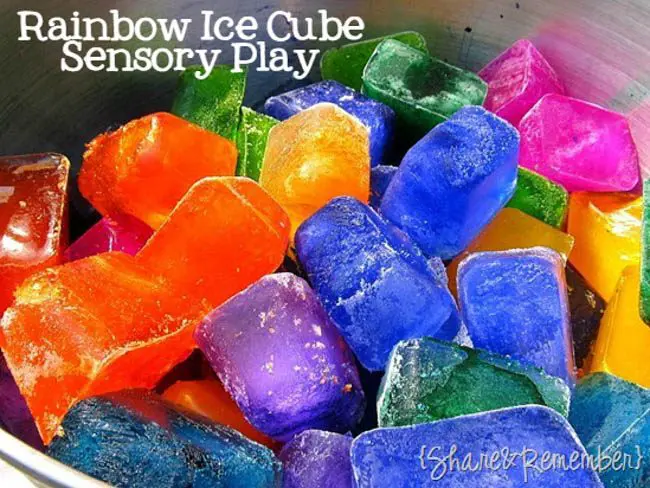 Pouring Station (from Busy Toddler): I did a version of this with our little panda kiddie pool out on our driveway. My toddler loved it! And since it was outside, it didn't matter when she started pouring the water everywhere and chasing me around with the spray bottle!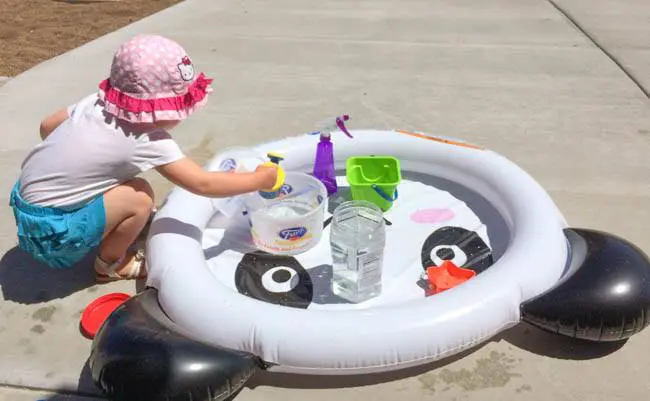 Have fun!