A while back, I wrote a post to share my favorite earth-friendly snack and lunch items. There are so many fun options out there to talk about that I inevitably forgot to include one of my favorites. So, The Original Squeeze Company, this one's for you! Read on to learn more about a clever, easy-to-use replacement for the very useful—but environmentally unfriendly—disposable food pouch.
Once my daughter started on solids, we fed her a mix of purees I made myself (I worship my BÉABA) and baby food pouches: homemade baby food or soft foods at home, and pouches when we were out. We even had those handy little spoons that screw onto the pouch. It didn't take me too long to start to feel bad about all the waste I was creating and wonder why someone hadn't invented a refillable pouch. Shortly after that, I discovered Sili Squeeze, now known as The Original Squeeze Company. I loved the idea of these reusable food pouches so much and I fell in love as soon as I opened the package.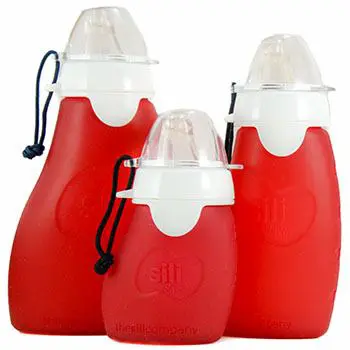 There are now multiple reusable pouch options on the market, but what I love best about the Original Squeeze is that it's not a bag—it's an actual silicone container that holds its shape. With the cap closed, I've found the Original Squeeze pouches to be leak-proof with no risk of popping open like pouches that use a zip-top seal. I love how sturdy and durable the silicone feels, too. My favorite feature, though, is probably the fact that the cap is attached, so it can't go missing. Woo hoo!
Given my daughter's ability to use a regular pouch, I ordered the Original Squeeze with Eeeze, which has a free-flowing spout similar to the opening on a pouch. The company also offers a spill-proof spout for littles who are still learning to use a pouch without wearing most of the contents. We started with the 4 oz. bottles. (When they had a limited edition pink available; I accidentally ordered the 6 oz. size, so I kept that one for myself. There is something weirdly awesome about sucking applesauce out of a pouch. The kids are seriously on to something here.)
When we first got the Original Squeeze, my daughter had some trouble completely emptying the pouch, but now that she's older and both understands how to roll the pouch up and is strong/coordinated enough to do it, she's fine.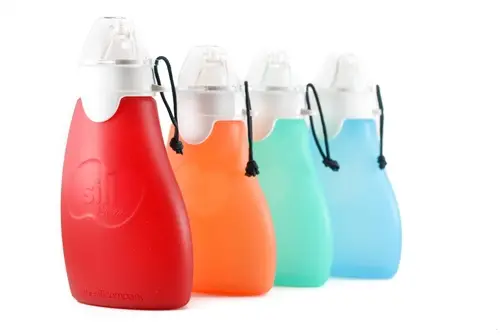 The Original Squeeze Company's products are available on their website, Amazon, and boutique and specialty stores. If you're looking to get your hands on one at your local big-box store, you can check out The Original Squeeze Company's Squeezer line, which is available at Target. We have a couple of those, too, although honestly, I don't like them as much. The nipple and the silicone pouch of the Squeezer feel a flimsy compared to the Original Squeeze. Additionally, the cap is not attached, which I don't like at all. The Squeezer is also only available in the 2 oz. and 4 oz. sizes, whereas The Original Squeeze branded items go all the way up to an 8 oz. option in the Sport style.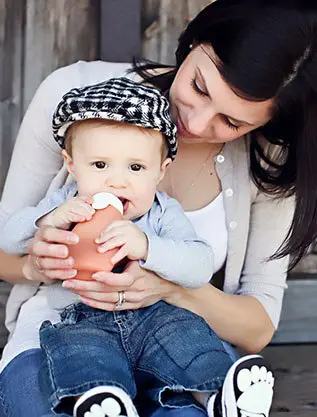 All Original Squeeze products, including the Squeezer line, are made of BPA-, Phthlate- and PVC- free food-safe materials. They're also dishwasher-safe which is awesome, although as with all silicone products, hand-washing is preferred to extend the life of the silicone. All the pieces come apart (body, rings, cap), so you can ensure the product is getting cleaned properly.
We also have the Original Squeeze funnel. It's not strictly necessary, but it does most definitely make filling the pouches easier and neater. Unlike standard funnels, the mouth on the Original Squeeze funnel is wide, meaning your purees, yogurts, and fruit/vegetable sauces move through it much more easily. Using a funnel is also faster than spooning the food in, which is what I was doing until I got the funnel.
Now that you're all going to order a pouch or four from The Original Squeeze Company, you may be wondering what to put in them when they arrive. We have some great recipes here at Baby Gizmo. Or you can fill them with store-bought applesauce or yogurt, which is what I tend to do. The Original Squeeze Company also has a recipe section on their website and there are some seriously delicious options there. Oh! And the pouches can be frozen, so you can fill them up with something tasty, freeze them, and then toss them in your kid's lunchbox where they'll keep lunch cool while the contents of pouch defrost for lunch time.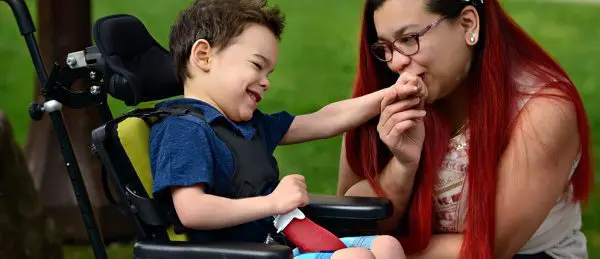 A final word before I go. As much as I love sharing a Squeeze snack with my kiddo, I primarily think of the pouches as a kid or baby product. Fortunately, The Original Squeeze Company and others have a much broader perspective. Original Squeeze products are great for anyone with special feeding needs. Check out the Special Needs Feeding section on the company's website to learn more about individual needs that may be met by a pouch like the Original Squeeze.
PS: In the "About" section of Baby Gizmo's website, founder Hollie notes that she sometimes licks products as part of her review process. So for what it's worth, The Original Squeeze Company's products taste pretty great! That is, they don't taste like anything, which is what I'm looking for in my food containers.