Back to school for kids means back to school lunches for moms and dads! And that means you're on the lookout for some healthy ideas… am I right?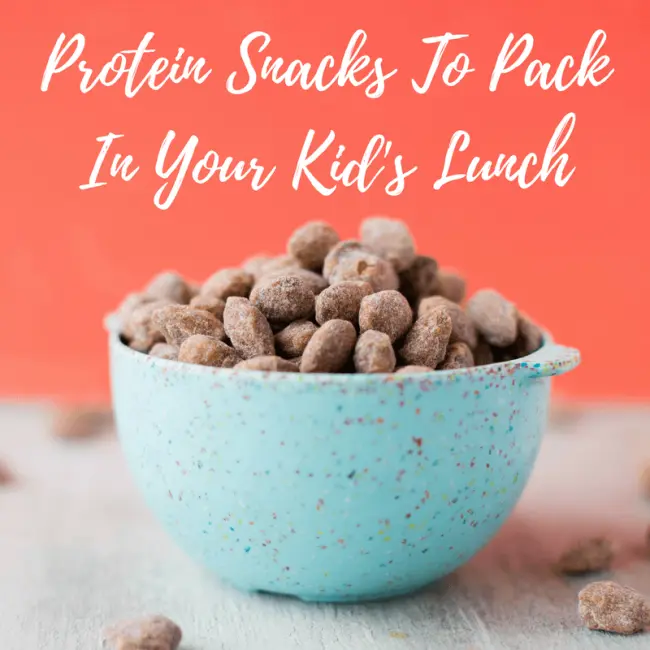 Today I'm excited to share a round up of protein snacks that will be a perfect addition to your child's lunch. Not only are these items delicious, they're nutrient-dense and ready to recharge little minds so they're ready to learn lots, grow relationships, and dream big!
Hard Boiled Eggs — I make these in the Instant Pot and they peel with ease.
Nuts — If plan nuts don't excite them, try seasoned nuts. My kids go ga-ga for cocoa almonds and cinnamon pecans (which I found at Target, of course!).
Beef Sticks — A good friend of mine recommended the brand Duke's which is sold at Costco.
Roasted Chickpeas — To prep, toss 3/4 cup chickpeas in 1 tablespoon of olive oil and a generous sprinkle of sea salt and cayenne pepper. Bake at 350 degrees for 20-30 minutes.
Protein Balls — I pull one of those good-intentioned mom lies and tell my kids that they're cookie dough.
Turkey Roll Ups — So simple and easy! Buy deli turkey, roll it up, and hold it tight with a toothpick (a cute one if you like!). Sometimes, if I'm fancy, I'll add a smear of cream cheese and a pickle slice in the middle of each roll for creamy crunch.
Nutter Puffs — Popchips recently came out with these and they're delicious! I'd say they're like peanut butter Cheetos, but imagining that flavor combination would cancel your interest, so, just trust me and give them a try.
PB&J Smoothies — Now, I know you're wondering how these will pack in lunches, but hear me out. First, blend up a smoothie like normal. Then, pour the mixture into these plastic tubes and freeze. Pop them in your kid's lunch and by midday they'll be ready to slurp down! Yes, it takes some prep work, but you can do up a big batch or two and have them ready to go for the whole week!
Cheese — Too basic? Nope! Everyone loves a string cheese stick or bite-size cubes of cheddar!
Edamame Beans — These fit perfectly in the small section of bento boxes. Just steam, salt, and serve.
Turkey Jerky — Or beef jerky, or deer jerky, or whatever kind of jerky strikes your fancy!
Greek Yogurt — Yogurt is an easy thing to pop into a lunchbox. Add a little container of granola and fruit as toppings… Hemp hearts too because those are a nice protein boost!
Is there a high in protein, high in deliciousness snack your kids love to find in their lunchbox? Please share!
Photo by Whitney Wright on Unsplash