With baby #3 on HIS way, we're in full baby naming swing at our house. It's such a hard balance to find something both my husband and I like, something the kids enjoy and something that is meaningful.
We've pulled the short lists from my previous pregnancies, but the perfect name hasn't found us yet. So, I've started doing some theme brainstorming. I'm finding that this is a wonderful way to discover new, unique names! First up, I've found myself swooning over names inspired by classic literature – many of which can be used for boys or girls. Here is a round up of my top 20 … (plus a few bonuses)!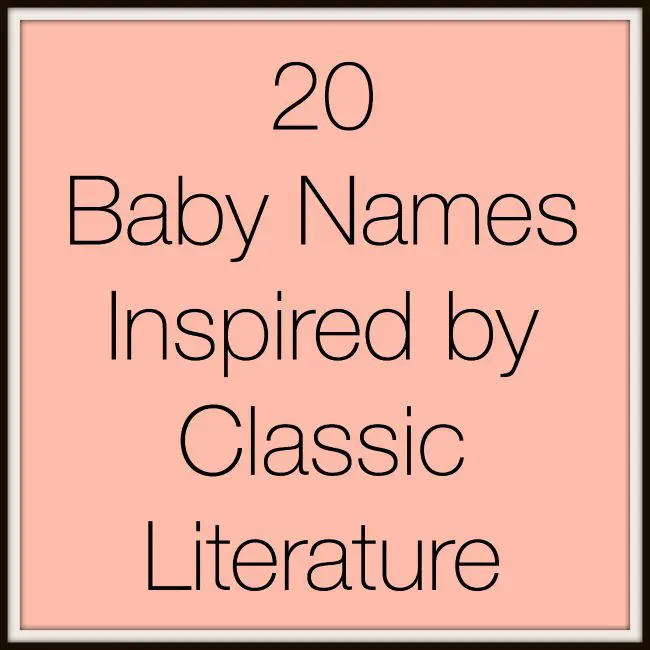 Alcott – From the author of Little Women, Louisa May Alcott
Scout (or Atticus) – From one of the main characters in To Kill a Mockingbird
Holden – From Catcher In the Rye
Scarlett (Rhett) – From Gone With the Wind
Ophelia – From Hamlet
Matilda – From, of course, Matilda
Imogen – From Shakespeare's classic, The Tragedy of Cymbeline
Huck (or Sawyer or Finn) – Mark Twain is just full of great ideas between The Adventures of Huckleberry Finn and Tom Sawyer
Ransom – From C.S. Lewis' Space Trilogy
Lucy (or Peter, Susan or Edmund) – From The Narnia Series
Antonia – From My Antonia
Robinson – From Robinson Crusoe
Gilbert (or Anne, Diana or Marilla) – From Anne of Green Gables
Viola – From another Shakespeare classic, Twelfth Night
Estella – From Charles Dickens, Great Expectations
Fitzgerald – From the author of The Great Gatsby, F. Scott Fitzgerald
Prynne – From The Scarlett Letter
Ramona – From Beverly Lewis' Ramona Quimby, Age 8
Esmerelda – From The Hunchback of Notre Dame
Austen – From none other than author, Jane Austen, and her medley of classics
What names inspired by classic literature do you love?