I don't believe there is one mama out there who isn't happy to say goodbye to the first trimester. It's just horrendous! Between sickness, no energy and the chubby-but-no-bump syndrome, I tend to not have many fond memories of those first 13 weeks of pregnancy. Granted, I'm thrilled that my baby is growing and developing at an exponential rate during that time, but just the same, I feel like partying once the second trimester debuts.
With the start of my second trimester, and thus, the return of my energy, I decided to take advantage of a whole bunch of projects. From experience, I know I slow down in my third trimester and once baby arrives everything is up in the air … so, second trimester projects are where it's at!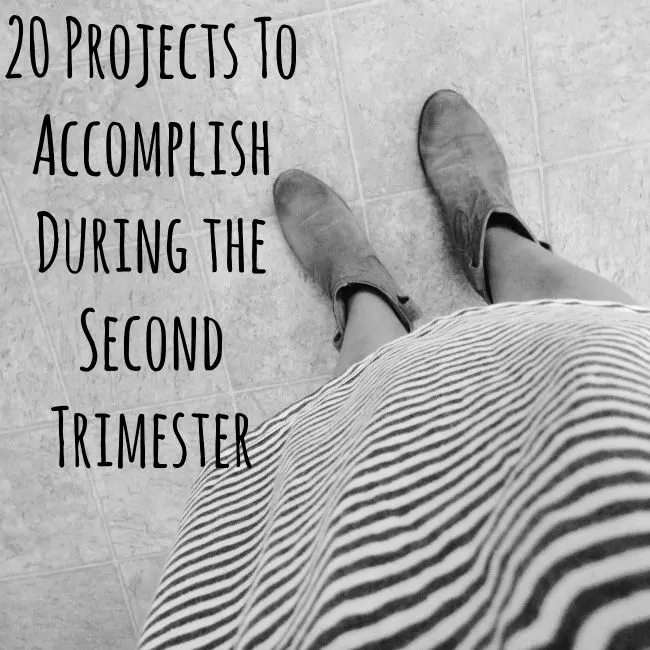 Here's a energy-infused list of all the things I have or am planning to accomplish during my second trimester. Some are baby related and some are just because!
Read this book and cleanse EVERYTHING
Move all my maternity clothes into the closet and move out all the pieces that won't fit for awhile
Dig out the box of baby boy clothes from the garage … sort, wash and settle into drawers
Build bunk beds for the big kids based on this design
Complete the seasonal clothing swap for the big kids
Order this baby's baby book and fill out all the pregnancy related pages
Schedule my placenta encapsulation and read up on tinctures and smoothies
Set up the crib
Assess my babywearing stash and start buying/selling/trading … yes, I'm a little obsessed and currently hunting down a Didymos Anthracite Hemp Indio wrap. Do you have one for sale?!?
Find and take a belly binding class
Complete a squat challenge … did you know squatting is one of the best pregnancy exercises?
Build my baby shower address list. My best friend is hosting one for me and I'm so excited to catch up with friends and celebrate this sweet little one!
Plan my daughter's 5th birthday … Cinderella theme, the movie is finally out!
Start my freezer meal preparation list so I'm ready to begin cooking in November/December
Order a third car seat, this one, of course
Decide on gifts for my midwife and doula, leaning towards one of these
Order all my Instagram Chatbooks, scrapbooking complete!
Pause to enjoy autumn with my big kids – pumpkin patch, PSLs and more
Create an essential oil resource journal for myself … maybe even some spares for my mom and sisters for Christmas gifts
Oh yes, get on ALL the Christmas planning since I'm due the week of Christmas!
What fun projects have you accomplished during your second trimester?