I've only been pregnant once in the summer, and I'm currently due with my second in October, meaning I'll be pregnant all summer again. During these months, it's important to take care of yourself and your growing baby. How hot of a summer you'll be experiencing depends on your location, and as I live in the Northeast portion of the country, we get hit hard with humidity. The last few years we've had abnormally hot days, and although it is by no means Arizona hot or anything, the difference seems to be dry heat vs. heavy humidity. Surviving the heat while pregnant may be a full time job for those moms down South though.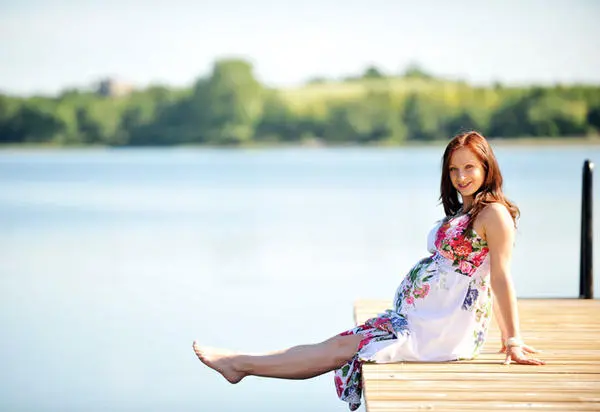 It is best to speak to your doctor about staying cool during a summer of pregnancy, but in the meantime, here are some helpful tips we can all be doing.
1. Drink plenty of water
This one's obvious, as all pregnant women should be drinking tons of water daily. But drinking water can help keep your body's temperature from climbing too high. For me, water can't get cold enough. I used a huge insulated water jug (similar to this one) daily. I would fill it with ice water and THEN store it in the refrigerator to keep the water extra cold. Pro tip: if water is too bland for your taste, add some sliced fruit, mint leaves, or cucumber to flavor the water without adding sugar or calories. Juice is okay from time to time, but don't let that be your main source of fluid. Coconut water is a great alternative, as it will help replace electrolytes you may sweat out throughout the day.
2. Dress lightly
As a pregnant woman, you're likely already a hot box. Add in hot weather, and it can be an uncomfortable situation all around. Be sure to wear light, breathable clothing as well as comfortable sandals. Bonus tip: keep your hair off of your neck!
3. Beware peak hours
If you love taking a walk outside, or if you have other children who need to spend some time outdoors, do your best to spend that time early in the morning (before 10 am) and late in the afternoon (4pm on). The peak hours of the day, 10-4 or so, seem to be the hottest and when the sun is the strongest.
4. Indulge in sweet treats
Key word- indulge. Don't make it an everyday habit, but cooling off with frozen yogurt or water ice can be a yummy way to stay cool on hot days.
5. Get to a coast!
If it's possible to your location, spend some time on the beach. The weather is almost always cooler than inland, and you're likely to experience a cool breeze. I only have experience with an ocean on a beach, but I'd imagine the same will occur on a lake's beach.
6. Find a water source
A pool, a beach, a lake, a river, a cold shower, a garden hose… whatever you can get your hands on, get in there! Check with your doctor first, of course, but once you get the 'ok' be sure to spend lots of time cooling off in the water source of your choice.
7. Rest often
You'll likely be feeling fatigued, and the heat while pregnant can make that even worse. Be sure to nap or rest whenever you can to conserve your energy!
8. Wear SPF
Your skin is extra sensitive when pregnant. Be careful not to get an uncomfortable (not to mention dangerous) sunburn by wearing SPF from head to toe- and reapply often.
Have a tip on surviving the heat while pregnant in the summer while pregnant? Please leave a comment to help out other expecting mommas!
OTHER PREGNANCY ARTICLES
DIY Padsicles for Postpartum Healing
18 Ways to Pass the Time When Your Due Date is Near
Ultimate First Trimester Checklist
Foods to Help Morning Sickness