I love a gingerbread man cookie just like the rest of you, but sometimes there just isn't enough time to pull out the cookie cutter. So, what to do, what to do… oh, I know… recipes that have the flavor of gingerbread without the trouble!
I CANNOT wait to give some of these recipes a try this holiday season. And, as I'm typing, my daughter is peering over my shoulder pointing out all her favorites 🙂 Sounds like the love for gingerbread runs in our family!
If you too love gingerbread, get ready for a smorgasbord of Christmas recipe options…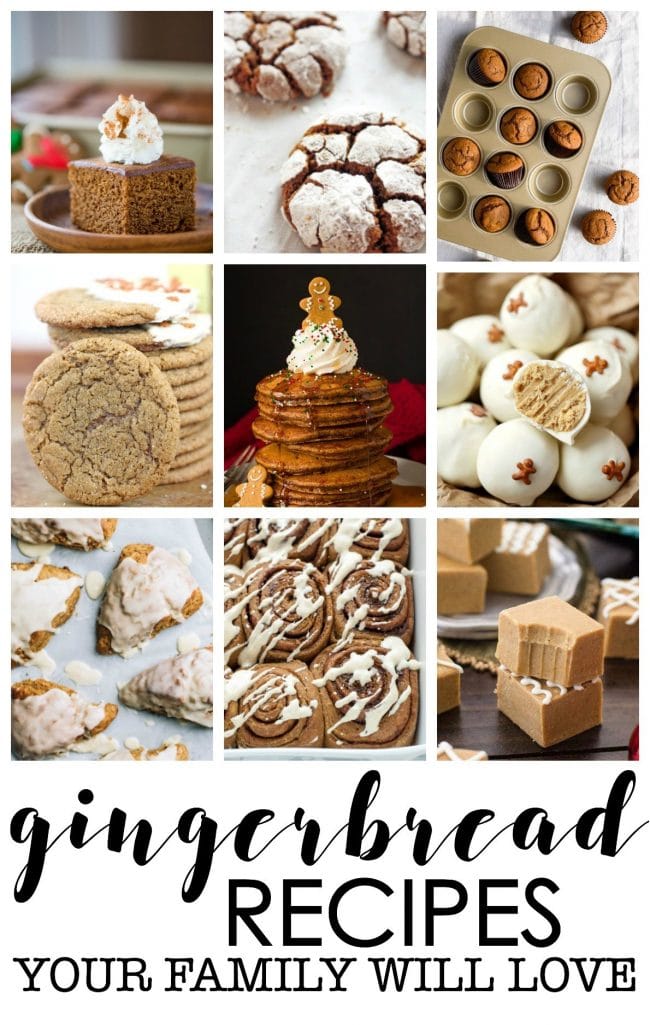 Classic Gingerbread Cake by Dinner Then Dessert — Sabrina says this is a 50 year old recipe so you know it's going to be amazing!
Gingerbread Spice Muffins by Fork Knife Swoon — My kids gobble up anything in muffin form, so these look like a win!
Gingerbread Cookies by Dinner Then Dessert (yes, again!) — This recipe has won three awards. I can't wait to try them!
Gingerbread Pancakes by Cooking Classy — Gingerbread for breakfast? Bring it on!
Gingerbread OREO Truffles by Food, Folks, and Fun — Doesn't this flavor profile sound like perfection?
Maple Glazed Gingerbread Scones by Pinch of Yum — Can you imagine these dipped in a hot cup of coffee on Christmas morning? I can!
Gingerbread Cinnamon Rolls by Well Plated — Gingerbread and cinnamon are a match made in heaven!
Gingerbread Fudge by Spend With Pennies — Simple, delicious recipes are always a hit for the holidays!
Do you have a gingerbread recipe you love? Share it with us and let's all enjoy an extra dose of gingerbread this holidays season!
Looking for more holiday recipes? Take a peek at these yummy peppermint treats!