Last week we were all about the Brownie Cookie Dough Ice Cream Cake but one cannot live on cake alone. That's why we are sharing a tasty, family-friendly, quick dinner idea with you today. Air-Fryer Cheeseburger Egg Rolls are going to a new favorite in your family dinner rotation, we promise!
Cheeseburgers are a favorite with my family especially in the summer. We throw them on the grill and top them with delicious toppings such as avocado, lettuce, tomatoes, special sauce, onions and more. In the winter, since the grill is shut down, we are always looks for alternatives for grilled cheeseburgers that we can make in the kitchen. These Air-Fryer Cheeseburger Egg Rolls are the answer!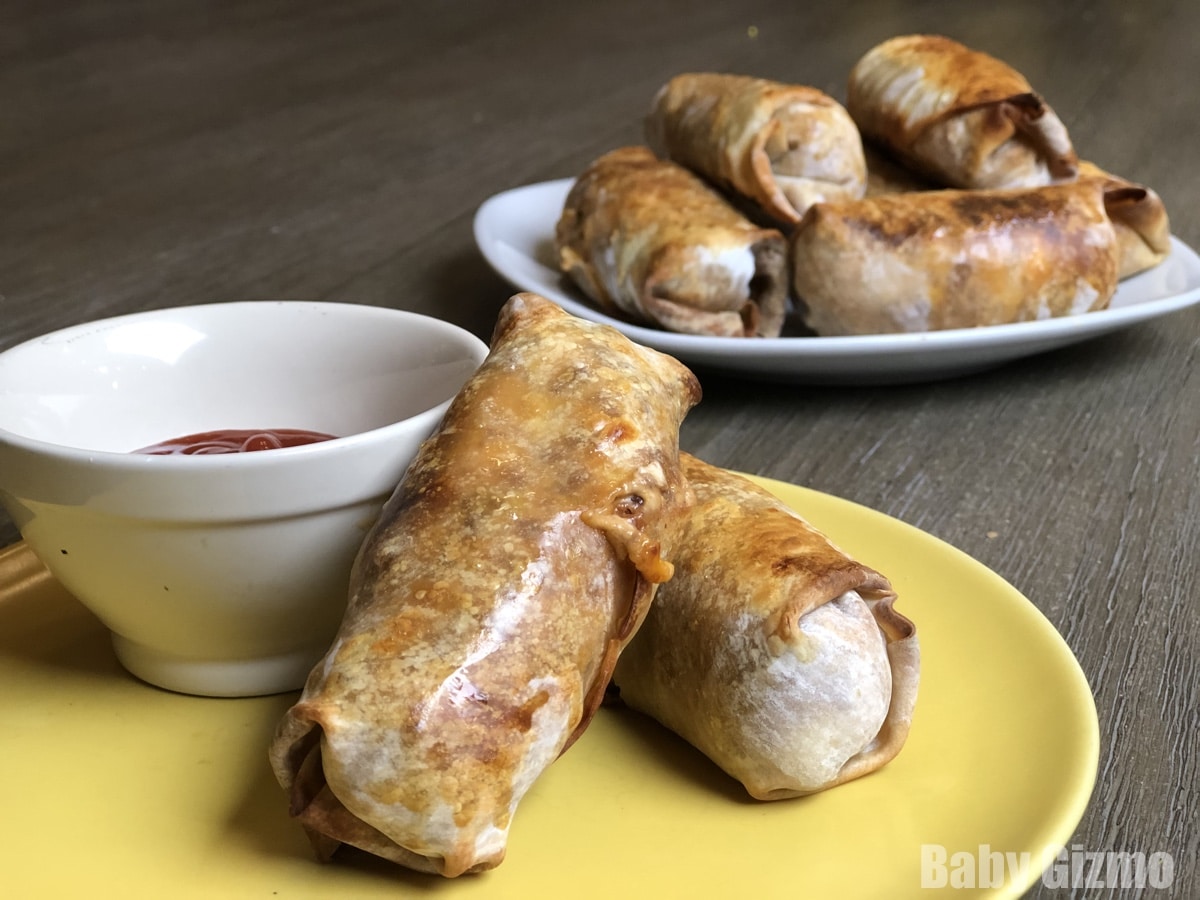 WHAT ARE EGG ROLLS?
According to Wikipedia, "Egg rolls are a variety of deep-fried appetizers served in American Chinese restaurants. An egg roll is a cylindrical, savory roll with shredded cabbage, chopped pork, and other fillings inside a thickly-wrapped wheat flour skin, which is fried in hot oil."
While egg rolls traditionally are fried with a cabbage and pork filling, there are many variations that you can fill egg roll wrappers with and still call it an "egg roll". You also don't have to deep fry egg rolls. They can be baked or air-fried and you'll save a ton of calories if you do.
WHAT GOES IN THIS CHEESEBURGER EGG ROLLS RECIPE
1 lb extra-lean ground beef
1/2 tsp. garlic powder
1/2 tsp. onion powder
Dash each salt and black pepper
1/2 cup chopped onion
1/2 cup shredded cheddar cheese
6 tbsp low fat cream cheese
1/4 cup ketchup
10 large square egg roll wrappers
Egg wash (one beaten egg)
INGREDIENT NOTES
I recommend low fat cream cheese, extra-lean ground beef and low fat cheddar cheese to keep the calories and fat down but you can always use the regular, full-fat ingredients if you would like.
If you are having trough finding egg roll wrappers, ours are located in the produce section of our grocery store.
Variations: You can also add 1/4 cup mustard and 1/4 cup chopped pickles to your beef mixture if you'd like. My family doesn't like mustard or pickles so that doesn't work for us.
HOW TO MAKE THIS RECIPE
In large skillet add ground beef, sprinkle with seasonings and add onion. Cook over medium-high heat, stirring frequently until beef is fully cooked and onions have softened, about 5 minutes.

Add cream cheese, ketchup, and cheddar cheese and cook for one additional minute.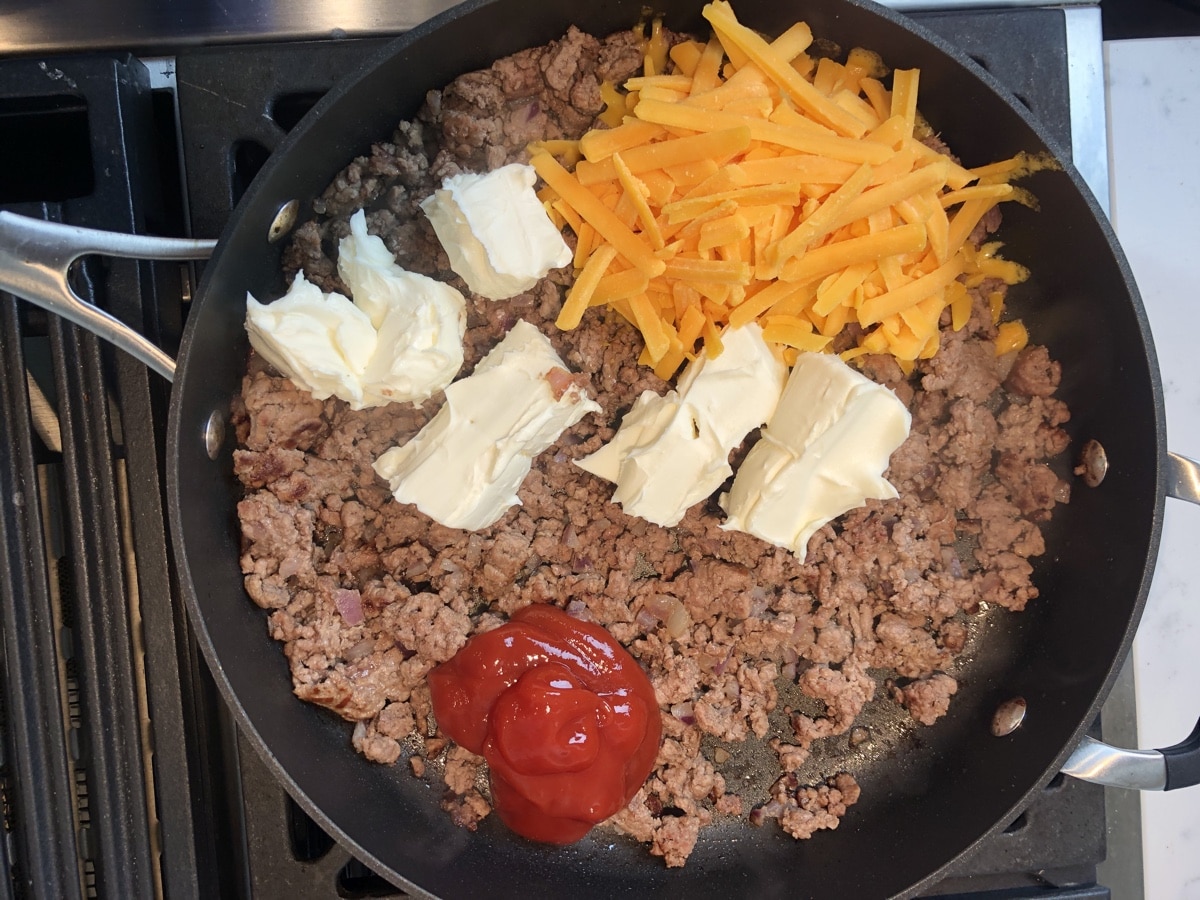 Remove skillet from heat. Stir until thoroughly mixed and melted.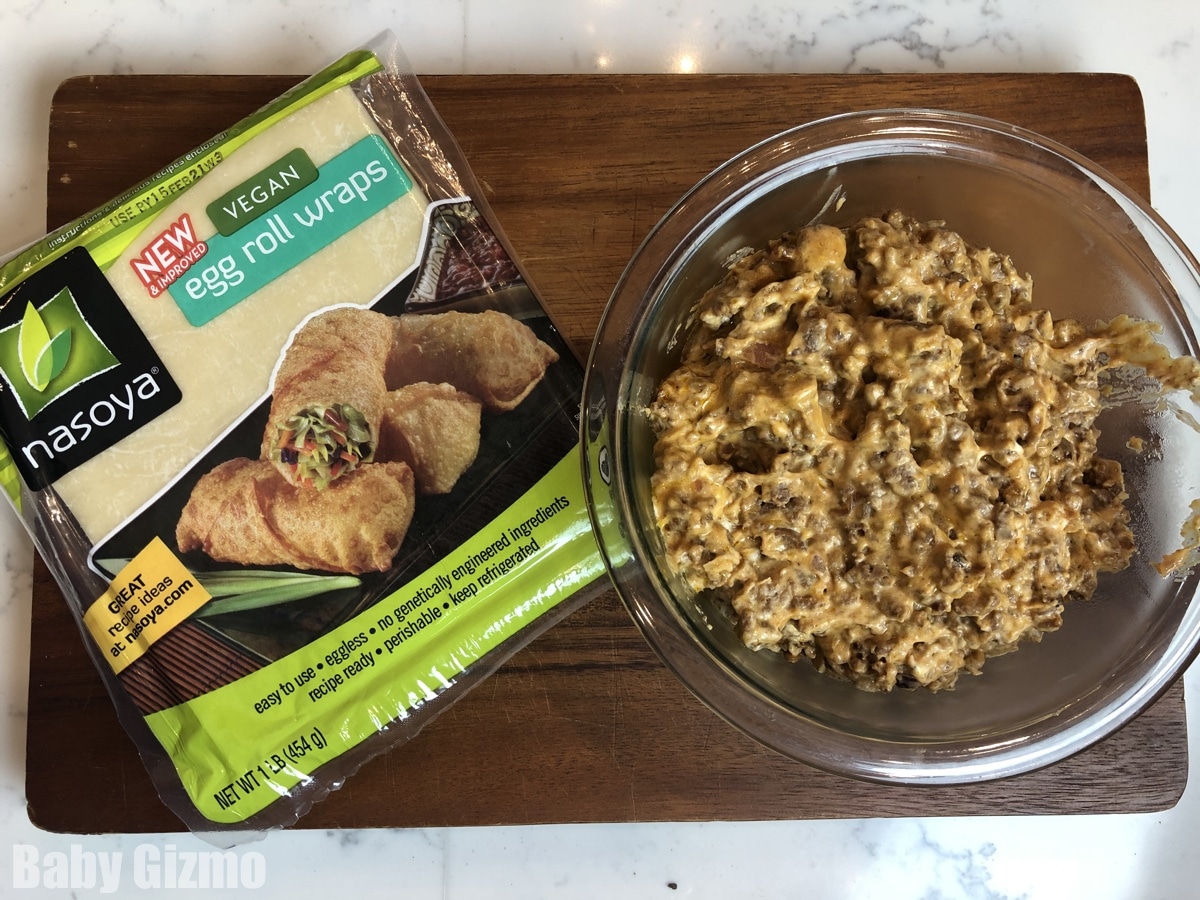 Take one egg roll wrapper and lay flat on a dry surface. Scoop about 1/4 cup of meat mixtures in a row in the center. Moisten all four edges by dabbing your fingers in water and going over the edges smoothly. Fold the sides about 3/4 inch toward the middle, to keep mixture from falling out. Roll up the wrapper around the mixture and continue to the top. Seal with a dab of water.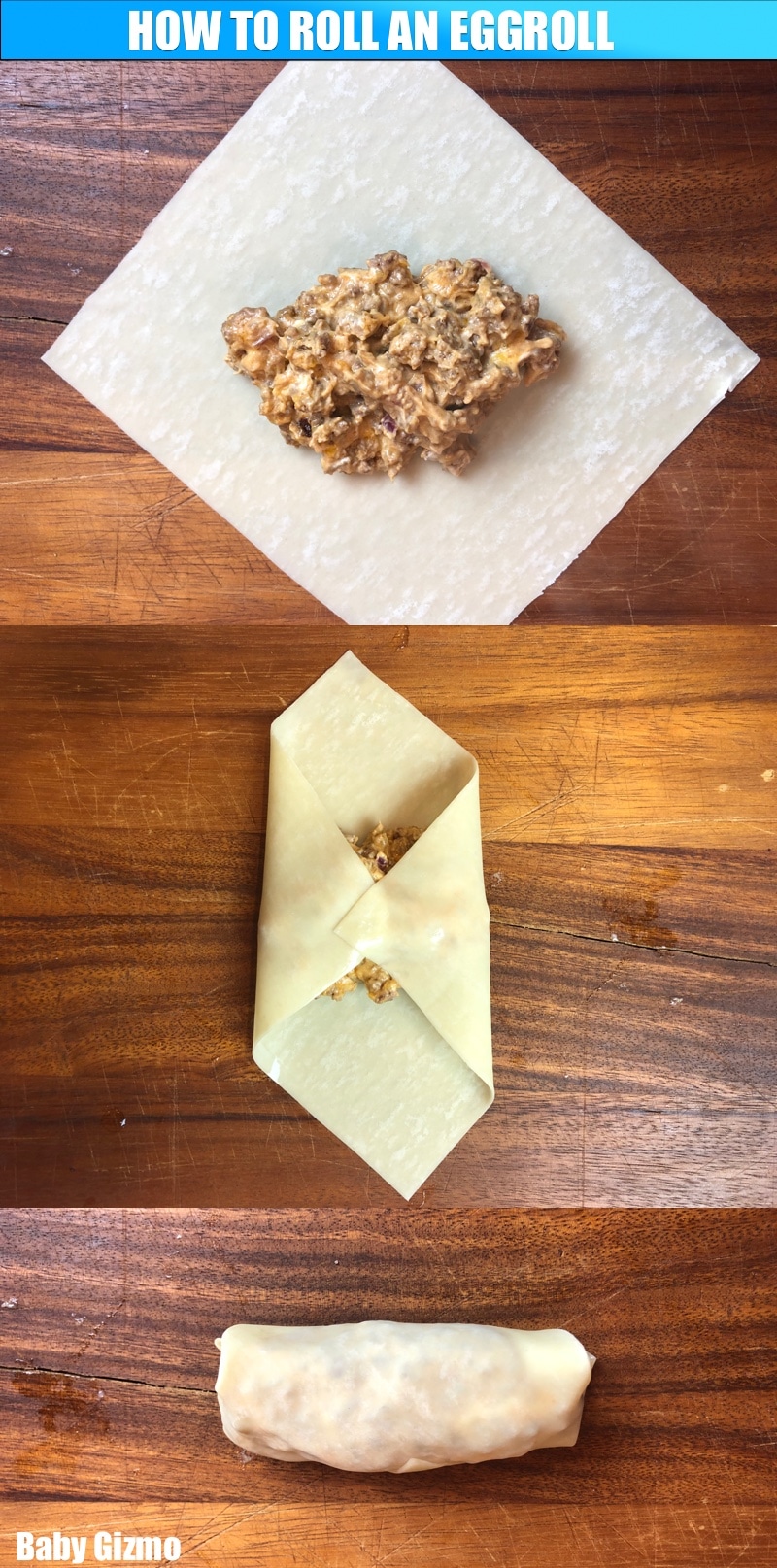 Repeat to make 10 more egg rolls. Brush with egg wash (beaten egg)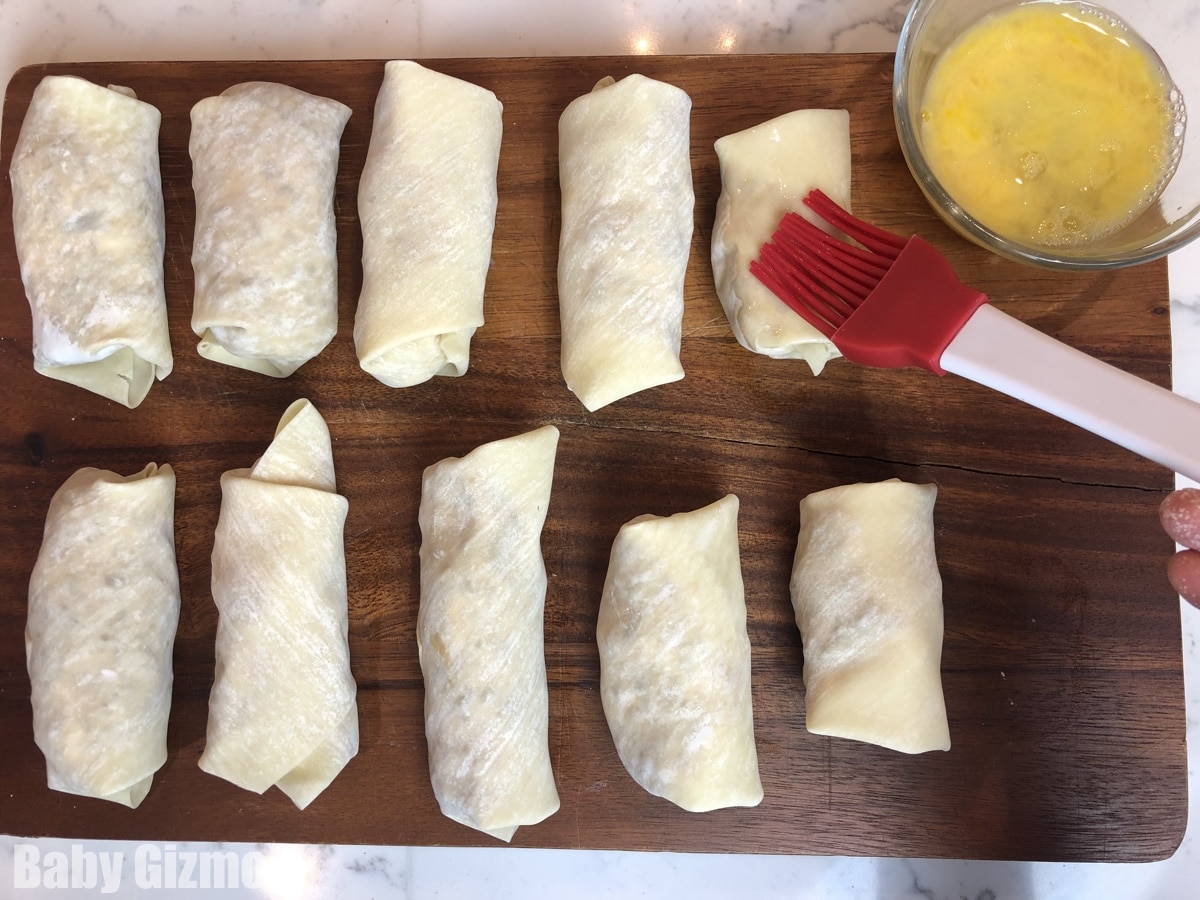 Place in the air fryer cooking basket in a single layer.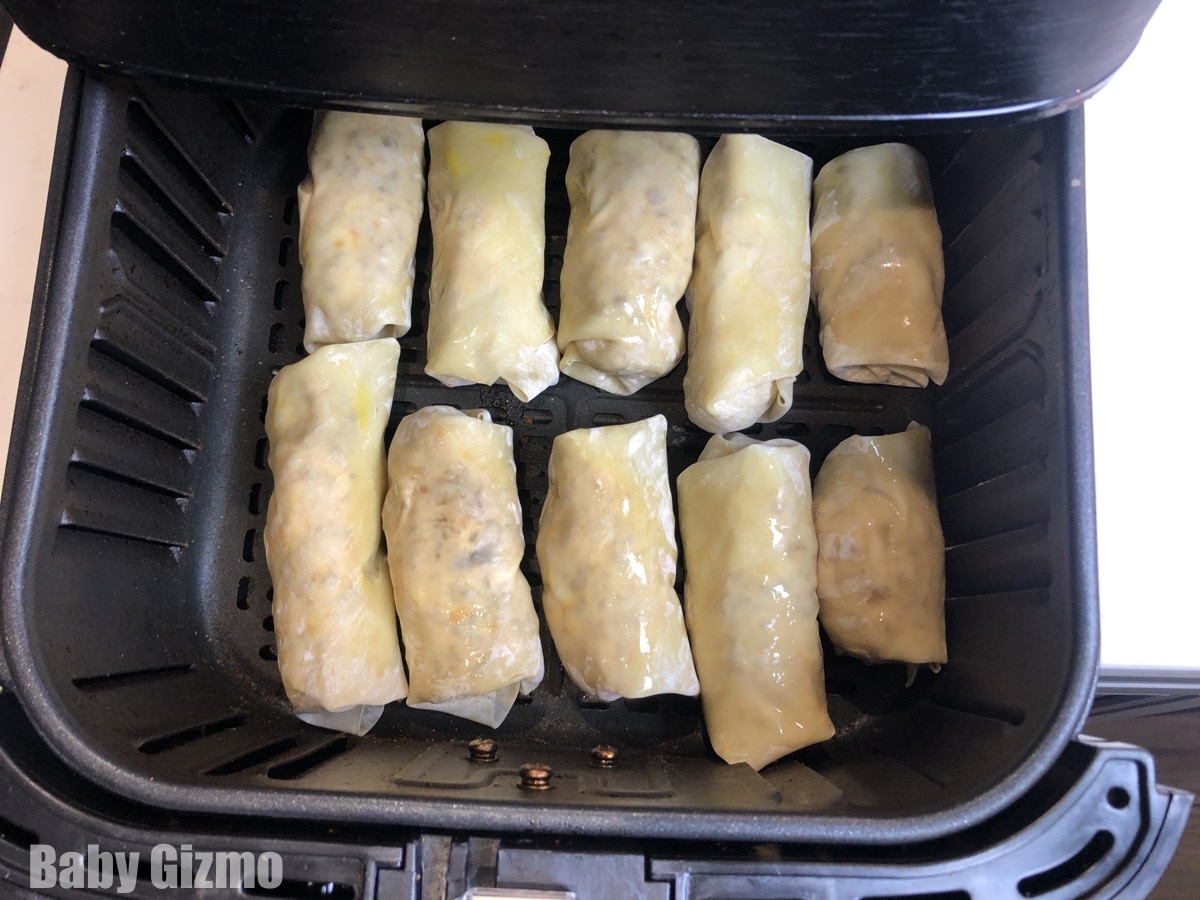 Set air fryer to 400 degrees. Cook until golden brown, 6-8 minutes.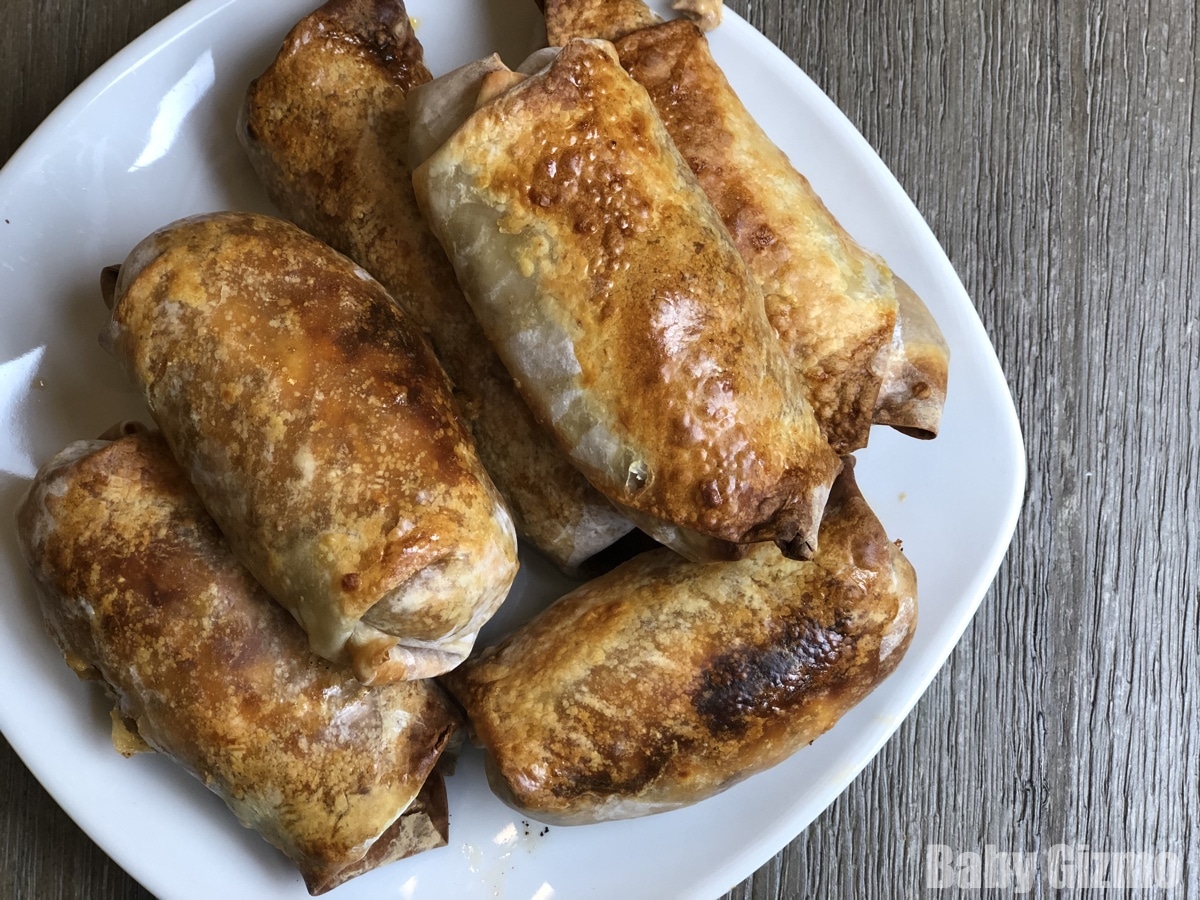 MAKES 5 SERVINGS (2 egg rolls each)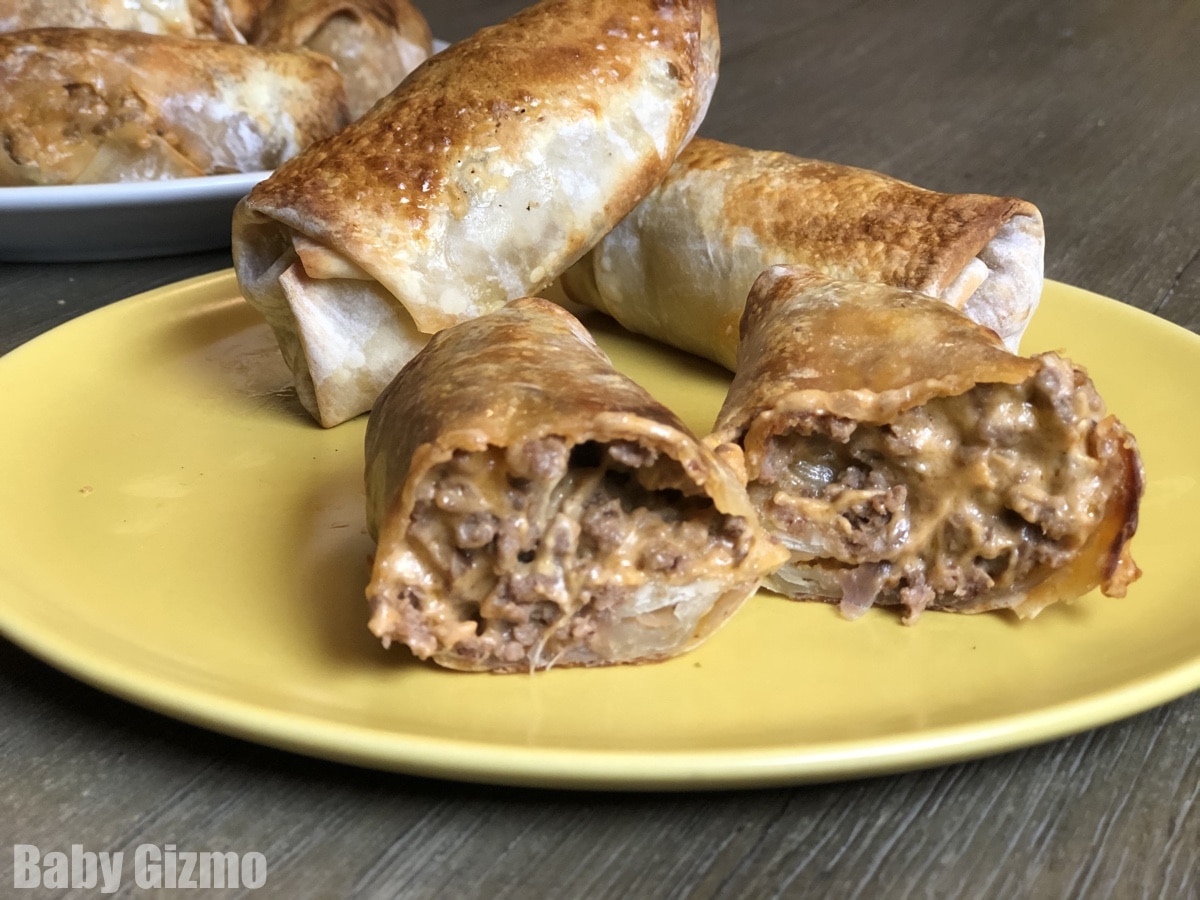 EXPERT FAQs and TIPS
What goes good with this recipe?
We serve these cheeseburger egg rolls with a potato and a vegetable. We find that french fries are the favorite side dish with these egg rolls. If you want to end your meal with a fabulous dessert, serve Oven Baked S'mores Bars and we assure you that your family won't be mad about it.
How long do I cook the egg rolls in the air fryer?
Air fryers cook extremely fast. That's why they are so popular besides the fact that an air fryer gives you the crunchy texture of deep frying without all the extra fat. Make sure you watch your egg rolls carefully because they will brown quickly. These egg rolls only need about 6-7 minutes in an air fryer at 400 degrees.
What is your favorite Air Fryer?
The air fryer we use is the Cosori Air Fryer and we love it. We actually did a video review of the Cosori Air Fryer if you'd like to check it out. (aff link)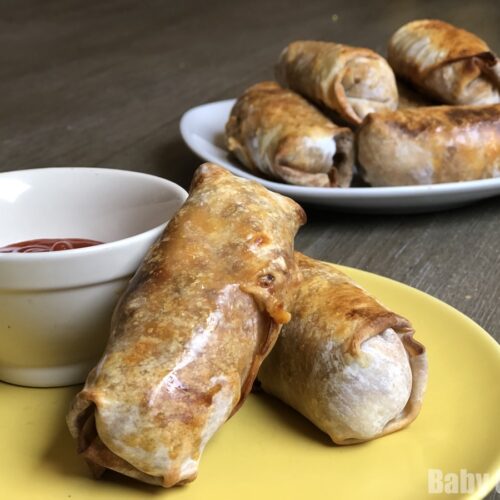 Air Fryer Cheeseburger Eggrolls
These "healthy-ish" Cheeseburger Eggrolls are air fried (saving fat from deep frying) and deliciously cheesy and meaty.
Ingredients
1

lb

lean ground beef

1/2

tsp

garlic powder

1/2

tsp

onion powder

dash

salt and pepper

1/2

cup

onion

finely chopped

1/2

cup

cheddar cheese

shredded

6

tbsp

low fat cream cheese

1/4

cup

ketchup

10

egg roll wrappers

1

egg wash
Instructions
In large skillet add ground beef, sprinkle with seasonings and add onion. Cook over medium-high heat, stirring frequently until beef is fully cooked and onions have softened, about 5 minutes.

Add cream cheese, ketchup, and cheddar cheese and cook for one additional minute.

Remove skillet from heat. Stir until thoroughly mixed and melted.

Take one egg roll wrapper and lay flat on a dry surface. Scoop about 1/4 cup of meat mixtures in a row in the center. Moisten all four edges by dabbing your fingers in water and going over the edges smoothly. Fold the sides about 3/4 inch toward the middle, to keep mixture from falling out. Roll up the wrapper around the mixture and continue to the top. Seal with a dab of water.

Repeat to make 10 more eggrolls. Brush with egg wash (beaten egg)

Set air fryer to 400 degrees.Cook until golden brown, 6-8 minutes
Nutrition
Calories:
158
kcal
Carbohydrates:
11
g
Protein:
14
g
Fat:
6
g
Saturated Fat:
3
g
Trans Fat:
1
g
Cholesterol:
56
mg
Sodium:
243
mg
Potassium:
235
mg
Fiber:
1
g
Sugar:
2
g
Vitamin A:
163
IU
Vitamin C:
1
mg
Calcium:
70
mg
Iron:
2
mg