I have been making layered desserts for as long as I can remember. Some people think it dates back to my Ultimate Pretzel Crusted Peanut Butter Cookie Candy Brownie Bars but I can tell you that I've been smashing desserts together much longer than that. Today, I'm sharing my Brownie Cookie Dough Ice Cream Cake with you.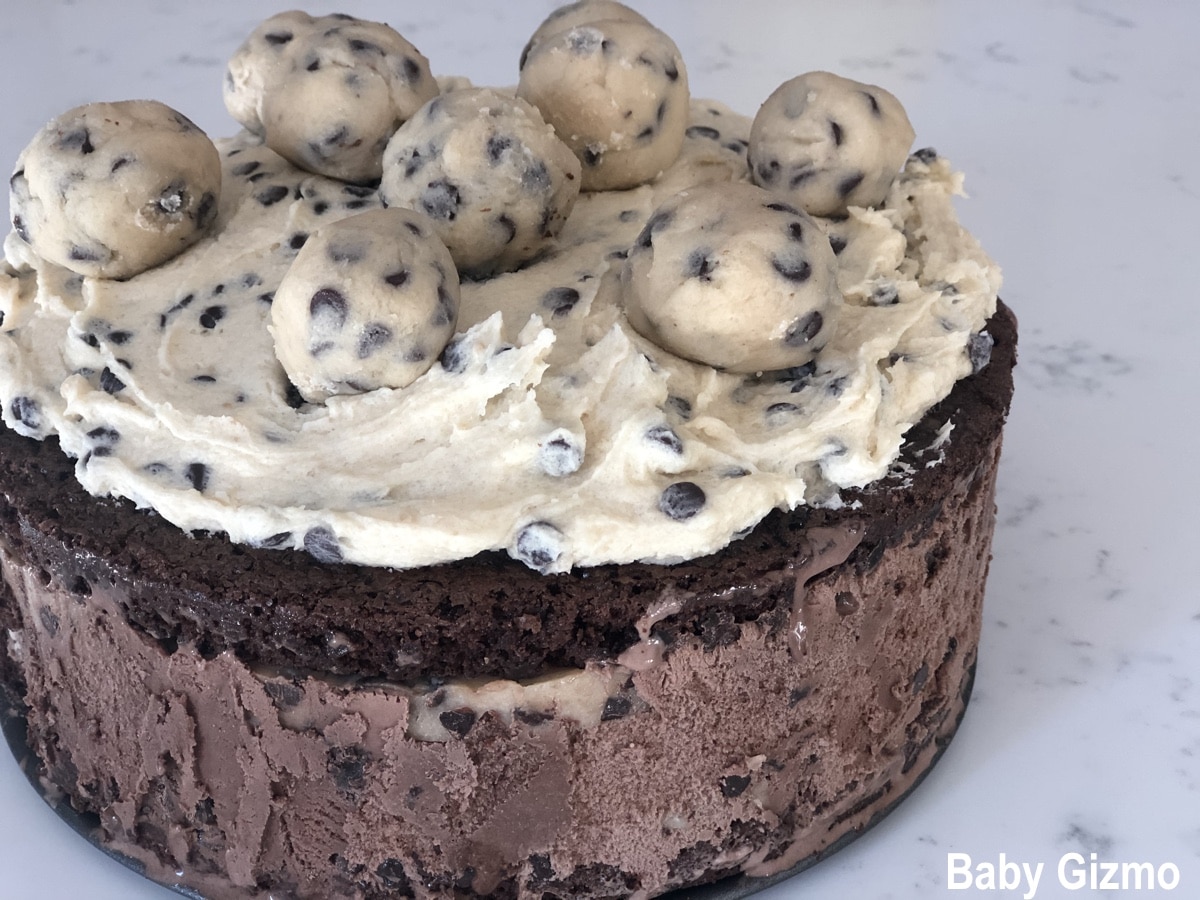 My oldest son turned 14 yesterday. For some unknown reason, he doesn't really like cake. Who doesn't like cake, right?!? Well, since I've always insisted on making a homemade birthday cake for my kids every single year, it was time to get creative again with making him a birthday cake with no actual cake included.
While he doesn't like cake, he has a huge sweet tooth and one of his favorite things is cookie dough. Cookie dough ice cream, edible cookie dough, cookie dough cake – he loves it all.
So, I decided to make a layered "cake" with layers of his favorite desserts.
Is Cookie Dough Safe to Eat?
Glad you asked. Edible cookie dough is safe to eat as long as it doesn't include eggs and you cook your raw flour before using it in the recipe. Yep, the raw eggs and raw flour are the bad things in cookie dough and why your mom always begged you to stop swiping cookie dough from the bowl when she was making cookies.
Since you don't cook edible cookie dough, our cookie dough recipe doesn't need the eggs. If you've ever made edible cookie dough, you know that you don't need eggs or the baking soda.
Raw eggs aren't good to consume for risk of salmonella poisoning so it's a great thing we don't need eggs for the cookie dough recipe and yet still get the same delicious cookie dough flavor.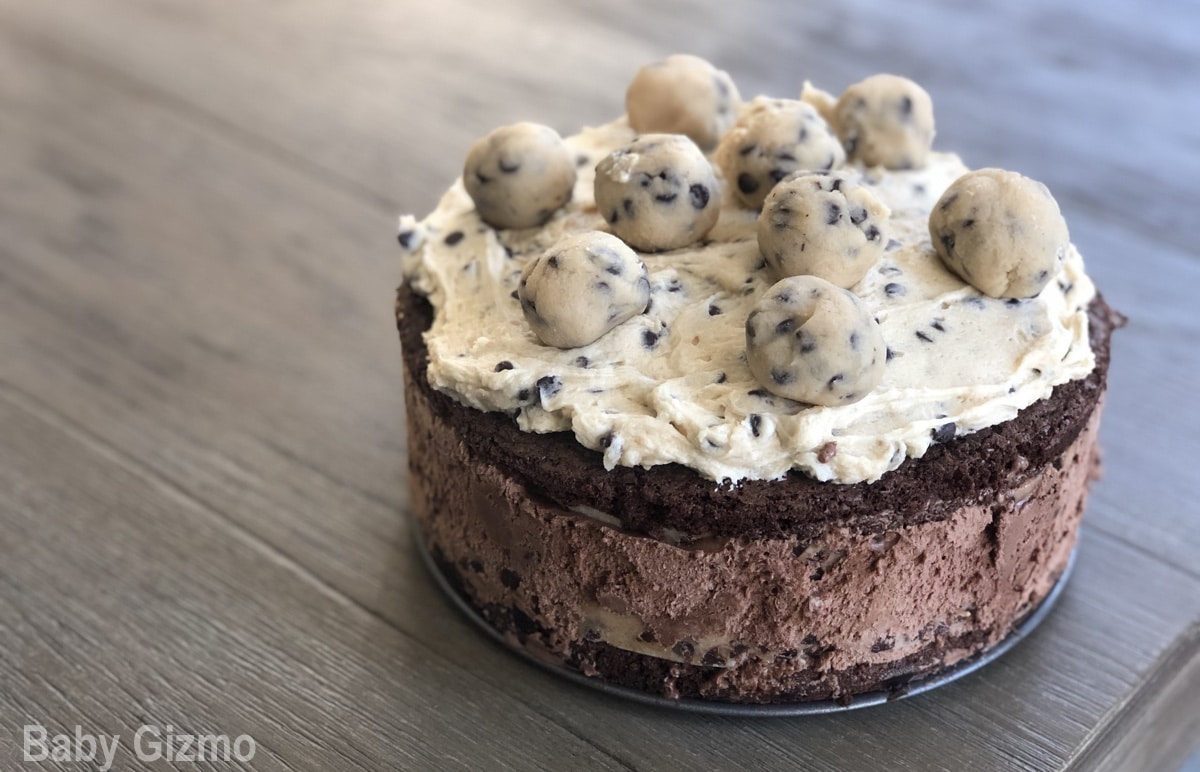 Why So Many Layers?
Another great question. I'm an indecisive person and I ultimately think more is better, apparently. Plus, I think a plain ice cream cake is boring. It needs more pizazz. The brownie layer gives it a sense that cake is involved without actual cake being in the dessert.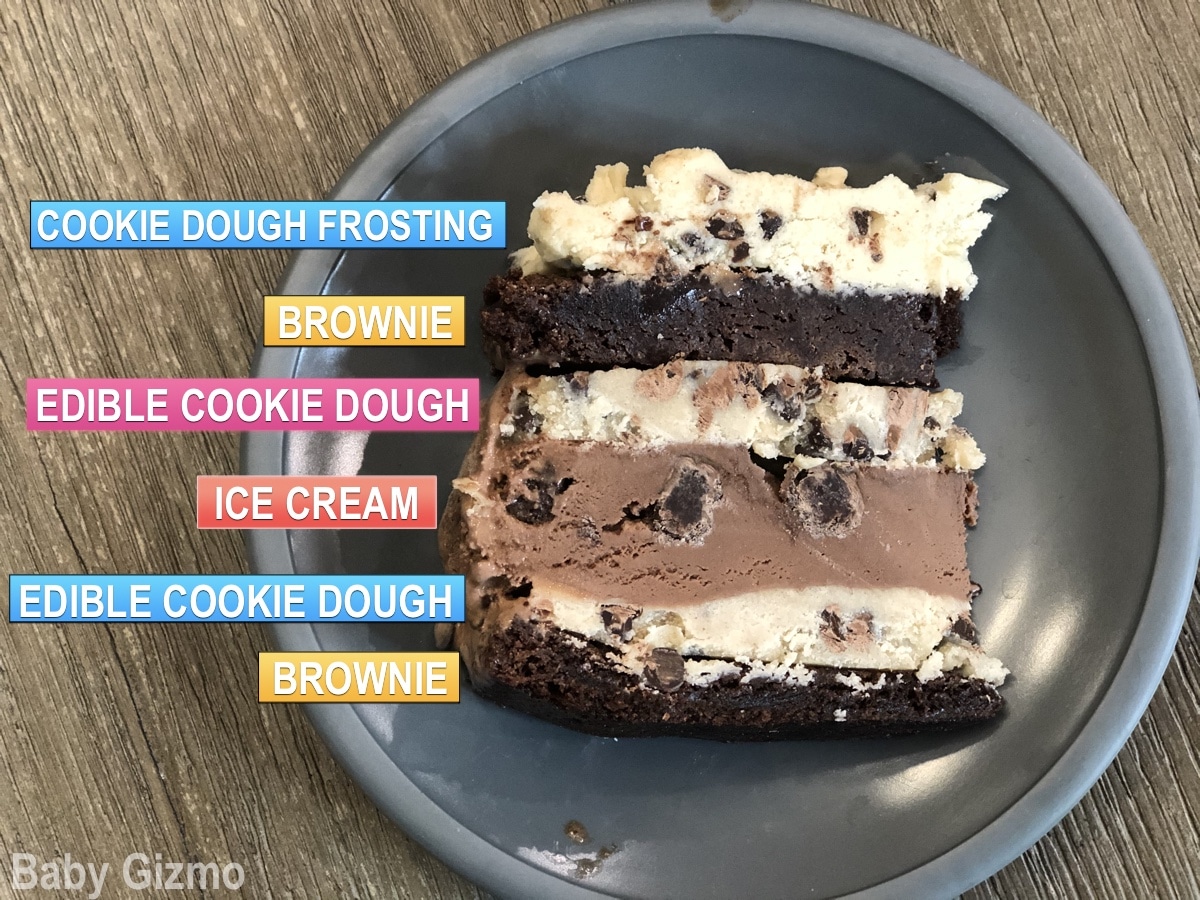 Can I Use Boxed Brownies?
Absolutely. If you are short on time, you can use brownie mix in the box and I won't judge you at all. I'm sure it will taste excellent whether you made from-scratch brownies or boxed brownies. You do you.
Do I Really Need the Cookie Dough Frosting?
Nope. You can definitely leave the cookie dough frosting off if you think it's cookie dough overload. I don't think it's too much and the cookie dough frosting is different than the edible cookie dough layer so I think the frosting adds the finishing touch.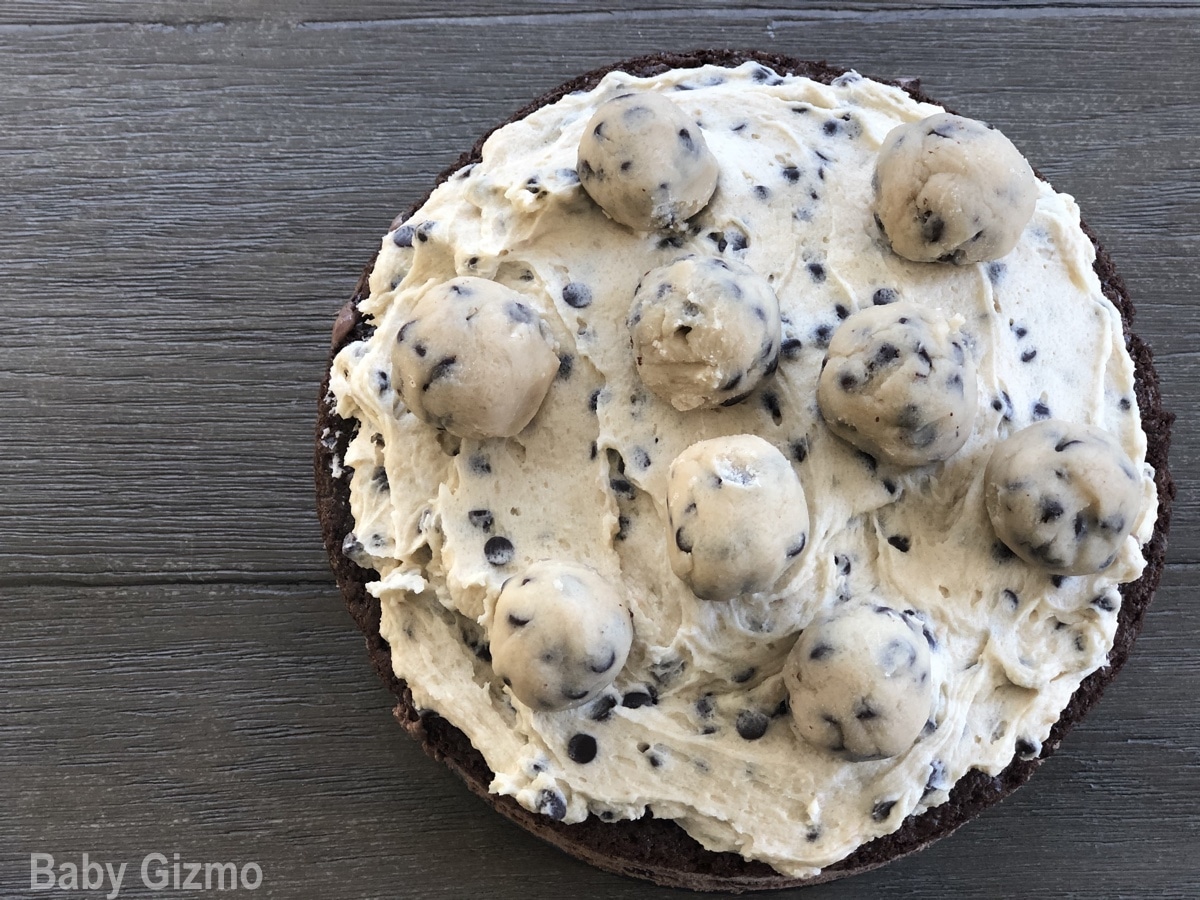 Why Do I Need to Use the Same Pans?
Well, you don't need to use the exact same 8″ baking pans but all the pans you use need to be the exact same size. If you use different size pans, you are going to have a sloppy cake or you are going to be cutting down layers to make it all fit in the 8″ spring form pan.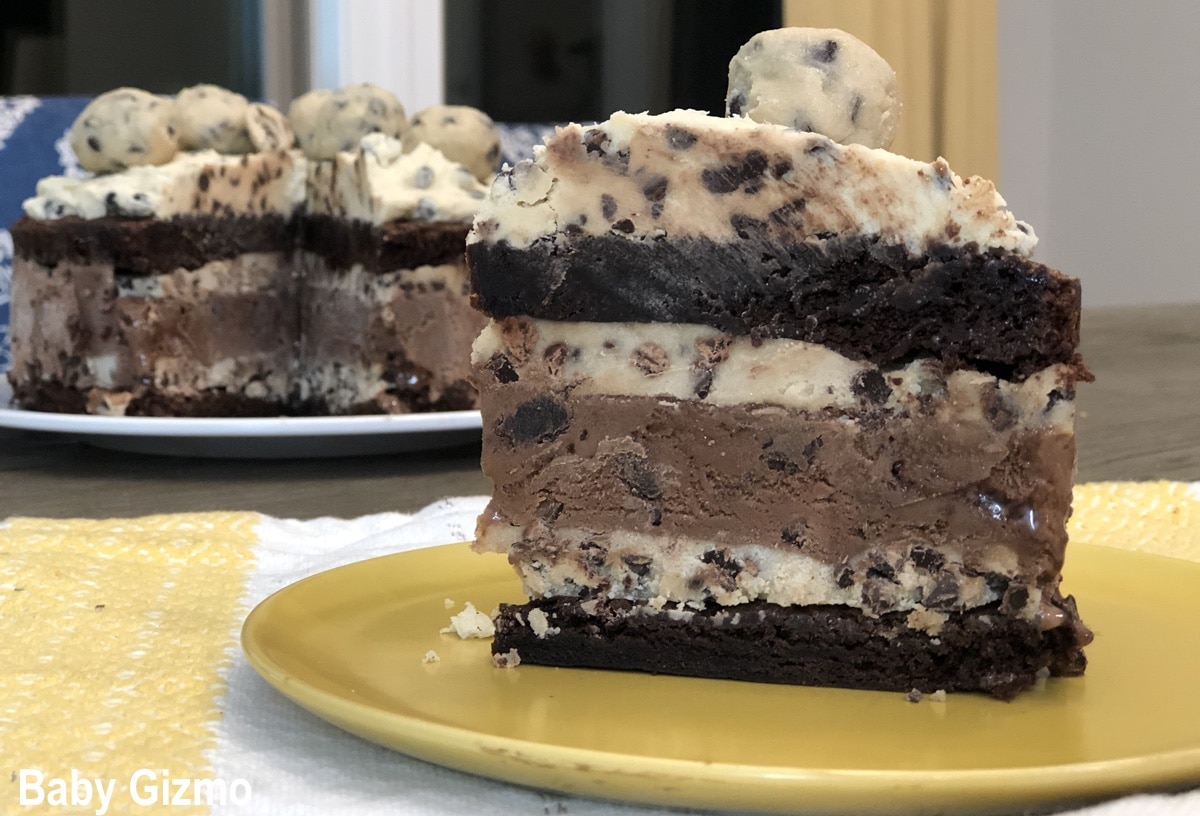 The "cake" turned out fantastically and my son and the entire family LOVED it. We keep the uneaten portion of the cake in the freezer to keep fresh.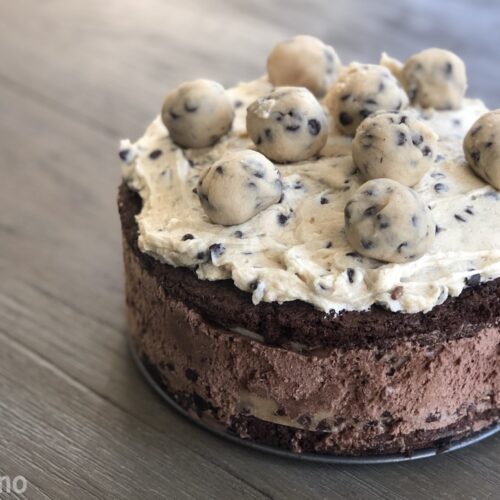 Brownie Cookie Dough Ice Cream Cake
A deliciously layered cake that includes moist brownie, edible cookie dough, ice cream and cookie dough frosting.
Equipment
Stand Mixer

8" round baking pans

8" round spring form pan
Ingredients
BROWNIE LAYER
1 1/2

cups

granulated sugar

3/4

cup

all-purpose flour

2/3

cup

cocoa powder

1/2

cup

powdered sugar

1/2

cup

dark chocolate chips

3/4

tsp

sea salt

2

eggs

1/2

cup

canola oil

2

tbsp

water

1/2

tsp

vanilla
COOKIE DOUGH LAYER
1

cup

butter

2/3

cup

light brown sugar

packed

1/2

cup

granulated sugar

4

tbsp

milk

1

tsp

pure vanilla extract

1/2

tsp

salt

2 1/2

cups

all-purpose flour

2

cups

mini chocolate chips
COOKIE DOUGH FROSTING
6

tbsp

butter

softened

1

cup

powdered sugar

1/4

cup

brown sugar

packed

1/4

cup

all-purpose flour

pinch

salt

1

tbsp

heavy cream (or milk)

1/2

tsp

vanilla extract

1/2

cup

mini chocolate chips
ICE CREAM
6

cups

ice cream (your flavor choice)
Instructions
BROWNIE LAYER
Preheat the oven to 350°F. Lightly spray two round 8" baking pans with cooking spray and line it with parchment paper. Spray the parchment paper.

In a medium bowl, combine the sugar, flour, cocoa powder, powdered sugar, chocolate chips, and salt.

In a large bowl, whisk together the eggs, olive oil, water, and vanilla.

Add the dry mix to the wet mix and stir until just combined.

Pour the batter into the prepared pan and use a spatula to smooth the top. Bake for 22-25 minutes or until a toothpick comes out with only a few crumbs attached (note: it's better to pull the brownies out early than to leave them in too long). Cool completely. Remove from pans so that you can use the same pans for the next layers.
COOKIE DOUGH LAYER
In a large bowl, combine butter with the brown and granulated sugar. Stir to combine. Stir in the milk, vanilla, and salt until well blended. Stir in the flour until completely smooth.

Line two round 8"baking pans (the same ones you used with the brownie layers) each with a piece of parchment paper; this will help to easily remove the cookie dough.

Make 6 small cookie dough balls about 1" wide. Set aside.

Press half of the remaining dough into each pan and use your hands to press it into an even layer.

Place pans of cookie dough pans and cookie dough balls in freezer for at least 30 minutes.
COOKIE DOUGH FROSTING
Blend butter, sugars, vanilla and heavy cream in large mixing bowl until light and fluffy.

Add flour and pinch of salt Blend until light and fluffy.
ASSEMBLY
Using an 8" springform pan, start by adding one brownie layer.

Add frozen cookie dough layer on top of brownie.

Carefully, spoon all 6 cups of softened ice cream on top of cookie dough and spread with a spatula. *You can soften the ice cream by leaving on the counter for 10 minutes.

Add the second frozen cookie dough layer on top of ice cream. Gently push down.

Add the second brownie layer on top of cookie dough.

Complete the cake by spreading cookie dough frosting on top. Add cookie dough balls you reserved earlier for decoration.
Nutrition
Calories:
629
kcal
Carbohydrates:
85
g
Protein:
6
g
Fat:
31
g
Saturated Fat:
16
g
Trans Fat:
1
g
Cholesterol:
72
mg
Sodium:
211
mg
Potassium:
203
mg
Fiber:
3
g
Sugar:
63
g
Vitamin A:
646
IU
Vitamin C:
1
mg
Calcium:
116
mg
Iron:
2
mg
Keyword
brownie bars, cake, cookie dough, ice cream