Welcome to Episode Six! Today we are taking you inside my tween's room. She is almost 10 – so we'll let her have the title of "Tween" for this episode! Again, I want to thank everyone who has helped with the decisions along the way on our Instagram and Facebook pages. It has truly been a group effort with this house and video series.
My daughter was part of the design process for her entire room. We were going for a PINK theme with a touch of Paris. Yep, more pink than anything and a few Paris things added in. That is what she wanted and that's what she got.
FURNITURE
The focal point of all my kids' rooms are the bed and this tween room is no exception. We sold her Princess Playhouse Bed that we made for her when she was 2 years old right before we moved from Chicago. It was too big to bring with us and my daughter wanted a more "grown up bed" anyway.
For the last year or so, she has wanted one of the Pottery Barn Teen Loft Beds but I was not willing to plunk down over $2100 for those beds. Lucky for her, I found a Pottery Barn Teen Chelsea Vanity Loft Bed in mint condition on Craigslist for more than 60% off the retail price within two weeks of moving to North Carolina. The bed was basically brand new because the young girl that had it for a year rarely slept in it and never used the desk. Major score on our part!
The bed is a full size bed over a u-shaped desk with three drawers and four outside shelves for books and buckets of things. You know, all those secret notes from besties at school. 🙂

The 7-drawer dresser was from JcPenny about 6 years ago and it worked perfectly to re-use it for her new room. The black artwork on the wall above the dresser was on sale for $5/piece at Kirklands last month and the Paris lamp was from a local North Carolina furniture store.
The soft, pink, foldable chair in the corner is a $15 Walmart special. That is considered her "reading corner".

On the opposite wall from the windows is a Land of Nod Walden Armoire that we picked up at the Land of Nod Outlet in Illinois a few years ago but has been discontinued since. This is a really well-made dresser so we had to re-use it in her new room as well. Above the dresser are three wall hangings that I picked up at Home Goods a couple weeks ago. The black mirror in the center was $50, which was a little expensive I thought, but I really liked it so we splurged. The two canvases on the outside were on sale for $10 a piece and helped add something besides pink to this room.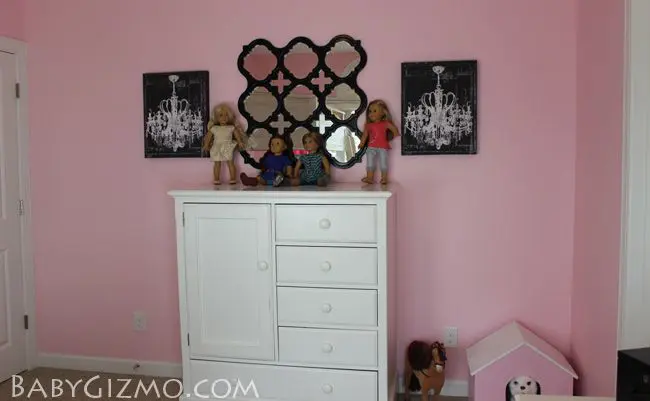 WINDOWS
The wall of windows in her room are gorgeous but definitely needed window treatments so that she could sleep in the morning on weekends and give her a little privacy.
We again turned to Blinds.com to help us ultimately decide on Levolor 2.5″ Real Wood Blinds to match the rest of the 2nd floor windows. Since her younger brothers come in her room sometimes, window safety is of utmost priority in my kids' rooms. We chose cordless wood blinds that are easy to open with the tilt wand or by just lifting up the bottom rail with your hand. They were so easy to install ourselves and we had them up in minutes. Plus, they look amazing on the three windows across.
The arch window was a challenge because since it was level with her bed, which meant the sun would shine right in her eyes on the weekends (she gets up for school before the sun rises!), it needed to be covered. Blinds.com had the solution! We had a custom made shutter arch that fit perfectly and I think goes great with the wood blinds below.
SHOP the Levolor 2.5″ Real Wood Blinds HERE.
To add a pop of color on window wall, we added 84″ Ruffle Curtain Panels from Land of Nod.
So, that's it! You've seen the amazing Tween Room! Stay tuned for Episode Seven in 2 weeks (on Tuesday, December 23 at 9:00am EST on our YouTube channel) when we go in the dining room.
*For more information on the accessories in the photos, make sure to watch the full video episode above.
*Disclosure: Thanks to Blinds.com for sponsoring our "At Home with Baby Gizmo" video series.