Peg Perego has added a new addition to their family of strollers for 2013. The Book Plus Stroller is a reversible seat, full-featured stroller that comes with a stroller chassis, reversible seat with near flat recline, foot muff, rain cover and only weighs a little over 22 lbs.
SEAT
The Book Plus seat accommodates up to 45 lbs and measures 12″ wide with a 19″ seat back and a measurement of 21″ from seat back to canopy. While that isn't a very tall seat back to canopy height, you will still be able to fit a three year old in the seat comfortably.
A non-padded, adjustable harness will keep your baby safely in the seat and the two position foot rest will keep them comfy. The swing-away, removable baby bumper bar is included but can be swapped out for a snack tray that is sold separately. We love that the bumper bar is not foam covered so that our teething babies don't get a mouthful of foam when chewing on it.
The seat sports a four-position, one-handed recline that is easy to do and reclines nearly flat for newborns. If you recline the seat all the way back and attach the included foot muff, you can create a bassinet environment for your wee one. The seat reverses easily to allow your baby to parent-face or look out at the world.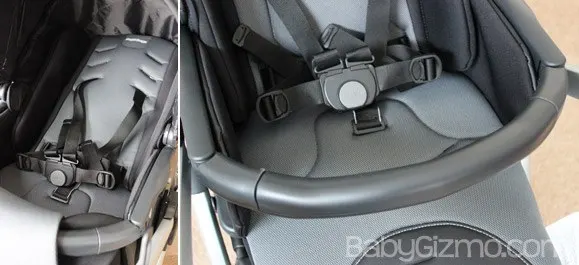 STORAGE
If you stroll with tons of extra baby essentials, you will love the storage on the Book Plus. The basket underneath the seat is not only easy to access with the drop-down bar in the back but the entire basket is HUGE. You could easily fit two large diaper bags or stuff multiple coats, blankets and other essentials down there with no problem. While the stroller doesn't include a baby tray or parent tray, it does have an included cup holder that can be attached on either side of the handle for parents.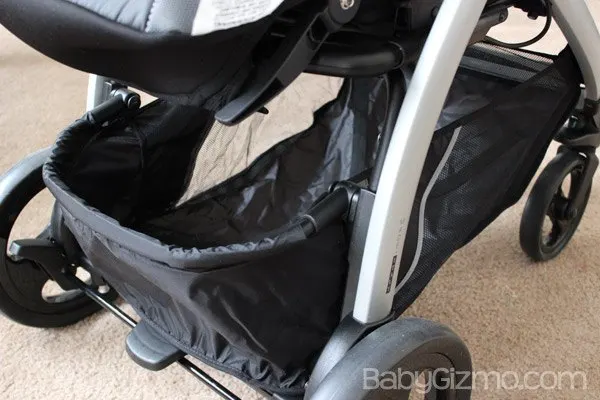 CANOPY
The canopy on the Book Plus is a full-coverage canopy that sports a small, shaded peek-a-boo window on top. We love this canopy because it can fold all the way down in front of the child to block wind, cold and rain when the seat is upright.
HANDLE
The adjustable handle is good for shorter and taller parents and adjusts from 34″ to 42″ from ground to handle. The unique shaped handle has a plastic grip in the center for easy one-handed maneuverability.

WHEELS
The stroller sports four hard rubber wheels – two 10″ ones in the rear and two 7″ ones in the front. The front wheels are 360 degree swivel wheels with the ability to lock straight for a little bit of all-terrain. This is definitely not an all-terrain stroller but with the combination of the large rear wheels in back and the front wheels locked straight, we could successfully navigate playground mulch and grass with a two-handed push.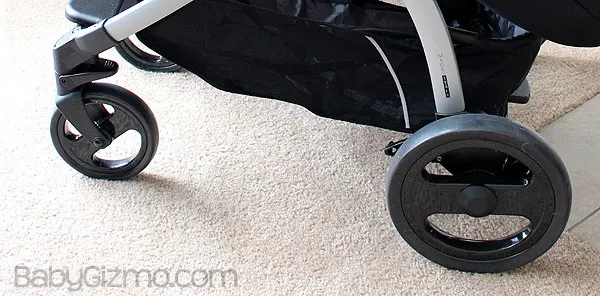 FOLD/UNFOLD
Who doesn't love an easy, one-handed fold, right? Well, the Book Plus has one. We found that the most compact fold can be achieved with the seat parent-facing and fully reclined. The dual side automatic locks are fabulous and the standing fold is just so convenient but we have to warn you that the stroller will set on that handy plastic grip on the handlebar when folded. And if you don't lift the stroller when folding it, you risk scratching up that handlebar grip if it scrapes across the ground so just be careful.
ACCESSORIES
The Book Plus comes standard with a rain cover, cup holder and foot muff. You can also use it as a travel system with a Peg Perego Viaggio SIP 30-30 infant car seat with no additional car seat adapter needed. If you are looking for a pram feature, it can do that too if you purchase the Navetta XL bassinet that comes out in Spring 2013. Even better yet, Peg Perego is introducing a super lightweight Practico toddler seat (with storage bag!) in the Spring to work with the stroller.
WRAP UP
The Book Plus retails for $499 with the bassinet coming in at $249 (available in Spring 2013). Overall, it's a nice, handy little system that comes with many of the bells and whistles we look for on a luxury stroller.
To see the Peg Perego Book Plus up close and personal, take a peek at our full VIDEO review below:
Peg Perego Book Plus Video