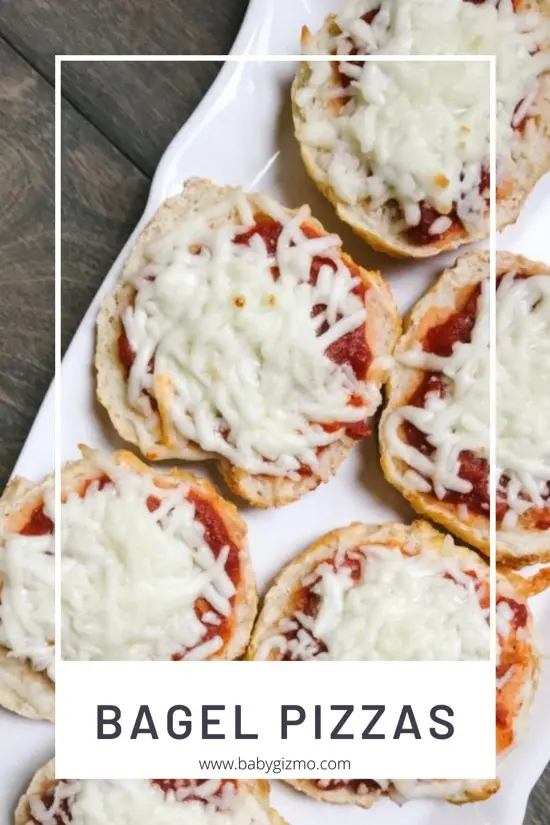 Pizza takeout is grand, but homemade pizza is even better! And bagels as the base? Well, that's just fun! Especially when homemade pizza night falls on a Friday with an extended bedtime and a family movie after dinner. That's the ultimate way to kick off the weekend, isn't it?!?
These last few weeks we've been making homemade pizza and watching the Descendants movies as a bit of fall fun. The kids partake in the preparation and clean-up (gotta train them young!) and then we all relax. Those Disney movies are sure catchy! We're all loving them!
This recipe for bagel pizzas will yield 4 bagels, and thus 8 pizza circles. If you need more, be sure to double the recipe. These homemade bagel pizzas make fantastic leftovers too – such an easy warm up if your kids can take hot lunches to school.
Ingredient
1 cup self-rising flour
1 cup plain Greek yogurt
1 egg
Marinara sauce
Mozzarella cheese
Optional: Your favorite pizza toppings
Directions
The first task at hand is to make the bagels – it's easier than you think! Just follow this recipe. You can do this in the morning or right before you assemble the pizzas. Whatever fits best into your schedule.
Once the bagels are baked, be sure they cool for at least 5-10 minutes, then, carefully slice in half and return to the baking sheet. Spread a heavy dollop of marinara sauce on each and top with cheese. Add any additional toppings you'd like. My kids are plain cheese kiddos so our pizzas are quite simple, but still scrumptious!
Bake at 400 degrees for 8 minutes or until cheese in melted and golden. Ta da — bagel pizzas!