Thanksgiving is quickly approaching, and it's time to start planning that holiday menu. Perhaps you're like me and realize that it is much easier to host a holiday meal than to bring your kids somewhere else. Last year, my daughter was only two months old and the idea of traveling to a family member's house, bringing all of our gear, and hoping for the best was overwhelming to me.
My husband and I decided to host Thanksgiving dinner. (Genius decision, by the way. I highly recommend it.) It was my first experience roasting a turkey, and I was terrified! I've put together this beginner's guide to roasting a turkey help others who perhaps are intimidated.
I hosted Thanksgiving one other time a few years ago. I'm embarrassed to admit that I served a turkey breast, not the full bird at that dinner. We only had a few people and I was very intimidated by everything. This time around, I knew I needed to prepare a full turkey. It came out delicious! I plan to host again this year and am confident in my turkey roasting skills.
Don't miss our other Thanksgiving Side Dishes, How to Cook a Turkey and Thanksgiving Pumpkin Desserts.
Beginner's Guide to Roasting a Turkey
Gather up your supplies ahead of time. You'll need a large roasting pan. I recommend purchasing one that has a rack, like this one. You'll also benefit from a turkey baster, tin foil, and a good carving knife / fork.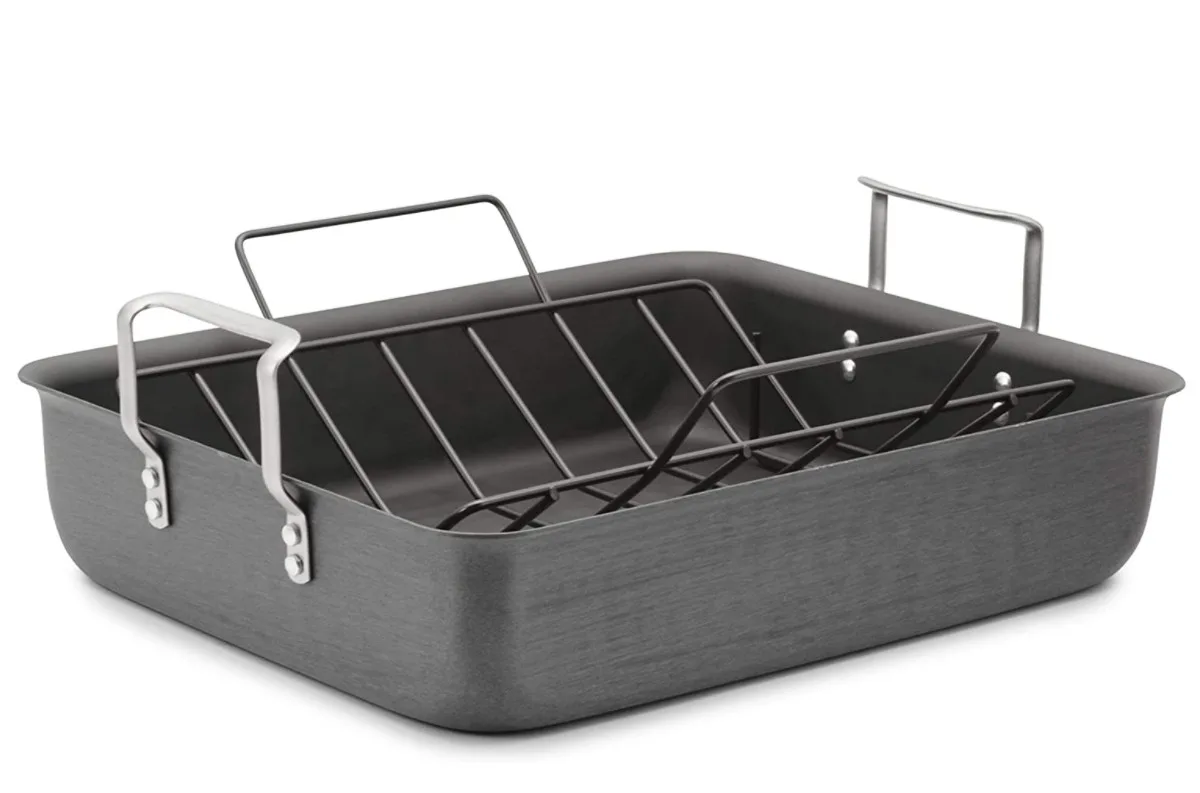 2. Determine how large of a turkey you'll need based on the number of guests + leftovers. It is always better to have too much food rather than too little. A good rule of thumb is one pound per person. You can always do 1.5 pounds if you like a lot of leftovers for the week. But there's no reason to buy a 20 pound bird for 6 people.
3. Skip the brine. I did a lot of research and decided to skip the brine step, and was happy with my results. I was intimidated enough, I didn't need to add in this (questionable) step.
4. Thaw your bird. Let me repeat that for those in the back. THAW YOUR BIRD!!! You'll want to make sure your turkey is completely thawed before roasting, so don't buy your turkey Wednesday night! You can thaw your turkey in the fridge in a few days – just give yourself 24 hours for every 5 pounds.
5. Schedule your oven and time out your day. This may seem silly but this might be the most important step. If you are hosting and you are responsible for the entire meal (as in, the turkey and all hot side dishes), then I find it crucial to put everything on paper.
So, jot down every side dish with two key things – how long it needs to cook for, and at what temperature. Another thing to note is if a dish needs to be served hot or room temperature. Next, work backwards from the time you plan to sit down to eat. Once your turkey is finished roasting, it should rest for at least 30 minutes on the counter. To determine how long your turkey should cook for, the general rule of thumb is 20 minutes per pound. (Food Network says bank on 20 minutes for a defrosted turkey and 15 minutes per pound if you bought it fresh.)
6. Now that you've laid out your oven schedule for the day, get that turkey prepped. Take the turkey out of the refrigerator at least 30 minutes before it is due to go in. Remove and discard the neck and giblets – don't look. Rinse the turkey and pat dry with paper towels. Place it breast side up in the roasting pan.
Preheat the oven to 350*. There are hundreds of ways to season and prepare the turkey, so feel free to differentiate if another recipe jumps out at you. What worked well for me: place pats of butter under the skin. Rub the inside cavity with butter. Place a halved lemon, halved onion, halved apple, and one bunch of fresh thyme inside the turkey. Salt and pepper the rest. Tie the legs together and tuck the wings underneath.
7. Next, it's time to get that bird in the oven. For turkeys over 12 pounds, cover with a foil tent to prevent drying. Remove the foil in the last 45 minutes of cooking. Roast for the pre-determined amount of time. I personally leave the oven door shut and only baste it once, about halfway through.
By not opening the door you are leaving the heat in and the turkey will cook faster. Use a meat thermometer to determine when your turkey is done roasting. Do not rely on the pop up timers! You're looking for 165* throughout.
Cover the turkey loosely with foil while it rests. Resist cutting into it – you'll release the juices. Now you can work on your gravy and any other sides. Carve the turkey using a very sharp knife. This is a great guide to carving.
Enjoy!