No matter how big or small your home is, one of my most recommended baby gear products to new parents is a video monitor. These brilliant little monitoring devices give new parents the visual peace of mind that their baby is just fine in their crib without disturbing them by tiptoeing into the nursery every 5 seconds to sneak a peek.
Plus, I firmly believe that a good video monitor is a worthwhile investment that you can use past the baby stage. They allow you to keep an eye on your curious toddler at bedtime, and if you are into the big brother thing, sneak a peek at your grade-schooler in their room to make sure they are actually doing their homework and not playing Minecraft or Angry Birds.
Even if you live in a small place, there are so many advantages of having one:
breathing checks
they allow you to peek on your sleeping baby without a squeaky door giving you away
they enable you to determine that the crying you hear is not due to injury
with the magic of mute, can actually help you get a better night's sleep while still monitoring your baby.
Don't get me wrong though, while I LOVE video monitors, I am only a fan of GOOD video monitors. If you can't hear AND see your baby, then there is no point in getting one.
My go-to video monitors since I had my first baby 12 years ago have always been Summer Infant because they always seem to be ahead of the curve with technology and parent- and baby-friendly features.
Today, I want to share two of my current favorite video monitors in case you are searching for one for your family.
The first one is the Summer Infant Panorama Digital Color Video Monitor. This is one of those good video monitors that I'm talking about because it's bursting with both parent and baby-friendly features such as multi-camera capability, remote pan/tilt with enhanced zoom, all night battery life, and amazing picture and sound. Seriously, this is all good stuff people!
The Panorama is perfect for getting a view of the entire room or space. With some other monitors, you are restricted to a very small view, and if the baby crawls out of the shot, you are out of luck. Not with the Panorama.
The Panorama camera lens pans, tilts and zooms in remotely from the parent handheld unit. Yep, you can control your view of the nursery from the parent unit to see baby's entire room with 180 degree pan/tilt visibility. No more sneaking in your child's room to adjust the camera because you have complete control with just the touch of a button from wherever you are!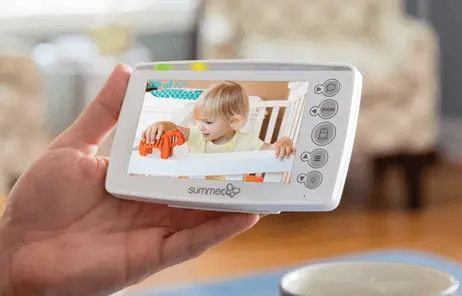 And if you want to zoom in to see something closer, it does that too. Yep, just tap the zoom button on the parent unit for a closer look.
And those aren't the only fantastic features of the Panorama. We love that you can add up to 3 additional cameras and toggle between the different room views on the parent unit. The soft glow nightlight on the baby unit (camera) with two different colored lights (red and blue) can be turned on and off remotely and you can even wall mount the camera in the nursery.
Now, one of my favorite features of baby monitors is the talkback feature and the Panorama has it. This is the button that turns the monitor into a walkie-talkie so that you can talk to your baby through the camera to soothe him and let him know you are on the way. This feature is also good if you have the monitor in a toddler's room to remind them to stay in bed.
The Parorama also features a temperature display to monitor the temp in baby's room, an all night battery life so you won't have to worry about a dead monitor at 3am, and the range is up to 800 ft!
Another fantastic video monitor option is the Summer Infant Side by Side 2.0 Split Screen Video Monitor Set.
If you have multiple babies/kids or want to watch two different rooms at the same time, THIS is the monitor for you!
Summer Infant is the first monitor to introduce split screen! I can't tell you how much I LOVE this feature! Yep, you can see different camera views on the same screen without having to toggle back and forth. Easily view 1, 2, 3, or 4 children or rooms on the same screen, simultaneously. This is especially useful for parents with multiple children. You can also choose the 8 second auto-rotation between rooms. No need to keep flipping from screen to screen manually.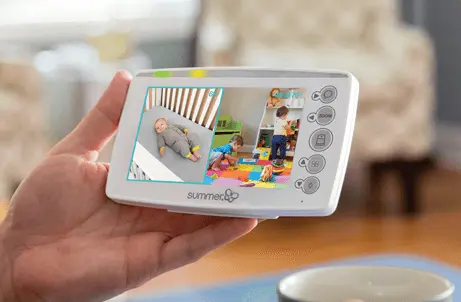 This set comes with 2 cameras that each have an 800 ft range and 100% digital technology for privacy and security. (Two additional cameras can be added for up to 4 total.)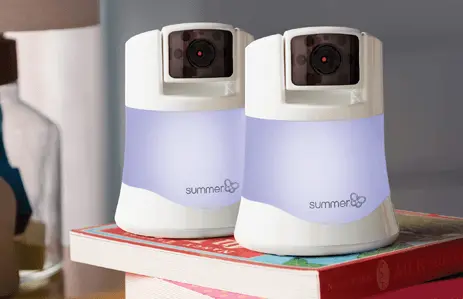 The parent unit features a 5.0″ high resolution color LCD video display that also works in a dark room with the black and white automatic night vision. I have to say that Summer Infant's night vision is really great. The sound activated LED lights on the parent unit are also good for when the sound is turned down on the parent unit or you are in a noisy environment and want to visually see for noise.
Similar to the Panorama, the Side by Side 2.0 features the fantastic talk back feature, temperature display on screen, rechargeable battery, soft glow night lights, remote control pan, tilt and zoom.
If you are looking for a high quality, fantastic, has all the bells and whistles type of video monitor, I highly recommend you check out the Summer Infant Panorama and the Summer Infant Side by Side 2.0 Split Screen Video Monitor. You can't go wrong with either one.
*Disclosure: Summer Infant is a sponsor of Baby Gizmo. As always, all thoughts, opinions and statements are our own. We wouldn't tell you about these fantastic video monitors if we didn't love them.