It's late at night as I type this and, friends, I'm drooling just thinking of these divine little treat. Blueberry Streusel Twists are a must have this fall. Well, if I'm being perfectly honest they're a must for winter, spring and summer too. A sweet brunch item or a dessert everyone will rave about, whenever you whip these up, happiness will ensue!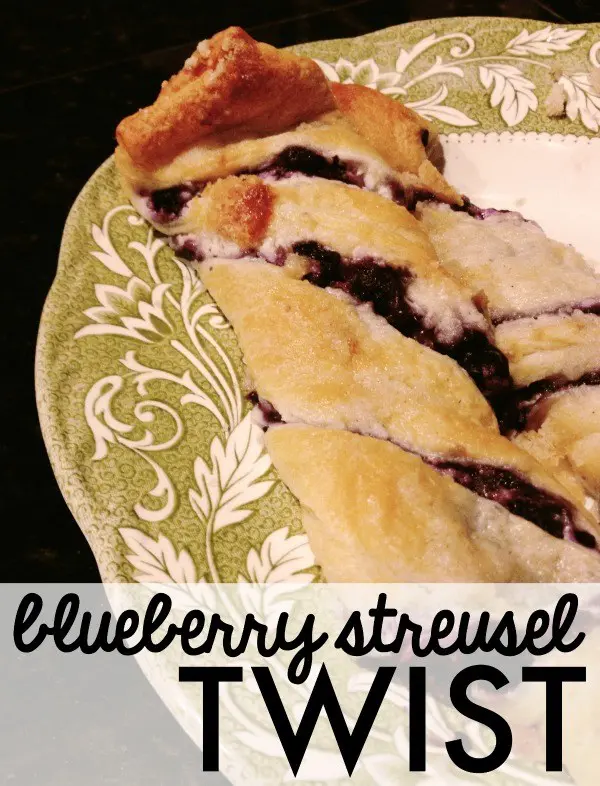 INGREDIENTS
For the pastry base …

1 package refrigerated crescent roll dough
1/4 cup blueberry cream cheese spread
1/4 cup blueberry pie filling

For the topping …

1/3 cup sugar
1/4 cup flour
1 teaspoon cinnamon sugar blend
4 tablespoons butter, split in half
DIRECTIONS
Preheat your oven to 375 degrees and line a baking sheet with parchment paper.
Open your crescent roll dough and divide into four rectangles. Press seams together and spread each of the four pieces with blueberry cream cheese. On two pieces spread blueberry pie filling and sandwich together. Dough, cream cheese, filling, cream cheese, dough – should be your end result.
Cut each rectangle sandwich into 8 strips and twist, pressing the ends to seal them closed. Place on your baking sheet.
In a small mixing bowl blend the topping ingredients. Hold back 2 tablespoons of butter and melt it in the microwave. Brush your pastry with the melted butter and sprinkle the topping blend over the brushed butter.
Bake for 12 minutes or until golden brown. Serve while warm.