I'm definitely a seasonal cook. In the summer I love sandwiches and salads. In the fall and winter, soup almost every day. And in September, apple everything! I love apple season because it's super easy to incorporate this fruit into every meal – breakfast, lunch, and dinner.
Breakfast puff pie, or "puffy pie" as my 4-year-old calls it, is a family favorite. Some call it a Dutch Baby, but that title just didn't cross over for my kids, so, puff pie it is! It's a delicious baked egg dish that is both sweet and filling. To celebrate the changing season we whipped up a scrumptious cinnamon apple compote for the top and it was absolutely heavenly. 10x better than our regular syrup drizzle or jam dollops.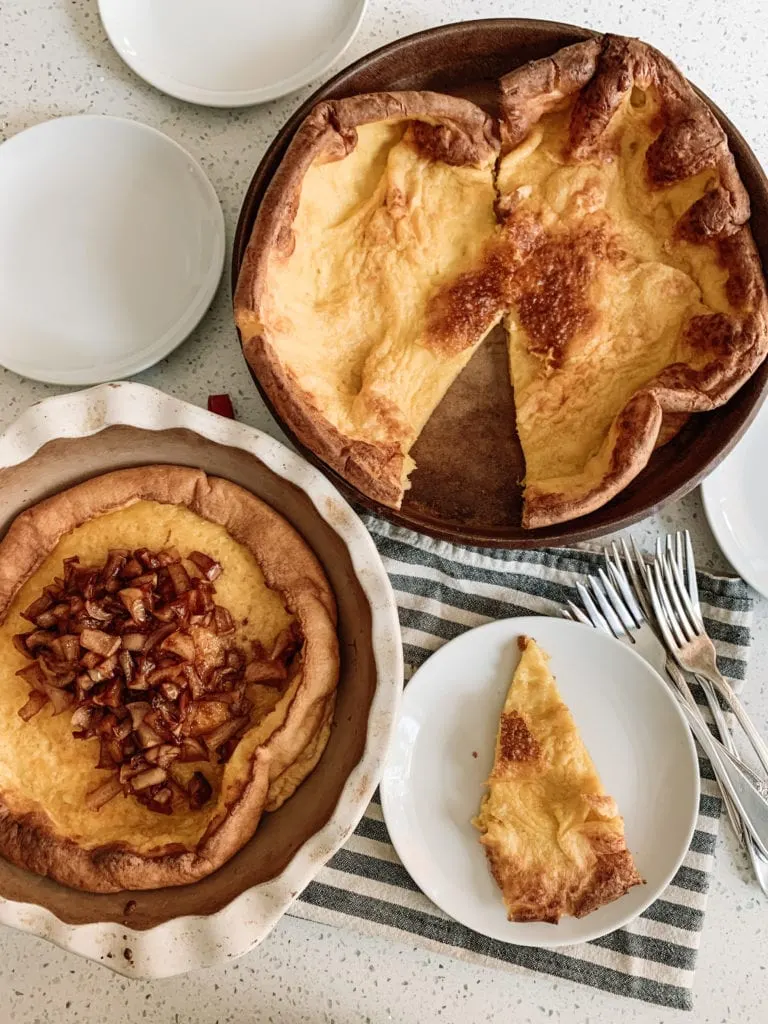 PUFF PIE INGREDIENTS
3 tablespoons salted butter
3 eggs
3/4 cup milk
1/2 teaspoon vanilla
1/2 cup flour
2 tablespoons sugar
APPLE COMPOTE INGREDIENTS
2 tablespoons coconut oil
1 apple, chopped
3/4 teaspoon cinnamon
DIRECTIONS
Preheat the oven to 425 degrees. While it warms place your 3 tablespoons of butter in a round baking dish and place in the oven to melt. Remove before it browns; usually 2-3 minutes.
In a large mixing bowl whisk remaining puff pie ingredients until smooth. Pour into the baking dish and bake for 15-20 minutes. Be sure to call your kids over in the final 5 minutes to watch the pie really puff! It's fun to see it grow!
While the puff pie is baking melt the coconut oil in a saucepan. Add chopped apples and sprinkle with cinnamon. Toss the cinnamon apples in the melted coconut oil and reduce heat to low. Occasionally turn and when they look done, test with a fork for softness.
Top your delicious puff pie with the apple compote or serve in the side and enjoy at breakfast, brunch, lunch, or dinner … it's one of those very versatile meals!