Have you been looking for a stroller with the style of the Bugaboo Cameleon but the ruggedness of the Bugaboo Donkey? Meet the Buffalo. It's like a love child of both strollers.
The Bugaboo Buffalo is a luxury stroller with a smart design, innovative features, and amazing maneuverability.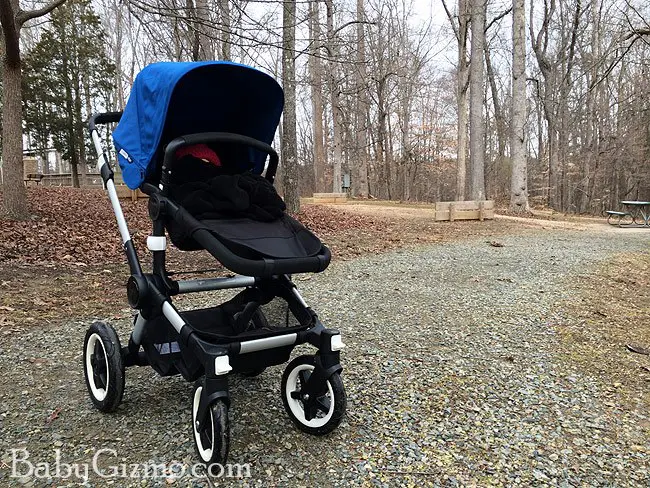 Bugaboo Buffalo Seat
The Buffalo seat has a weight capacity of 50 lbs which is much higher than we are used to with a Bugaboo. The stroller can be used from birth (with the included carrycot) . The seat is 13″ wide with a 19″ seat back and a measurement of 22″ from back of seat to canopy.
The adjustable, 5-point harness keeps your little one safely in the seat and is easy to adjust. The seat has a one-handed recline that is easy to do with a white lever on the back of the seat. NOTE: An interesting fact about Bugaboo is that all their strollers' white pieces have a function on the stroller.
If you are looking for a reversible seat, the Buffalo has that too. I love that it has a memory on the seat reverse buttons so that you can truly turn the seat with just one hand.
Canopy
Knowing that parents want their kids shaded from the sun (and sometimes the paparazzi!), Bugaboo gave us a huge extendable canopy on the Buffalo. It has two panels with a third panel that unzips for full coverage.
Handle
The handle is adjustable and is great for taller and shorter parents alike. It adjusts from 35″ from ground to handle to 44″ making it a perfect stroller with those parents with a longer stride.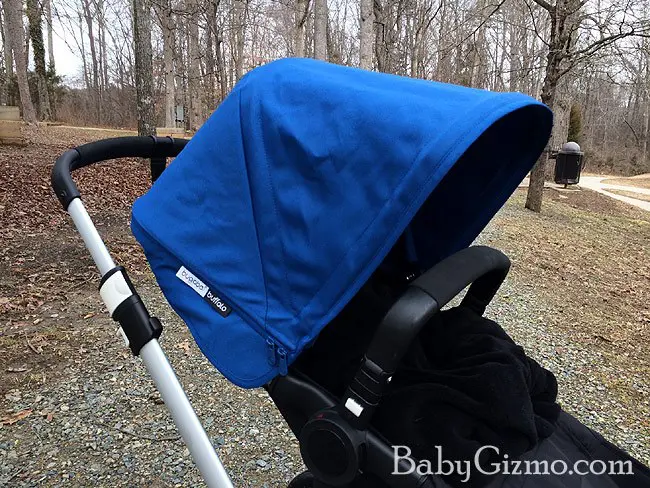 Basket
As we've always said at Baby Gizmo, size matters when it comes to the basket and we aren't disappointed by the Buffalo's basket. It very large and can be accessed from both front and back of the stroller. Plus, there is a mesh pocket inside the basket to keep loose items secure.
Wheels
You can't talk about the Buffalo without talking about its rugged wheels. These no-flat tires are no joke and can charge through all types of terrain. The front 10″ tires are swivel wheels (with the ability to lock straight for extra rugged terrain) and the 12″ rear tires are great.
Not only that but this stroller can be used in sand and snow. I know, usually unheard of with strollers, right? But the Buffalo has a two wheel mode that when you slide in the wheels together, it puts the entire weight on those larger back wheels to allow you to pull the stroller through sand and snow. Seriously, it works. Have you ever tried to push a stroller through sand? Doesn't work, right? Well, you can pull the Buffalo right through.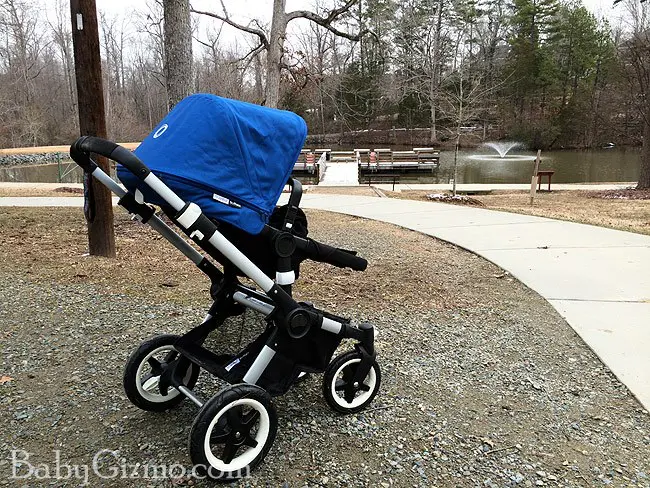 Bugaboo Buffalo Fold
Sometimes we just don't have time to take a seat off a chassis to fold it, so that is why we are super excited about the one-piece fold of the Buffalo. Leave the seat attached in either direction or take it off, your choice, but we LOVE having that option!
Carrycot
The Buffalo comes with an included carrycot to be used from newborn until about 5-6 months. It uses the same frame as the toddler seat (you just swap fabrics!) but it turns your stroller into a pram for your baby. Plus, we love that carrycot can be used as a free-standing carrycot to be used inside.
Bugaboo Buffalo Video
Wrap-Up
Overall, the Bugaboo Buffalo is an amazing option for a luxury stroller. It does come with a luxury price ($1,100+) but if you have the budget, you can't go wrong with the Buffalo's amazing maneuverability, sleek design, rugged wheels, high quality and innovative features.
Other Bugaboo Strollers
Has the Bugaboo Buffalo been discontinued?
Yes. Bugaboo no longer sells the Buffalo.
What stroller replaced the Bugaboo Buffalo?
The Bugaboo Fox 2 replaced the Bugaboo Buffalo.
When was the Bugaboo Buffalo launched?
2013.
What is the weight capacity of the Bugaboo Buffalo seat?
50 lbs.
*Disclosure: Thanks to Bugaboo for sending us a stroller unit to facilitate our review. As always, all thoughts, opinions and statements are our own.