Safety 1st Step and Go Stroller Travel System Review (VIDEO)
There is a new stroller hitting the streets in April and we have the scoop. The
Safety 1st
Step and Go Travel System is a budget-friendly duo that is stocked with features and boasts a new fun fold that we haven't seen before. Let's start with the stroller.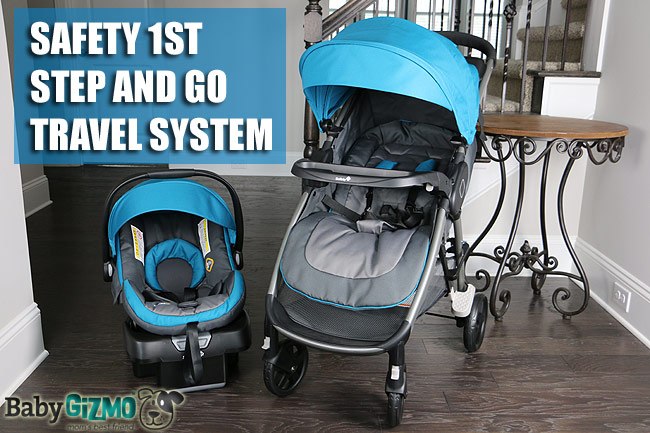 SEAT
The Step and Go stroller seat is roomy and accommodates up to 50 lbs. It measures 12 1/2″ wide with a 19″ seat back and a measurement of 26″ from seat back to canopy. This is definitely a seat that your bigger and taller toddlers will fit in. The adjustable, padded, 5-point harness keeps your little one safely in the seat but the harness buckle is easy for toddlers to master with just one push.
The leg rest is not adjustable but it is a long leg drop with a measurement of 12″. The deep recline is adjusted with a two-handed strap system but is not a flat recline.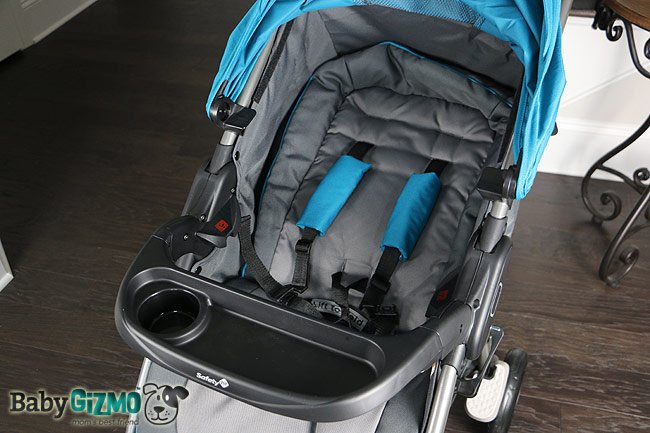 CANOPY
The three panel canopy with additional pop-out sun visor is large for good sun protection and sports a mesh peek-a-boo window on top with cover.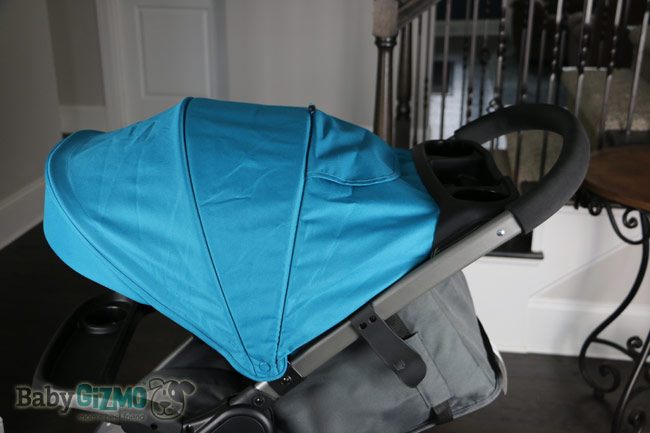 HANDLE
The Step and Go's handle is not adjustable but it is taller measuring 42″ from ground to handle which makes it good for taller and shorter parents.
BASKET
There is a large basket under the seat that is easy to access from the back for a large diaper bag or from the sides for loose baby essentials. We even found that it is easy to access with the seat fully reclined.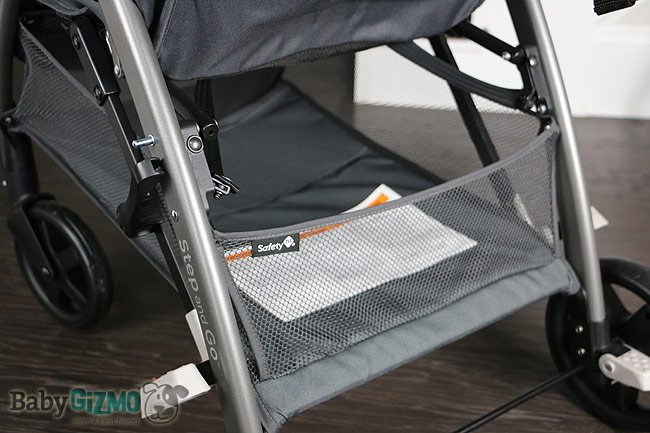 WHEELS
The stroller rolls on 8″ hard rubber wheels in the back and 7″ swivel wheels in front. The stroller is best on smooth surfaces but if you lock the front wheels straight, it tackles "mommy terrain" (grass, gravel and playground mulch) a bit better by giving the stroller extra stability and preventing it from getting caught up in every bump and hole. Individual brakes on the rear wheels lock the stroller into place and are easy to use.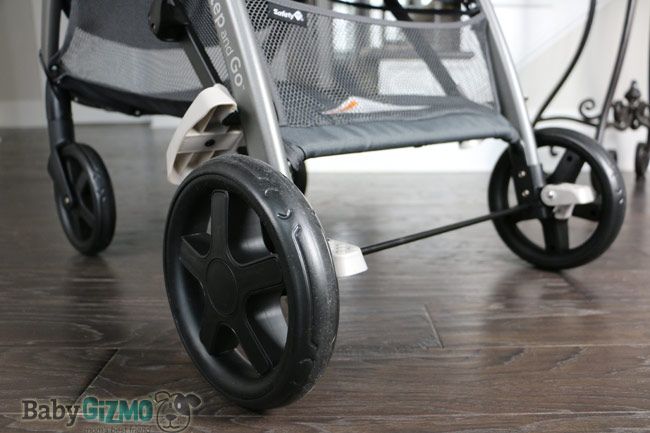 FOLD/UNFOLD
The one-handed fold is easy to do with a strap in the seat but the unfold is what makes it the "Step and Go." This innovative fold requires no hands and can be done with one foot. That's right, this is a "one-foot unfold" and it's super easy to to. Just step down on the pedal with your foot and the stroller pops open. The only thing you need to use your hand for is to adjust the baby tray back into place.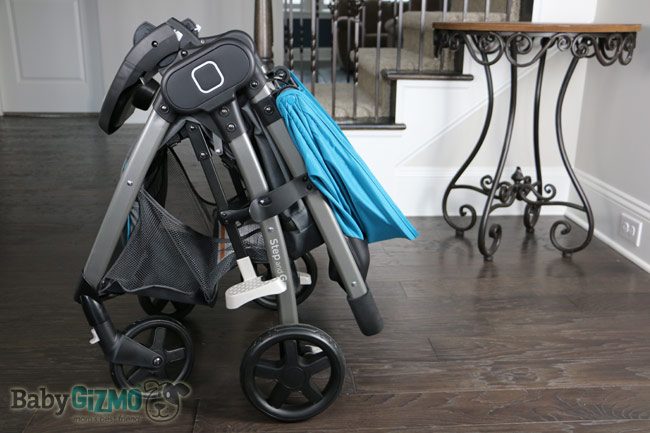 TRAVEL SYSTEM
The stroller travel system comes with the Safety 1st Onboard 35 infant car seat which is for babies 4-35 lbs and features side impact protection, a washable seat pad and large sun visor. The car seat works seamlessly with the stroller clicking into the seat with no additional adapters.
WRAP-UP
The Safety 1st Step and Go Travel System will be available in April 2015 retailing for $299. Overall, this travel system is budget-friendly, full of features and has one of the easiest unfolds that we've ever seen.
We decided that we couldn't just tell you about this new Safety 1st travel system and not throw a giveaway! So, one lucky winner is going to win one before you can buy one!! Woot! Woot! Here is your first chance to win this great stroller and infant car seat!
Just click the giveaway image below and it will take you to the entry form!