Yep, the Baby Gizmo Headquarters is moving again! You are correct – we've only been in our current house for 4 years, but we are on the move again. Sure, four years in our gorgeous house (with a pool, I must add!) wasn't long but we have our reasons for moving but we'll dive into those reasons another day.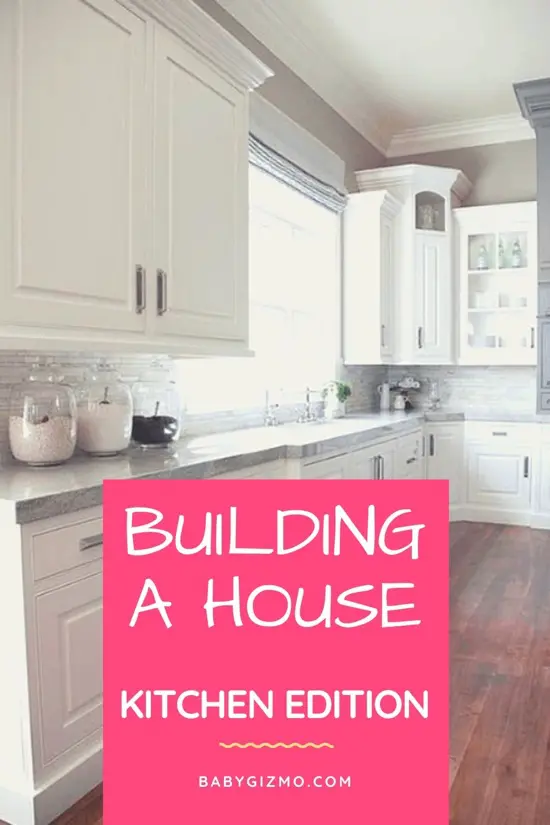 Today, we talking about our new home. Well, what will be our new home. Yes, we are building a house, and as you may or may not know, this process takes about 8-10 months. I have to admit that the beginning of the house build is the most stressful because that is when ALL the decisions need to be made. But that is also the best part of building a home – it's a blank canvas!
We get to pick everything for the inside and out – carpet, cabinets, wood floors, hardware, shower enclosures, faucets, paint, lighting, appliances…everything! Then once we move in – the decorating really begins. So many decisions, so little time!
Since I feel like we are all friends here, I thought it would be fun to take you along for the ride. Give you a little inside look at my life right now. Plus, I NEED your help. Mr. Gizmo and I aren't the best decision makers in the world so we LOVE to "poll the audience" and basically let YOU help build our home.
Today, we are starting in the heart of the house – the kitchen.
KITCHEN CABINETS
I spend a lot of time in the kitchen baking, and since it is the heart of the home, I want my new kitchen to be perfect. Our last house had antique white cabinets and a dark brown island, which I loved, but I want to switch it up now.
We know 100% that we want bright white cabinets around the perimeter of the kitchen like this…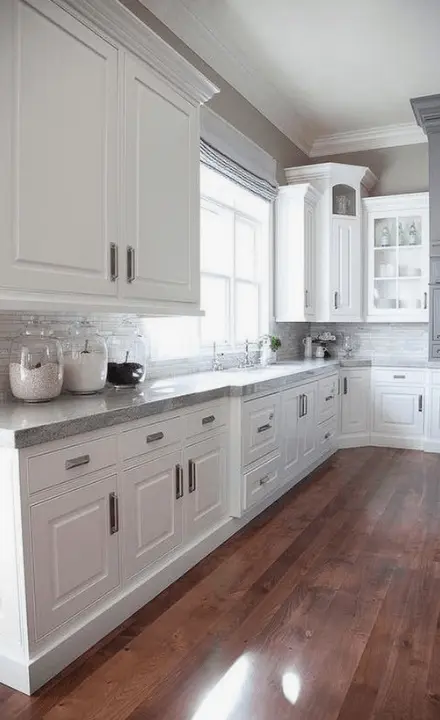 …but the decision up in the air is the color of the island! We *think* we want a dark grey island but we also like the look of a bright, clean, all-white kitchen which would require a white island. A grey island would give a little warmness to the kitchen but is it too trendy?? You know how I love grey but is grey a dying fad and will be out in 2 years. I'm not normally one to bank on fads but I really do love the grey island.
What do you think?
Grey Island like this one?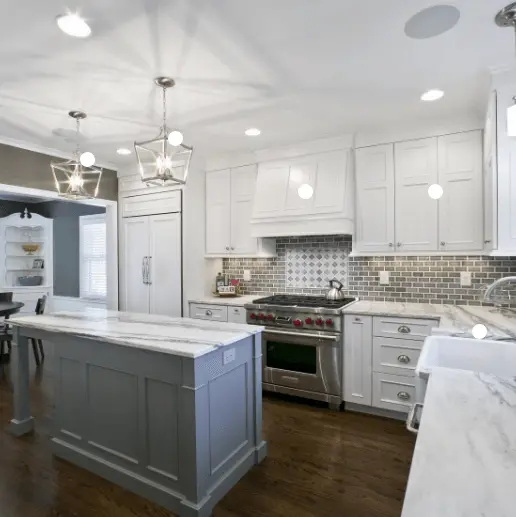 Or white island similar to this one?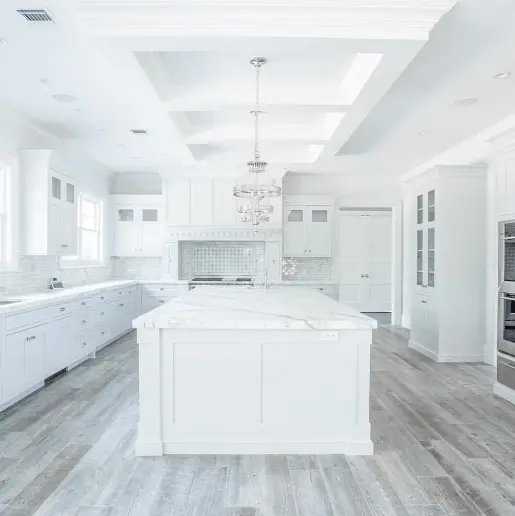 COUNTERTOPS
In our last house we had grey speckled counters which were really nice. I had originally wanted white counter tops, but unfortunately, white counters were not one of the options with our old builder unless I wanted to special order VERY expensive granite, which I did not.
This time white (*almost white*) counters are an option and I'm jumping all over it! We are probably going to go with white quartz as they will be non-porous and are not susceptible to staining or scratching which is fantastic when you are talking about white counters and kids. My cousin had white marble counter tops in her last house that she had to use a coaster for EVERY SINGLE CUP she set down on the counter. Yeah, no mom has time for that no matter how beautiful the counters are.
So, white quartz it is for us like this…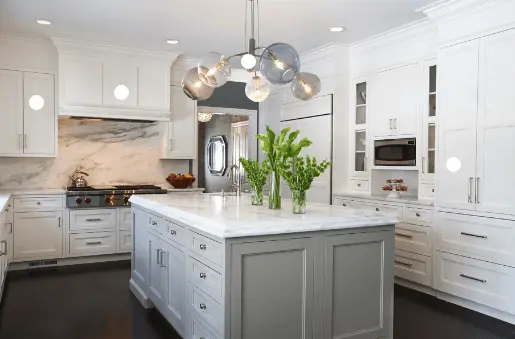 HARDWOODS
This is where we NEED your help! I feel like this is the biggest decision and yet we just can't decide. What color hardwoods do we get? Let's just assume that the island will be grey and the perimeter cabinets will be bright white. What color hardwoods would you get? Okay, let me give you our top two choices. Dark Brown, Hand Scraped Hardwoods or a Grey Hardwood?
Normally, I would always go with a classic dark brown hardwood. My last house had dark brown and everyone loved it including us. People warned us that it would show dirt and dust but I have to admit it really wasn't that bad. It just made sure that I kept them rather clean.
So, here are the choices…
Grey hardwoods similar to this…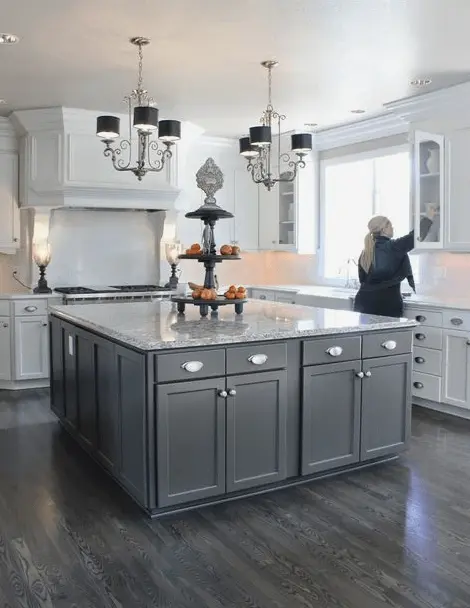 or a classic dark hardwood like this…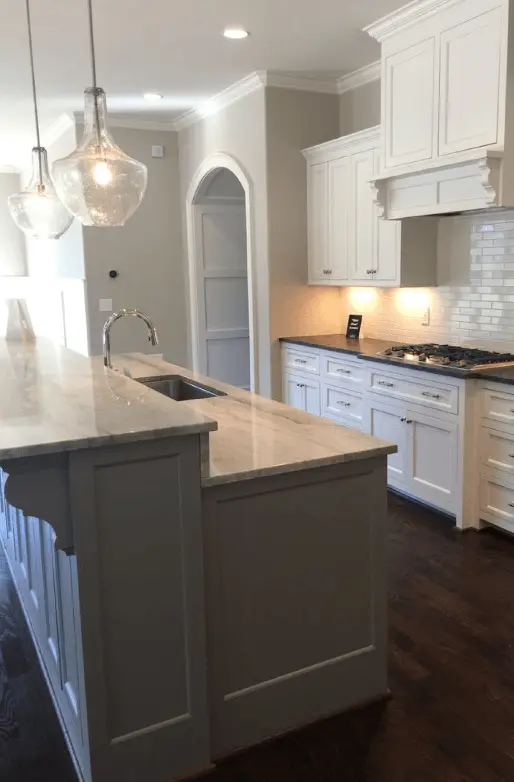 Here are the actual choices:
Which one would you choose? This hardwood will be on the entire first floor of our home which means not just the kitchen but the entryway, dining room, breakfast nook, family room and office.
Kitchen Sink
My last house had a big, one-piece, stainless steel "farmer-style" sink and I loved it. It was perfect for fitting dirty pots and pans and if I wanted it to be a "dish dryer" when I got lazy, I just threw in a dish organizer to hold the dishes on one side.
This house the one-piece, farmer sink will be back but will it be stainless steel or porcelain? Oh, the decisions!! Mr. Gizmo prefers the drop-in stainless but I think the porcelain might be a good change up but I can't decide. Which one would YOU choose?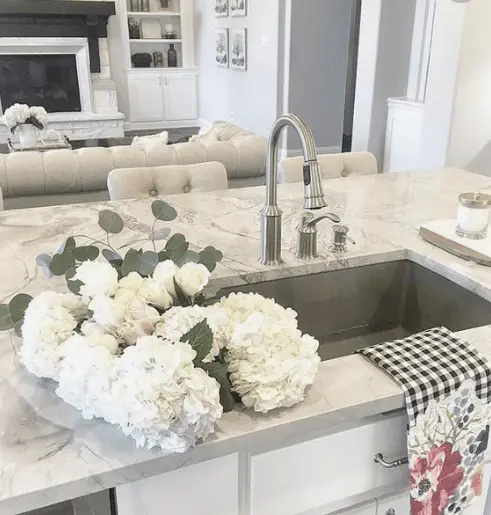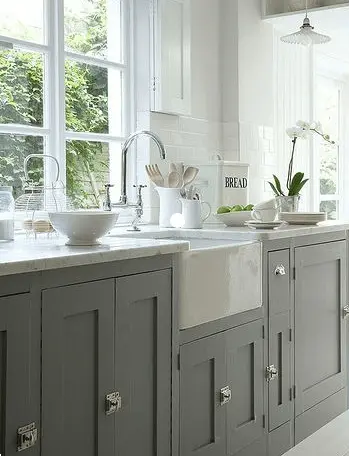 Okay, that's not all the kitchen decisions but that's all I have for today. Sure, I still have lighting, hardware, appliances and extras to pick but those will wait for another day. Let's make these decisions first.
BONUS Unique Kitchen Island Options: