There are many reasons why I love Disneyland and California Adventure. The smell of Grizzly River Run, the music as you walk across the esplanade, the adrenaline rush of Splash Mountain, and, of course, all the sweet and savory holiday treat options!
Nothing gets me more excited about visiting Disney than the thought of a classic churro from one of the snack carts, a sourdough bread bowl at Pacific Wharf Cafe, or a chocolate covered frozen banana while strolling through New Orleans Square. Disney has their snacks dialed in!
During the holiday season – mid November to early January – Disney ups their game with a special line up of HOLIDAY treats! With fancy spins on originals and new fare to sample, a holiday trip to the happiest place on earth is definitely something you'll want to experience.
A recent trip left me prioritizing what all to try from the holiday offerings – so many amazing choices! Here's what we enjoyed … and what I hope to taste on future holiday adventures!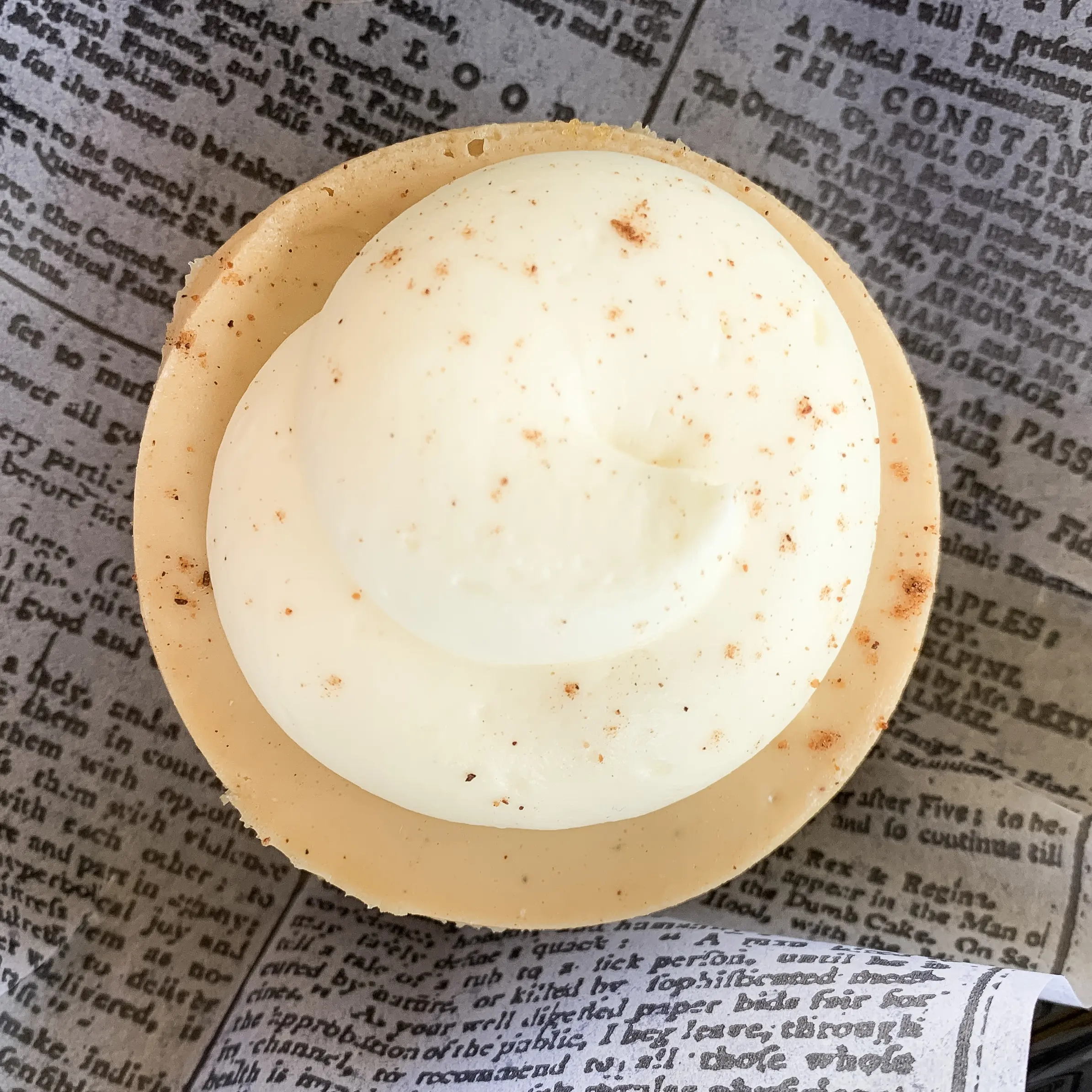 Eggnog Latte Cheesecake
Disneyland – Jolly Holiday Bakery Cafe
Whipped to perfection, this cheesecake will send eggnog lovers straight to snack heaven! Topped with white chocolate mousse and a sprinkle of nutmeg, I can't think of a better holiday treat.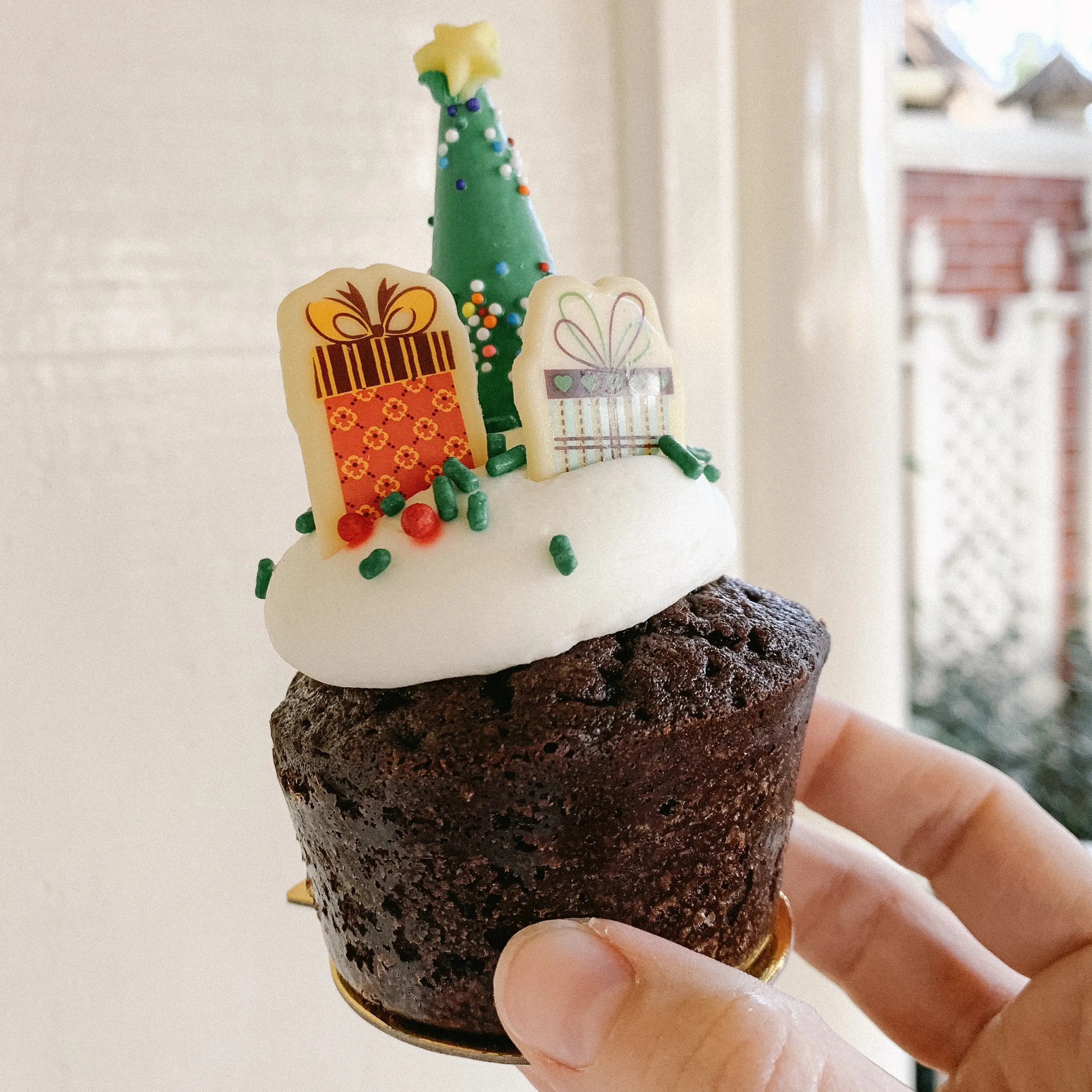 Holiday Brownie
Disneyland – Jolly Holiday Bakery Cafe
While I savored my eggnog latte cheesecake, my son opted for this brownie. I was skeptical, what makes a brownie "holiday" … well, in this case, the ADORABLE, edible toppings! Truly festive, rich, and delicious, this brownie is a total win!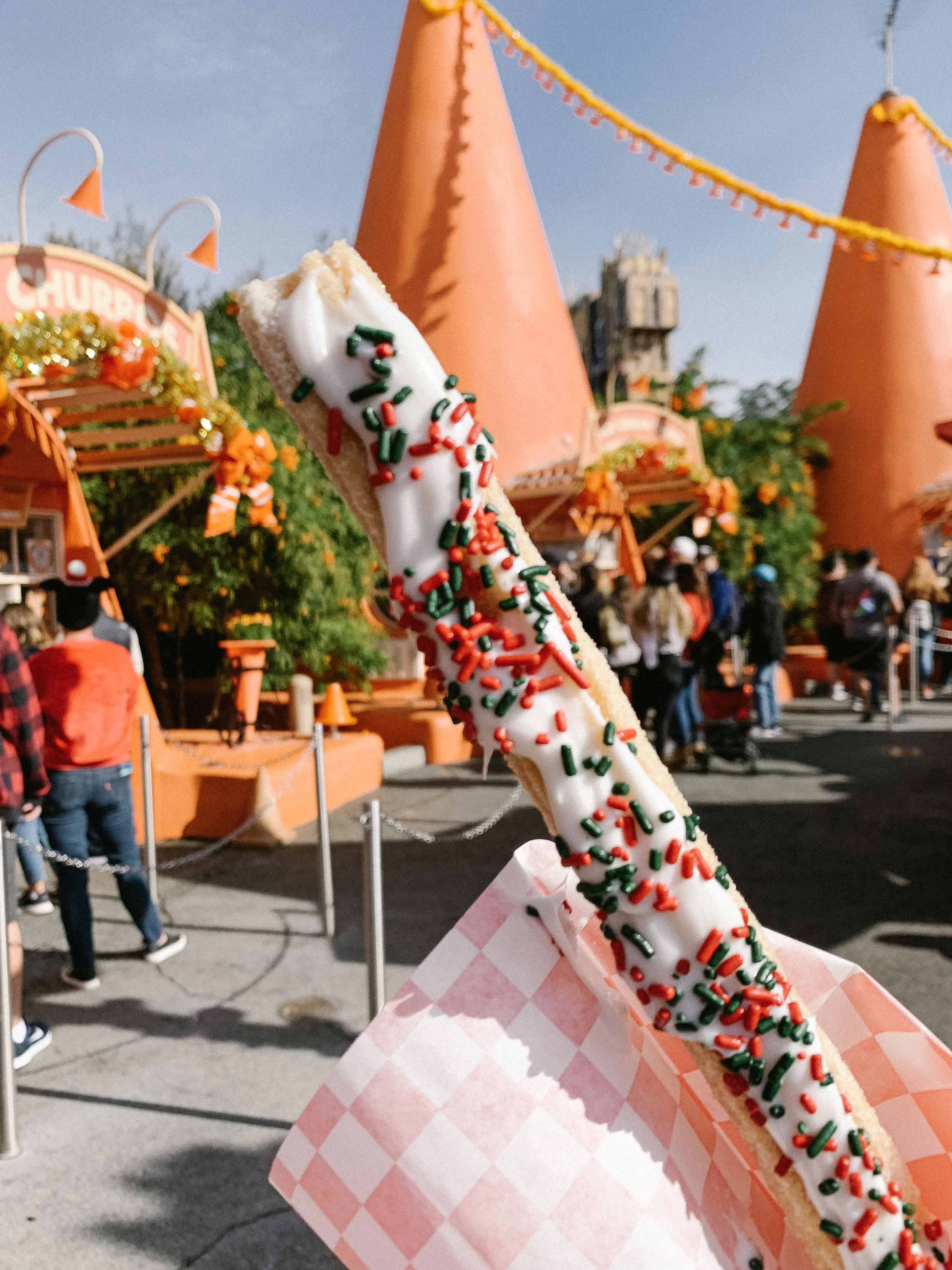 Sugar Cookie Churro
California Adventure – Cozy Cone Motel
There are 10+ churro varieties during the holidays … how does one pick?!? We opted for the sugar cookie churro in Cars Land and absolutely loved it!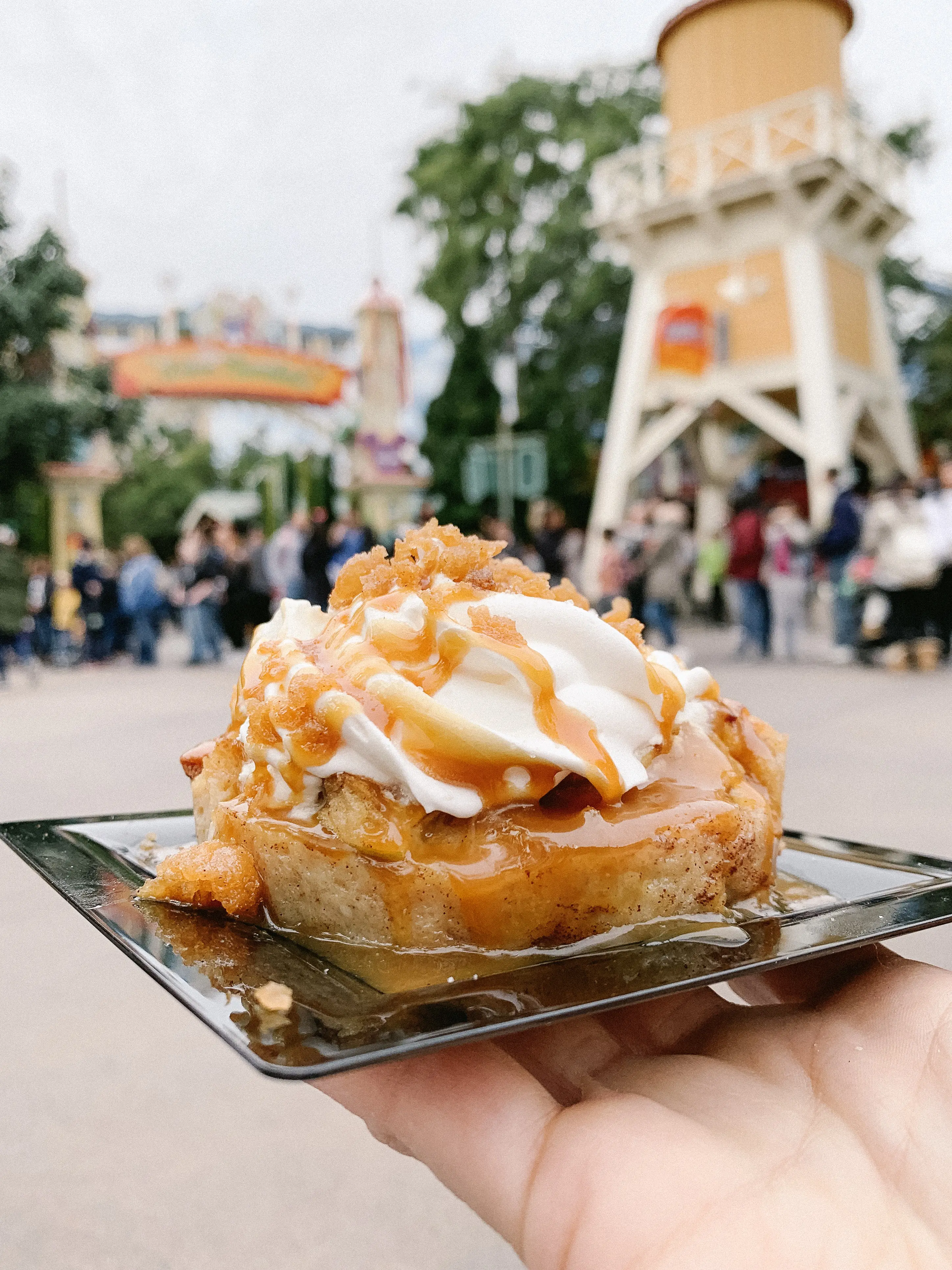 Apple Fritter Bread Pudding
California Adventure – Pacific Wharf Cafe
Confession: I'm a huge bread pudding fan. When it's on a menu, you can almost guarantee that I'll order it. I loved the idea of pairing apple fritter flavors with the bread pudding classic. It was AMAZING! The whopped topping and sprinkle of crunch was the perfect dessert while we enjoyed the Viva Navidad street party.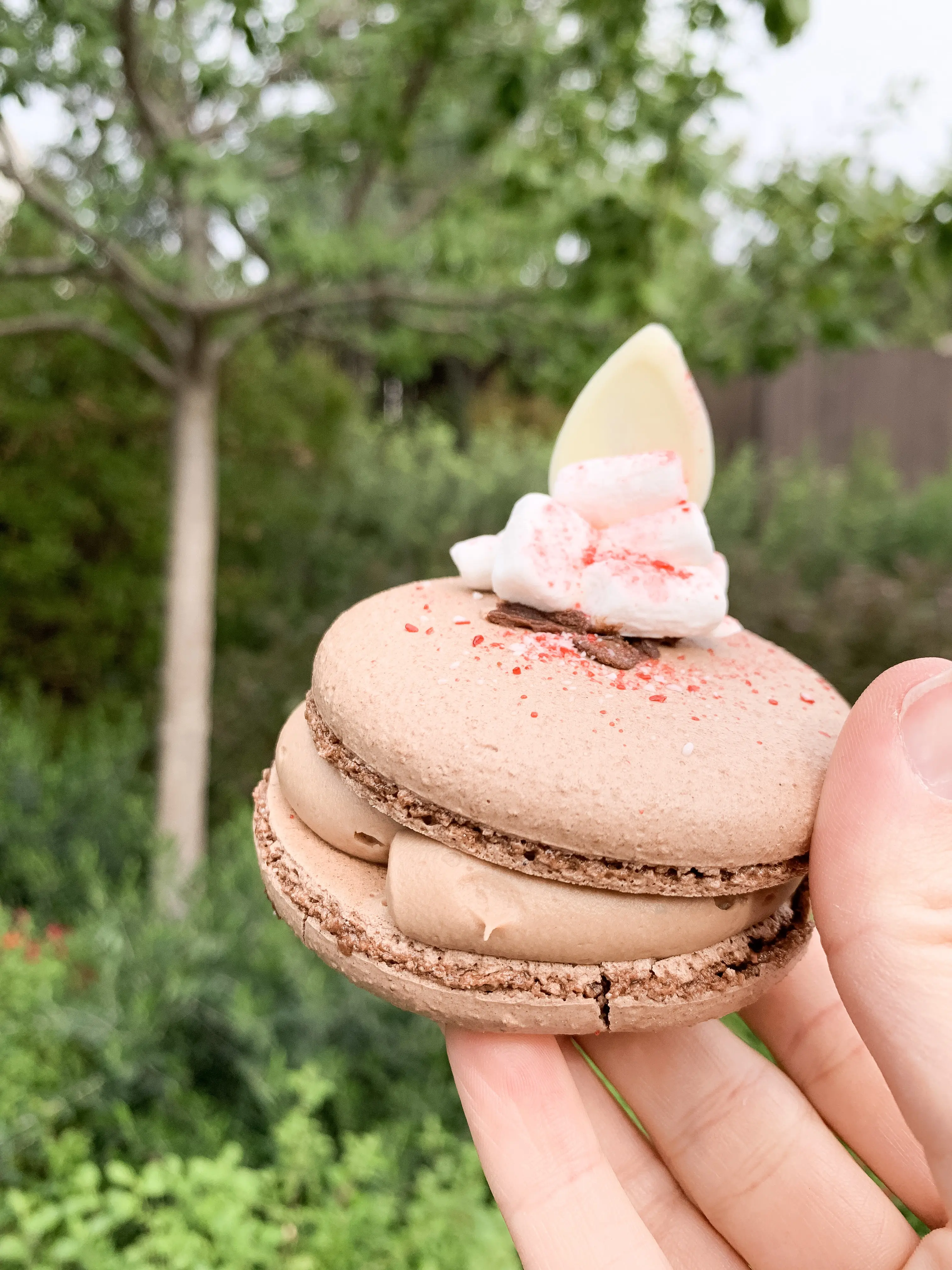 Hot Cocoa Macaroon
California Adventure – Festival of Holidays Food Cart
The Festival of Holidays is an annual smorgasbord that happens each year at California Adventure. You can buy a Sip and Savor pass (a coupon booklet that can be redeemed for festival offerings) or purchase items individually. After reviewing all the options, we were most excited about the hot cocoa macaroon, and, after ordering and sharing one, we went back for another. Definitely our favorite treat of all!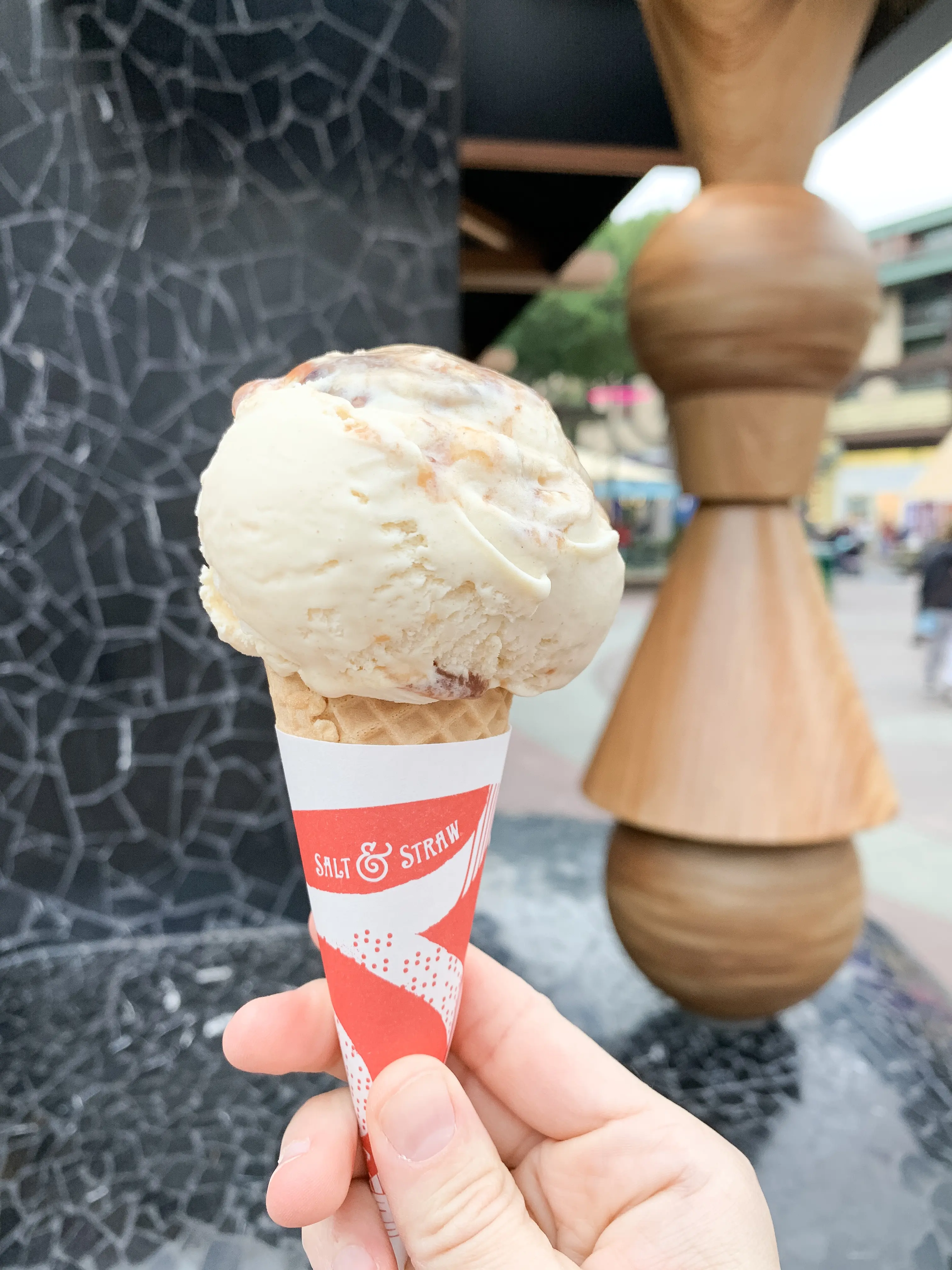 Apple Brandy and Pecan Pie Ice Cream
Downtown Disney – Salt & Straw
If you don't have tickets to the park (or even if you do) be sure to visit the ice cream shop, Salt & Straw in Downtown Disney. Every month they feature a seasonal line-up of ice cream flavors and this December they blew it out of the park with the Apple Brandy and Pecan Pie. Holy moly, I never knew something like a cold ice cream could give me the warm, fuzzy feels of Christmas!
Below are a few things our tummies didn't have space to try … hopefully another holiday season at Disney will give us the opportunity! If you go, consider tasting one or two of them and report back!
Other Disney Treats
Santa's Cookies and Milk Churro – Disneyland, churro cart near Casey Jr.
Santa Hat Macaroon – Disneyland, Jolly Holiday Bakery Cafe
Gingerbread Mickey Cookie – California Adventure, Festival of Holidays
Pumpkin Spice Shake – Disneyland, Red Rose Taverne
Alpha Broccolius Parfait – Disneyland, Pizza Planet
Frozen Abuelita Hot Chocolate – Disneyland, Rancho del Zocalo
Snickerdoodle Cold Brew – Disneyland, Hungry Bear Restaurant
Hot Chocolate Beignets – Disneyland, Cafe Orleans
Churro Yule Log – California Adventure – Festival of Holidays
Pecan Pie Churro – California Adventure – churro cart on Buena Vista Street
FAQs
When does Disneyland celebrate Christmas?
Mid November to early January.