As a new mom, I was on the hunt to meet other moms with babies around my son's age. I joined a play group over this past summer that has been awesome so far. The babies range from 6-18 months, but my son seems to be on the younger end of the group. We recently did a busy bag exchange and I wanted to share with you how it went!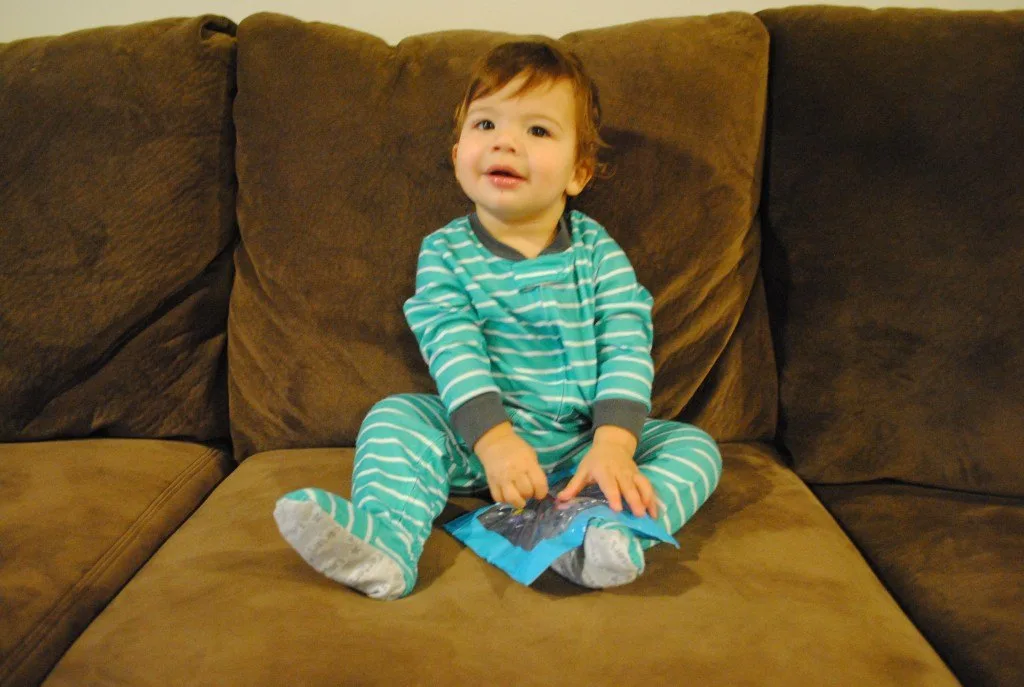 So, a busy bag is intended to be something small, quiet, and simple to help occupy a toddler easily- think doctor's waiting room, restaurant, church, etc. Ours were all hand made, although I'm sure you can buy them somewhere online if you wanted to (etsy sells everything these days, doesn't it?)
We had 30 (!) participants in our group, which meant that each mom made 30 of the same activity, and then we swapped so that at the end of the day each mom walked away with 30 different activities. Thirty was definitely a lot, but I think it was worth it. All of the moms worked so hard on their activities, and my son has really enjoyed them so far!
I wanted to share with you the activity I made for the group. I chose a sensory bag because it seemed easy enough- and it was easy but was also time consuming having to make so many of them. I searched around for a few examples and then headed out for my supplies.
You can use any small items you'd like, but I went with googly eyes, smooth rocks, foam shapes, beads, and larger hooks in various shapes.
Then I filled a sandwich bag with 1/4-1/3 bottle of colored hair gel (I used LA Looks- it came in large bottles and was inexpensive) and carefully dropped in a few items and sealed the bag. I then put that bag inside of an additional sandwich bag, and sealed all the sides with colorful duct tape.
The bag is soft and squishy and it seems to hold my son's attention for a few minutes. I can't ask for much more at this point, so I will call this project a win!
Just your standard disclaimer: These activities could potentially contain small items that are choking hazards. Always supervise your children when playing and do not let them put any toys or crafts in their mouths. But you knew that!