Soup is for me what mac 'n cheese is for my kids – ultimate comfort. If my husband would allow I'd fix soup every evening during the fall and winter months. It just feels like the perfectly cozy meal I need to cap off the cool days.
If you're a soup lover like me, you're always trying new recipes. A hint of that and an extra dash of that can turn a plain soup into something very special and this Everything Autumn Soup does just that! I hope you'll enjoy as much as I did!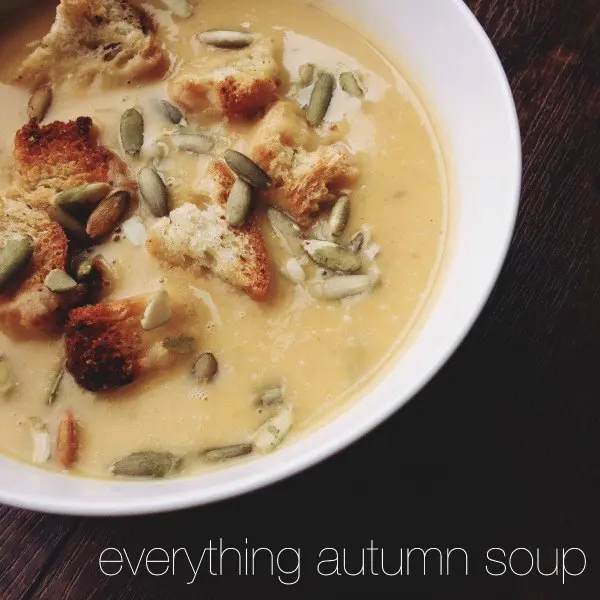 INGREDIENTS
1 apple
1 butternut squash (or 16 ounces of frozen cubes)
2 parsnips
1 onion
2 small sweet potatoes
2 tablespoons olive oil
1 teaspoon thyme
2 teaspoons sea salt
1/2 teaspoon pepper
8 cups chicken stock
1 cup heavy cream
Optional: homemade croutons and pumpkin seeds
DIRECTIONS
Preheat the oven to 400 degrees. While it heats prepare your soup base – core and slice the apple (keep the skin attached), peel the parsnips and sweet potatoes and roughly slice or cube and peel and slice the onion. Place on a baking sheet and toss in olive oil.
If you opt for a whole butternut squash leave it whole and place on a separate baking sheet. Once it is baked it will be much softer and easier to slice in half and scoop out the seeds.
Bake the soup base blend for 30-40 minutes.
Puree the soup base in two batches via a blender and pour into a large stockpot. Be sure to vent as your puree to avoid a heat cloud when you open the top! Add spices and chicken stock to the stockpot and bring to a boil. Reduce heat to a low simmer and stir in heavy cream.
Top with croutons and pumpkins seeds for a yummy crunch and enjoy!