Whether you're planning a family get-together, the neighborhood block party, or you just want to be prepared to entertain your kids and everyone else's while you wait for fireworks to start (seriously, why can't the Fourth of July be in winter when it gets dark sooner), this list of Fourth of July party games is just what you need!
Can Knockdown Game: There's no tutorial for this one, but it's pretty self-explanatory. Take six (empty and clean) cans. Wrap them in red, white, and blue paper. Then stack them up and give your players something to throw. In the photo they're using wiffle balls, but you can also use bean bags. (By the way, this whole party has some pretty awesome inspiration; I especially loved the lawn tic-tac-toe.)
Uncle Sam Hat Decorating Contest: Grab a table and your craft supplies and have the kids (or, heck, all your guests) create their best Uncle Sam hat. You can simply enjoy letting your creativity fly, or you can make it a contest and let everyone vote for the winner. Prizes could include anything from bragging rights to a tasty treat to take home to an awesome book like, say, a kid-friendly biography of the ten-dollar founding father. By the way, if you don't want to make the hats as part of the craft project, you can buy pre-made felt hats; keep in mind that you'll want to use tacky glue or hot glue guns with these, though.
Marshmallow Golf: This game's fun and easy! Grab a bag of marshmallows and divide it into thirds. Dye one third of them red, dye one third of them blue, and leave one third of them white. Set up the marshmallows on tees and let your golfers take a whack at them. Whoever drives their marshmallow farthest wins! And if the resident golfers don't want to share their clubs for this game, I think it would be even funnier if everyone played with a preschool set, anyway.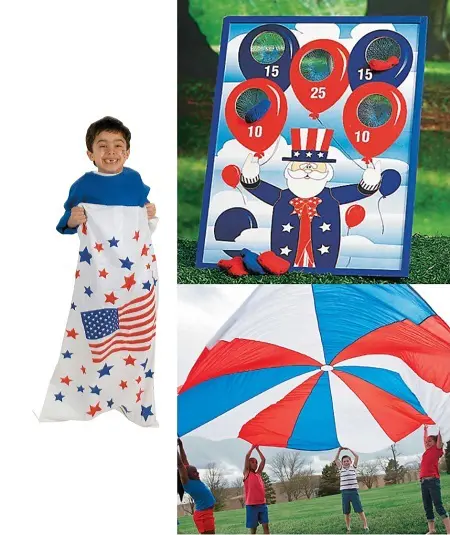 Go Nuts at Oriental Trading!: Seriously, they have some really cute stuff like these potato sacks for an awesome Patriotic Potato Sack Race. Or how about an Uncle Sam-themed Bean Bag Toss? You can even pick up a patriotic parachute and while away the hours playing Parachute Games.
United We Stand Game: This game takes a little bit of prep work to get it decorated in the Fourth of July theme, but it's worth it. The tutorial is easy to follow, and the end result is adorable. If you have a large group of kids, you can easily make a couple of sets. And the whole game just screams "county fairs" and "summer" to me!
Bottle Rocket Tag: I found this idea at Real Simple and I love it because it's holiday-themed, it doesn't require any equipment, and it's an energy burner. Win-win! Bottle Rocket Tag starts out like regular tag, but once the person who's "It" tags someone, the tagged person has to squat down and then do a set number of "explosive" jumps—like fireworks!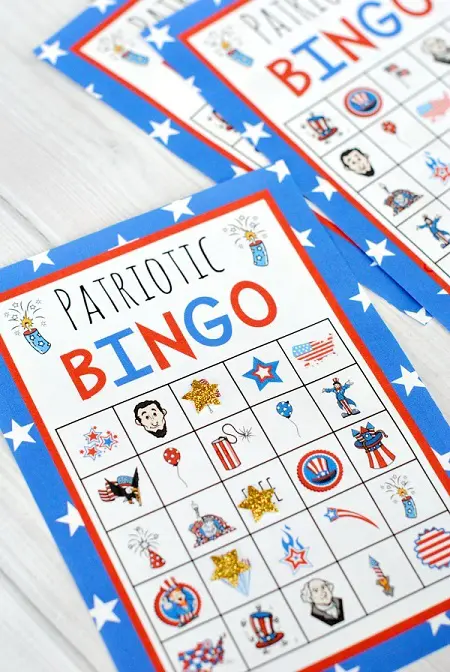 Patriotic Bingo: Bingo is a great choice when it's time to take a break and calm things down—or when the weather's hot and more active games are less appealing. You can use this printable I found, or you can create your own cards. If you create your own, have fun with it: use local historical landmarks, visiting friends' and relatives' faces, and images of your town's celebrations.
Fourth of July Ring Toss: This tutorial has everything, including directions to help ensure the game is spaced out properly so the rings actually have enough space to go over the bottles. That's more than I can say for some of the pre-made sets I found. Want to make this a fun after dark game? Drop red, white, and blue glow sticks (these ones are awesome and were 58% off at the time I wrote this post!) into the bottles and use the included connectors to make extra sticks into rings to toss!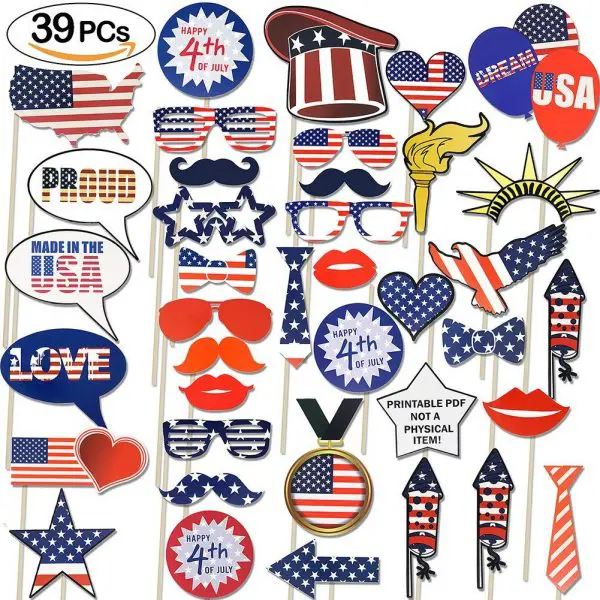 Fourth of July Photo Booth: Is there an event that is complete without a photo booth? Yeah, I didn't think so. If you're crafty, feel free to download and cut out your own props. However, I also found this ready-to-go kit, and this one, and this one. For a backdrop, you can get an inexpensive tablecloth and some decorations and you're good to go! If you've got an older device laying around (one that you wouldn't mind seeing take a tumble or two), turn it over to the kids and let them play photographer, too.
Still not enough? We've got some more ideas for you here! Have a happy Fourth!