Ventura, California is a gorgeous, laid back, beach town that my family and I adore. It is the epitome of relaxation: from Farmer's Markets to strolls on the pier, to that perfect ocean breeze that is always present, this is a great place for adults and children alike. If you're wondering what to do in this town, take a look at our favorites below!
Ventura Pier and Promenade- The Ventura Pier and promenade get you the best view of the ocean. Located at 750 Harbor Blvd, this is a great spot for families. Take a stroll and grab something to eat at the many restaurants there.
The Beach- You can't come to Ventura without checking out the beach. Surf, swim, soak up the sand. Don't forget your towels and sunscreen.
Ventura County Museum Of Art. Adults are only $5 and children even less at $1. Right now they have an agricultural museum exhibit but things are always changing so be sure to check the website for current exhibits.
Ventura Harbor Village. This place has it all. Shops, dining, boat rentals, a comedy club, carousel, arcade, and whale watching.
Rubicon Theatre Company. This fabulous Ventura theater is something worth checking out. Be sure to check the website to buy tickets, see what show is currently in town, and for show times!
Petunia Pickle Bottom. My top choice is visiting the PPB headquarters and flagship store. They are located right by the water on Kalorama Street. The Petunia Store is the only one in the world, located right next to their headquarters. You can shop all of their current collection plus they have a sale loft, too! You may even catch founder Denai Jones while you're in there too!
Mission SanBuenaVentura– Check out the mission while you're in town. Explore, take photos, teach and show your kids a piece of history. Entrance is free.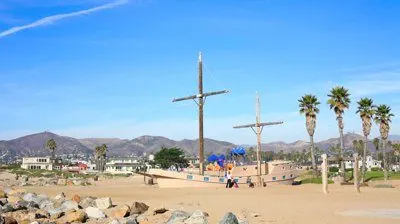 Marina Park. One of the best parks we've ever been to. Not every park playground comes with an ocean view but this one sure does! There's also an old pirate ship that your kids can zip line on!
Have you ever visited Ventura? What fun things would you add to the list that families shouldn't miss visiting?
OTHER CALIFORNIA TRAVEL GUIDES
Omni Rancho Las Palmas Palm Springs Travel Guide