Well, it's still summer and the kids are still home from school. In case you're all getting bored and cabin fever, I'm here to share some tips on keeping those kids busy and entertained until the school bells ring again!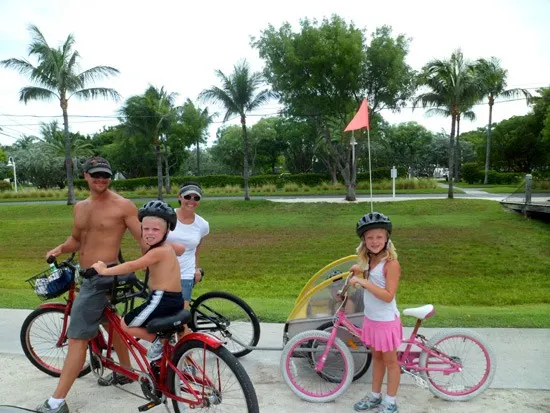 -Connect with other friends and family members.
Just because your kids aren't in school, it doesn't mean they can't see their school friends! Plan play dates with them to keep them connected.
-Go unplugged.
I know it can be tempting to have your kids watching 5 hours of TV each day, but do your best to get outside and smell the fresh air!
-Keep a routine.
Kids thrive off of routine and going back to school will be that much harder if you've had no routine all summer long. Keep a routine of waking up semi-early and going to bed at a decent time. Have daily activities planned, an occasional lesson, and structure.
-Check out free summer events in your area.
Do you have a local pool that offers swim days? Dollar movie days at the local theater? Check your city newspaper to see what's going on this summer!
-Keep the education going.
Does your local library offer a summer reading program? Most do. This is a great way to get your kids to keep on learning even when they're not at school. Whatever it may be, find something for your kids this summer!
-Make a summer bucket list.
We don't all have the money and means to do big trips and exciting things every day but we can all make a summer bucket list of things your kids would love to do. Read our post here to get some ideas on what to add to your own list!
-Weekly outing.
Try to plan one fun thing each week. It can be something like going to the beach or seeing a movie. Having something planned each week gives everyone a fun thing to look forward to and breaks up the time.
-Get creative and use your imagination.
Sometimes boredom turns into the best kind of creativity. Make tents out of blanket sand chairs, or an airplane out of cardboard boxes.
-Learn something new.
Sign your kids up for swim lessons or a summer camp.
-Get the kids in the kitchen with you.
Let them plan one meal a week and have them help you make it!
-Go hiking, biking, camping, or to the beach.
Explore the great outdoors. It provides hours of free entertainment.
-Have a garage sale.
Have your kids help you host a garage sale. Clean out those closets to make room for new back to school clothes!
-Chill days.
Have some chill days at home where you watch movies, read together, and color. Enjoy some family art time! Simple, relaxing days are sometimes the best and everyone needs them. Even your kids.
What do you and your kids like to do during summer? What tips do you have for keeping the kids entertained while school is out? Leave us a comment and let us know!