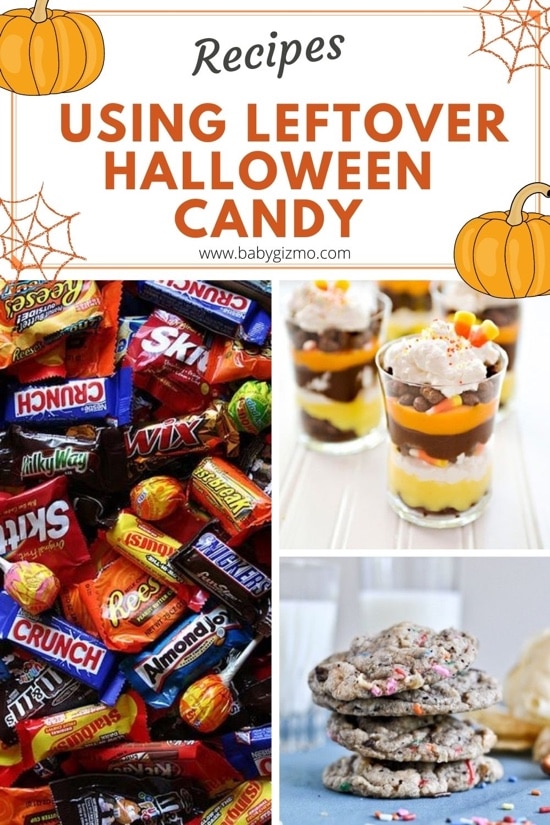 Ah, Halloween! All the fun of fall (apple cider, pumpkin spice, crunchy leaves, crisp weather) plus jack-o-lanterns, decorating, dressing up, getting scared silly, and, of course, trick-or-treating. So much fun, but so. much. candy. What do you with all your kids' candy? They eat some, and obviously you eat some. I mean, wandering around following your wee ones from house to house carrying pieces of their costumes as they get too heavy, encouraging your shy kids to take candy from strangers—all the exercise aside, you've earned that candy! Anyway, after everyone's had their share, then what? Well, you could sell the candy; many organizations (and dentists' offices) host candy buybacks where you can sell leftover candy or trade it for non-edible treats. You could also donate the candy. Or, you could keep it all to yourselves, you greedy things, and make into even more delicious treats! Because I'm happy to be your enabler, here's a list of yummy recipes using leftover Halloween candy.
Sweet Surprise Cupcakes: Cupcakes stuffed with candy? Yum! My favorite part, though, is that they're supposed to be served warm, so the candy is still melty. So. Good.
Candy Corn Parfait: While candy corn isn't something that I see often in my kid's treat bag, we do always have a bunch of it in the house post-Halloween. How about layering it with cereal and tinted vanilla yogurt for a fall-colored treat.
Homemade Lollipops: Love this! So many leftover candy recipes focus on the chocolate—and why not? It's delicious! But it's also not too likely to be left over. *Ahem* Here's a fun and simple recipe to turn leftover hard candy into lollipops.
Skittles Meringues: Oh my gosh! I love meringues! They look gorgeous and they're super-easy to make. These puffy little delights add Skittles for a burst of fruit flavor.
Crazy Confetti Compost Cookies: What goes in these cookies? The better question is what doesn't? There is actually a recipe, but you can easily substitute whatever candy you like and/or have on hand. Composting is environmentally friendly, so you can feel good preparing this treat.
Mini Chocolate Bar Mug Brownie: I'm such a fan of desserts that take no real planning or prep work. Craving a sweet? Five minutes later, you have a hot fresh brownie in your hand. And this version has candy inside! Count me in.
Halloween Candy Bark: This is another one of those "if you've got it, use it" recipes. Chop up whatever candy you want to cover in chocolate and make that bark! Think about tossing in some crushed chips or pretzels for a salty-sweet treat. And when I make this, I use dark chocolate—I love that stuff.
Sweet Tart and Pixy Stix Cake: Here's another recipe incorporating non-chocolate candies. This colorful cake is a wonderful idea for a November birthday party. Or, you know, just because.
M&M Pumpkin Pudding Cookies: I have recently discovered the amazing combination of pumpkin and chocolate. Who knew?! (If you knew and didn't tell me, I'm no longer speaking to you.) Here's a recipe that uses pumpkin spice pudding—which is amazingly yummy—to make soft, delicious cookies featuring M&Ms. Pumpkin and chocolate: give it a try.
I hope you and your family enjoy trying out these treats! Be sure to share your results, and any other favorite Halloween candy recipes, in the comments!