School is back in session and that means busy afternoons and nights helping our kids with their homework, running them to sports and other after-school activities, and forgetting all about dinner. To help you out, here are some meal planning tips to help you for those busy school nights: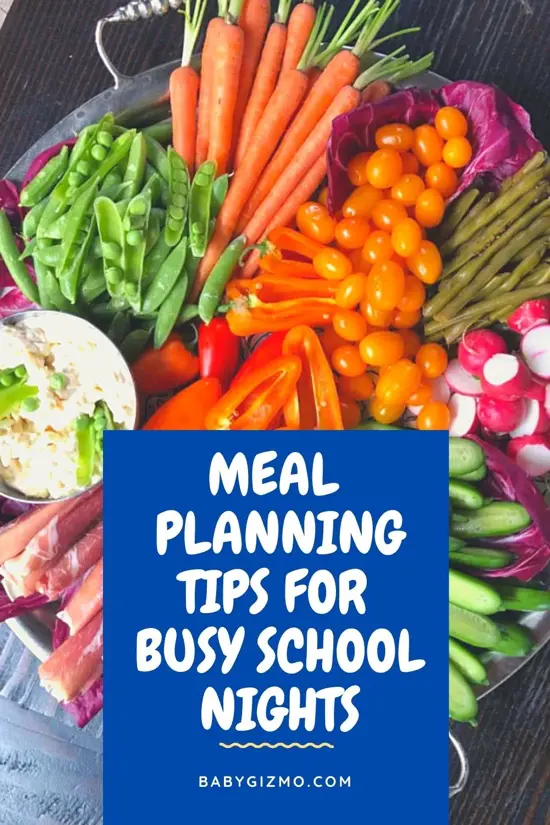 Plan ahead.
Pick one day, maybe Saturday or Sunday, and make that your prep day where you plan out the week's meals, write a grocery list, and go shopping. It helps to already have an idea of what ingredients you have on hand and what recipes you'll attempt for each week when the busy day arrives.
Crock-pots and Instant Pots are your friend.
It's worth the investment to buy these two essentials for your kitchen. Pour a few ingredients into your crock-pot in the morning and it's ready by dinnertime. Forgot to thaw that chicken? Throw it in your Instant Pot and your meal is saved! Check out our list of 14 great instant pot recipes to try HERE. And our easy and super yummy Cream Cheese Crock Pot Chicken recipe HERE!
Don't be afraid to do take-out.
This isn't a solution for every night, obviously. But don't hold yourself to impossible standards when you inevitably hit those days where everything is just too crazy. Pick up a pizza, push away any feelings of guilt for not being "perfect" mom-chef, and enjoy your night free of dinner dishes.
Cook the meat ahead of time.
I love to do a big batch of shredded chicken in my crock-pot and then freeze it in Ziploc bags. That way, I can just thaw it as I need and have cooked chicken to throw into soups, enchiladas, casseroles and the like. Saves time not having to cook the meat at the same time as everything else in the meal.
Make enough to have leftovers.
Use those leftovers for the next night's dinner or lunches! Double (or even triple) the recipe and freeze it in portions. By freezing it in portions instead of all together, you're making sure it'll thaw and reheat quicker! I hate having to thaw a huge batch of soup—it takes forever! But not if I have individual bowl sized portions!
Chop whatever you can all in one sitting.
You know those times where you're binge watching Netflix, vegging out on the couch? (That's not just me right? Other people do it too?) Take ONE of those times and watch your shows while chopping your carrots, peppers, onions, etc. for the week. Half my cooking time per recipe is chopping, usually so this saves a bunch of time! Then you can just pull out each Tupperware as you need it for your upcoming recipes.
What timesaving tips do you have for meal planning for these upcoming busy school nights?