There is has always been certain fascination with mermaids and young girls. Maybe it started with the popular Disney movie "The Little Mermaid"? Maybe it's just the hope that mermaids actually exist, kind of like the ever-popular unicorn? Either way, most little girls would LOVE to be transformed into a mermaid and that is exactly what our Junior Gizmo gals had happen this week when their Fin Fun mermaid tails and swimsuits arrived.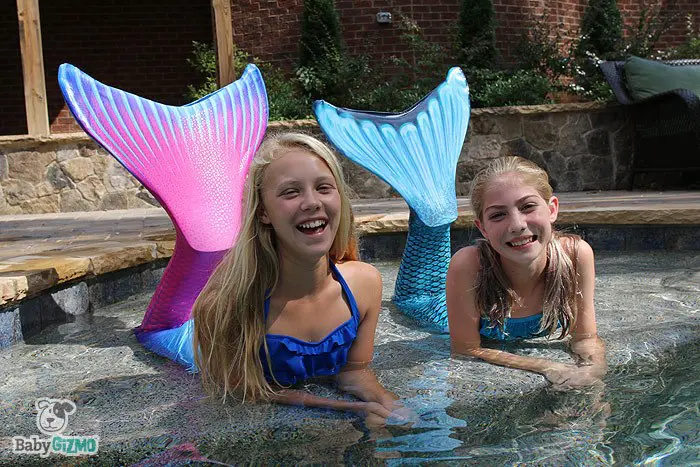 FinFun Video
Yes, we had mermaids in the pool and it was fantastic! If you ask the girls, the mermaid tails were even more fun than they expected and they were super excited before they ever arrived.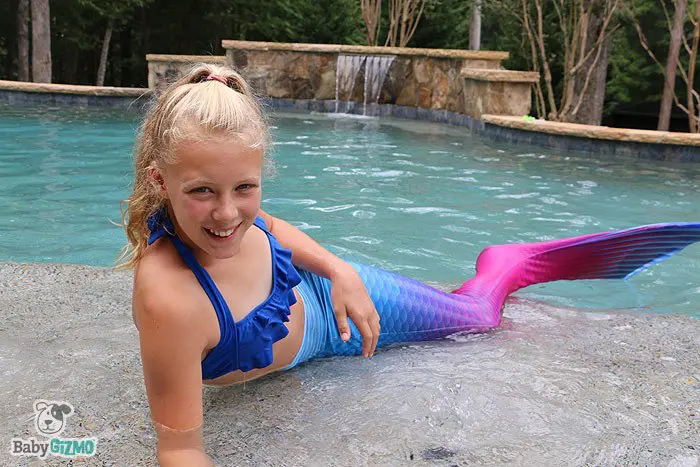 Fin Fun is a company started by a grandmother of 40 grandchildren, who made her first mermaid tail for her granddaughter back in 2009. Her design proved so popular when granddaughters swam in them at the local pool, soon all their friends were asking where they could get a tail of their own. Thus began "Fin Fun Mermaid Tails," bringing a little bit of magic to every girl that dreams of being a mermaid.
Fin Fun specializes in fabric mermaid tails that are durable, comfortable, and are made with a specialty swimsuit fabric. From realistic mermaid scale prints in the Mermaidens® collection to the sparkle and shimmer of the unique texture in our Limited Edition collection, the colorful and bold designs from Fin Fun will appeal to kids and adults alike.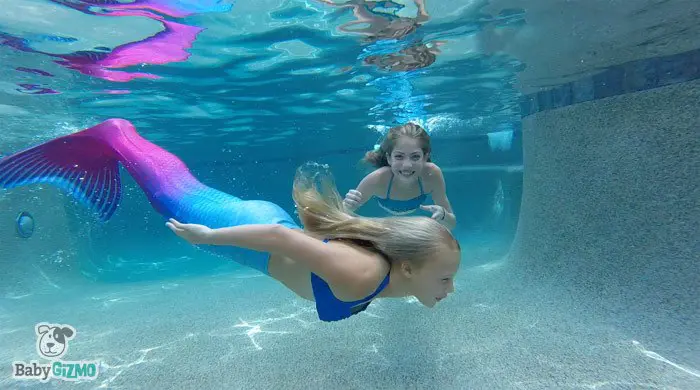 Plus, there are the must durable mermaid tails we've come across!
Features of the Fin Fun Mermaid Tails:
100% Swimmable – experience the joy and freedom of mermaid swimming with a fabric tail made from high-quality swimsuit material.
Superior Safety Features – open bottom mermaid tail design and patented monofin that offers quick release.
Machine Washable– our tails are durable enough to be washed on the gentle cycle in your washing machine.
Patented Monofin – made with dive-grade neoprene, fits any foot size, built for comfort, and offers a lifetime warranty against insert breakage.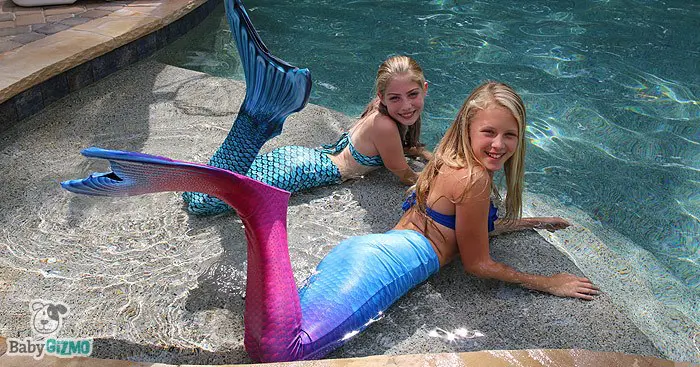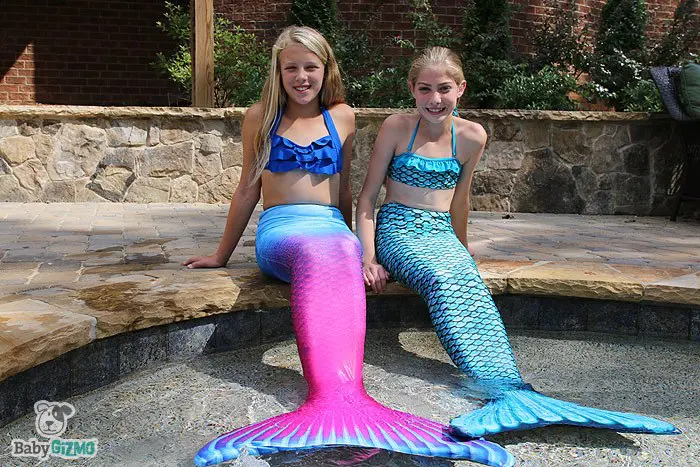 The girls have so much fun swimming as mermaids but we don't only have mermaids in our pool now. Yep, we have two sharks as well! Fin Fun also carries shark fins that the my boys absolutely love. What's better than putting on a shark fin and terrorizing your sister and her mermaid friends? Nothing, I tell you.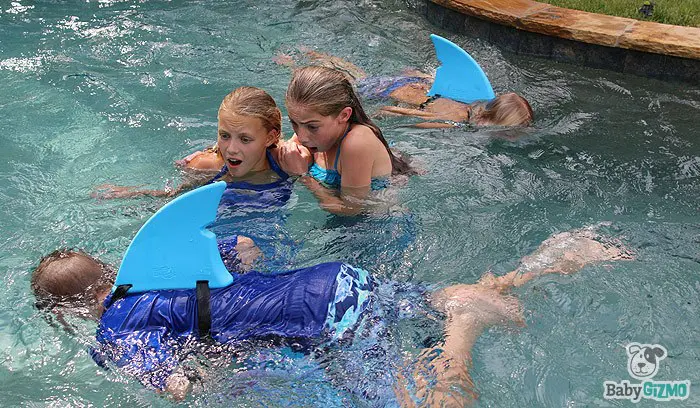 We may have even put one on the dog just for fun! 🙂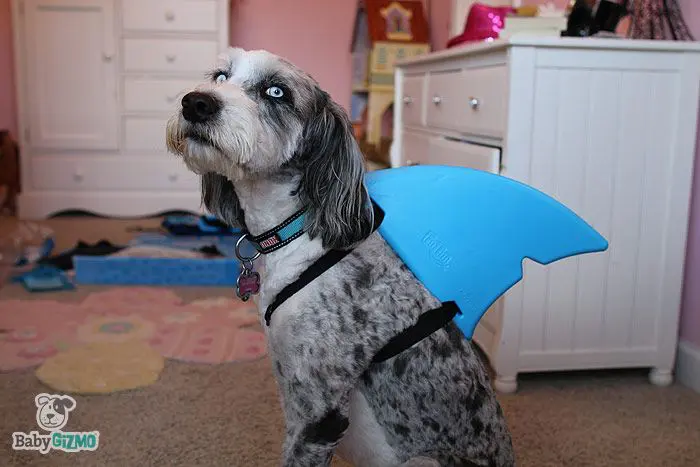 Take a peek at the excitement as the girls unbox their Fin Fun Mermaid tails for the first time and try them out in the pool!
If you are looking for high-quality, mermaid tails that are designed to last, you have to check out Fin Fun. They are absolutely amazing and I won't lie, I'm thinking that I need one myself so that I can join in on the fun. Yep, they make adult sizes too!
FinFun Discount
We love FinFun so much that we convinced the brand to give you a 10% off coupon to try them for yourself! With the code "GIZMO10", you'll receive 10% off FinFun products (in stock products only). *NOTE: The latest line of Elite products are excluded from all coupons and discounts.
For more information on Fin Fun or to purchase using our 10% off coupon code, www.finfunmermaid.com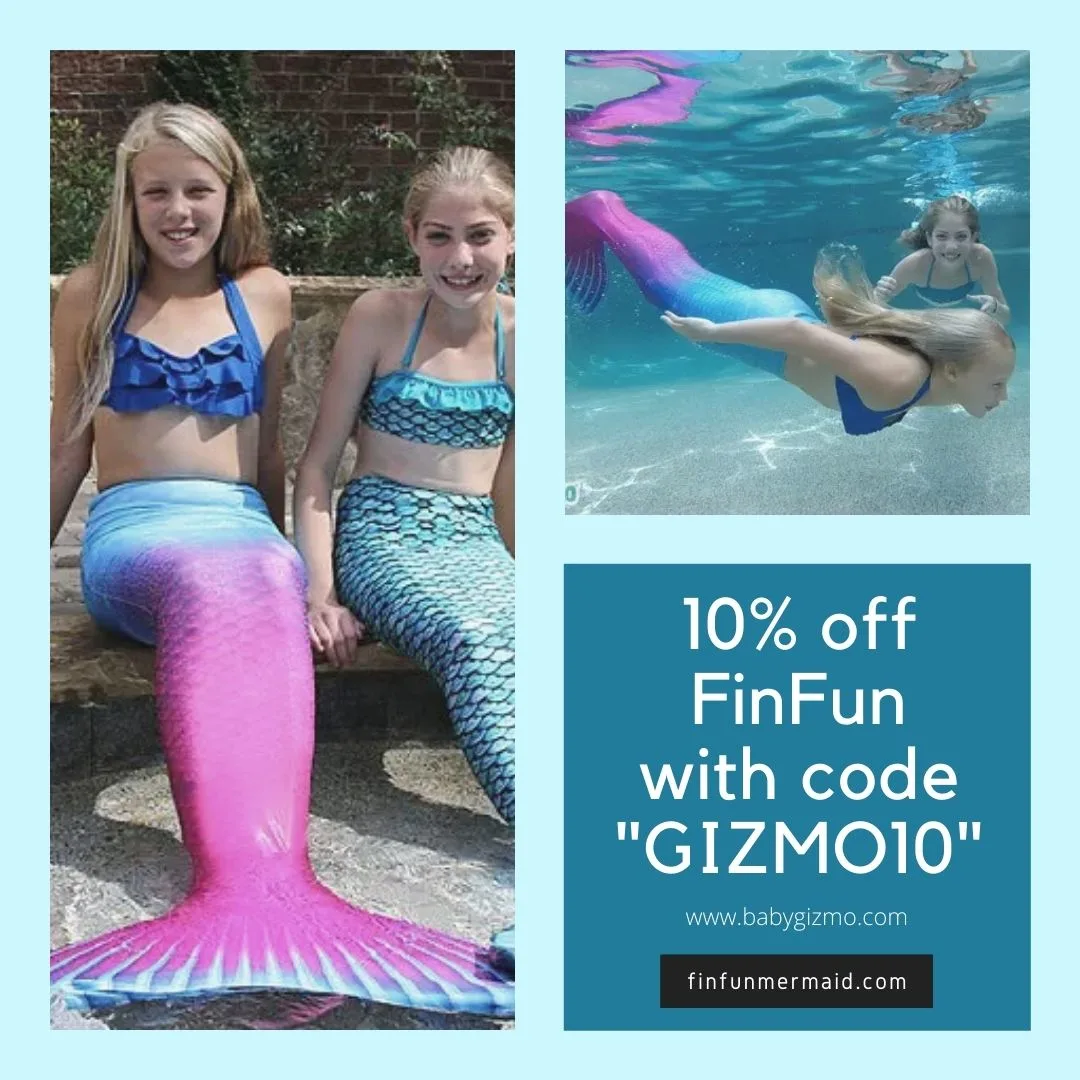 Disclosure: This post and video was done in partnership with Fin Fun.