As I sit here to write this post, I realize that a large portion of our readers may actually already have kids in school! I have trouble wrapping my head around that, because growing up school always started back in September – typically even after Labor Day.
My son doesn't go back to school until the first week of September, so around this time of summer we begin to prep to return. I'll be honest – it's not easy for him! If there's one thing my son is ~great~ at, it's being lazy in the dog days of summer.
If you have a child that's anything like mine, then it's high time to slowly enter the 'school zone.' Here's how we are working to get back in "school" mode.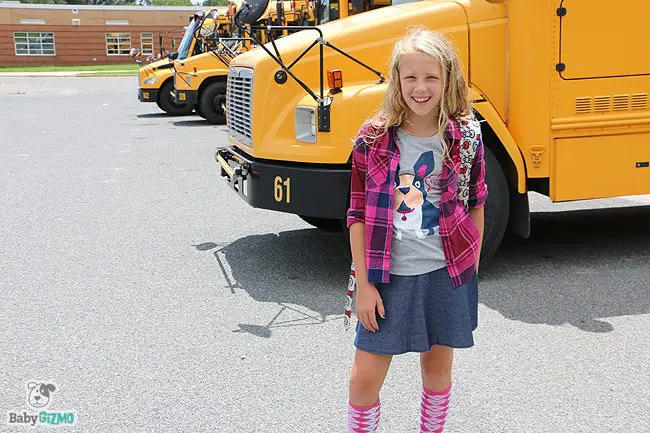 How To Get Back In "School" Mode
I'll be honest, at currently 35 weeks pregnant, I have really embraced the slower pace of summer. We ate breakfast leisurely – often times even -GASP!- on the couch. Then we would take our time getting dressed and ready for the day.
It's been lazy, and it's been great. However, it's time for us (me) to establish a more productive routine. We have started to do this by getting dressed as soon as we wake up. This includes brushing teeth, washing our face, and doing our hair.
My kids, like many, are early risers. In fact, they tend to wake up earlier in the summer because their rooms are brighter earlier. Because of this, they do not get a later bedtime in the summer. My kids DO NOT sleep later in the morning just because they stay up later.
However, I know many kids who sleep in whenever they can in the summer. If this applies to your family, then I definitely recommend establishing the 'school year' bedtime and wake up time days, if not weeks before school begins. It'll probably be a little painful at first, but better to have those transitions before the first day.
Next, I try to streamline breakfast options. On the weekends, I make triple batches of whatever we're having – oatmeal muffins, protein pancakes, french toast, waffles, hard boiled eggs, etc.
Then during the week it is easy to reheat the food without having to cook. Breakfast is much easier to manage when I only have to pop a waffle in the toaster, compared to making something from scratch. Or, Eggos.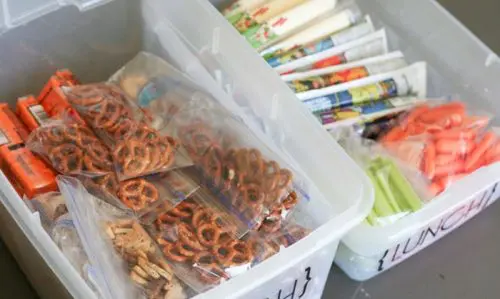 The same thing goes for lunch – while I don't think you need to 'practice' making lunches, it's not a bad idea to start giving it some thought. As always, Pinterest is full of great ideas, like here and here.
Lastly, I recommend setting up and practicing a trial run of the morning shuffle out the door. For us, that means a few different things. First, we have my son's backpack in a specific spot by the door. I always try to pack his bag the night before.
Then, his shoes are set out right by the door. We also have another bag near the door for 'extras' he may have to bring to school that day. Having a routine and knowing exactly what to grab makes the morning flow much easier. Some kids may even benefit from a checklist posted on a wall somewhere so nothing is forgotten!
How do you help your kids get back in 'school' mode?