For any parent of a growing family, having enough car seat space for all the kids will eventually become an issue. I just personally solved this problem in the same way we all do: bought a new, BIGGER car to accommodate. We traded in our Chevy Captiva, which only seated 5, for a Nissan Quest van that seats 7 and is much roomier.
We had to save up and then trade our old car, instead of just buying the van as a second vehicle, because it's an expensive solution in order to allow our family to grow. And this solution is one that many parents cannot afford. Which is why what mom Danielle Lloyd did to solve this problem is sparking discussion (and envy) all around the world:
Instead of swapping for a bigger car, she simply ordered a custom-made car seat that will hold FOUR, yes four, car seats across the bench safely in her same vehicle.
In a now-viral Instagram post, Lloyd shows us this 4-across beast: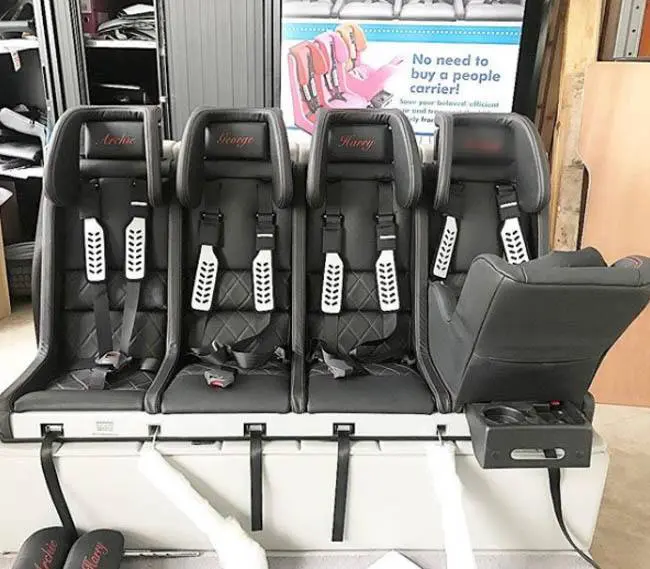 "Absolutely love our new personalised car chair made for our 4 boys making our 3 seats into 4." Danielle wrote in the caption of her picture. "Thanks so much to @multimacseat for doing such a great job… fully recommend it to anyone with lots of children a lot cheaper than having to change your car #safety #kids"
Multimac is a special car seat company that creates 3-across and 4-across sized custom seats. "The only multiple child car seat in the world," as their website boasts. The seats are manufactured in Britain and tested in Sweden. Each seat has a 5-point harness and can take children from 9 kg (~19 lbs.) to 36kg (~79 lbs.). A 3-seater would cost around $2000 U.S. dollars.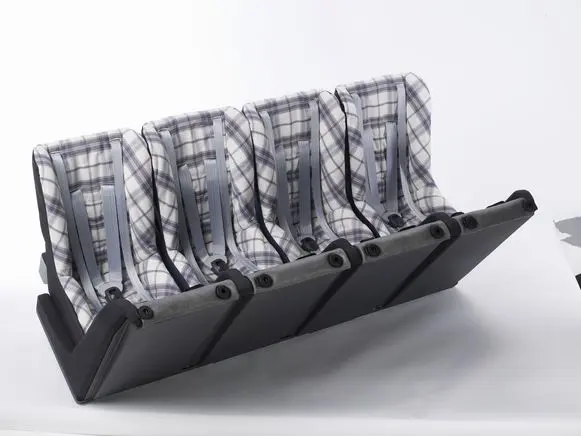 The custom-fit Multimac car seat for her sons Archie (6), Harry (5), George (2), and soon to be born fourth son will be added to her current car, a Bentley Mulsanne. And it's not only functional but stylish, as well.
Made to match their car's interior, Lloyd chose the same leather color with accent stitching and even had each child's name quilted into the headrests (blurring the baby's name since they'd still like to keep that secret for now). I have to say, this is definitely one way to handle the growing child vs. enough car space dilemma that never even crossed my mind! Who knew it could be possible! But is it safe?
Most comments on Lloyd's Insta post were excited exclamations from parents who wished they could've taken this route for their own families.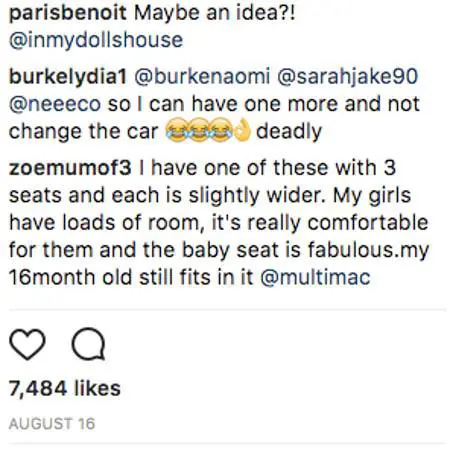 But it's natural to wonder if turning a normally 3-seat bench in your car to a four-seater would be safe? Would the kids be too squished? Are the car seats up to code? Many concerned parents and self-proclaimed car seat specialists were quick to give their unsolicited opinion on the subject. But if you'd like to know more about these seats and about the safety of them, just go to the source itself—the Multimac company website!
Lloyd was quick to respond to the critics and worriers, defending Multimac's careful detail to safety, saying,
"Multimac has been developed and passed all safety tests involving BSI, VCA (Vehicle Certification Agency) & TRL (Transport Research Laboratory). The British Government and The European Government have approved it!"
It is worth noting that Multimac car seats are not available in the United States yet. We have some different test regulations, car seat requirements, etc. and they have not been tested for the U.S. or made for U.S. cars. So sorry, American families—here's a cool product Lloyd introduced us to but we aren't allowed to get one right now!
But if you were/are able to buy a 3-across or 4-across car seat for your own growing family, would you try one? It certainly is a lot less expensive than buying a bigger car to fix the space issue!
Personally, I totally want to try one (after doing my own research about their safety potential, of course)! Though I do wonder if the close proximity to their siblings that the 4-across option provides would cause my kids to fight more, which would drive me insane…so maybe not?