Time to get spooky! It's time for Halloween!
But, not all trick or treaters are keen on filling their buckets with candy. Whether their non-candy requests are because of an allergy or just personal preference, consider adding some of these fun trinkets and little alternatives to your Halloween event.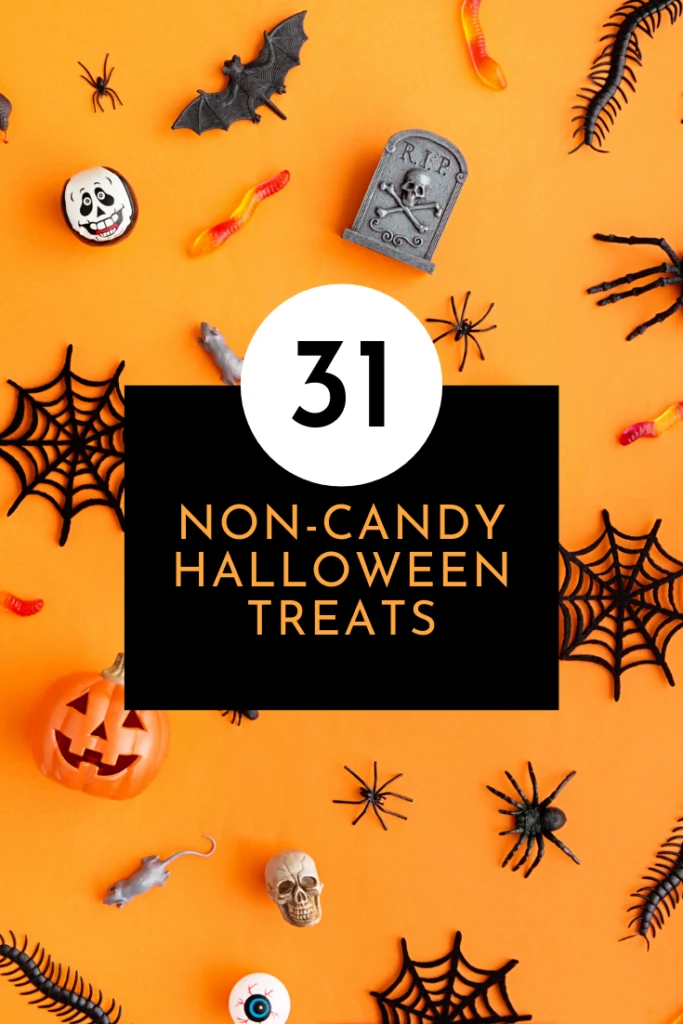 Mini water bottles — Grab a case at Costco during your Halloween prep. Even those who are munching on candy will appreciate a drink to wash down the Reese's.
Goldfish cracker packs — Target has mini packs ready to go.
Pencils — Choose fun Halloween prints or other popular characters.
Stickers — Why do stickers always induce excitement? I don't know, but I know they should definitely be a trick or treat option!
Tattoos — Cheap, easy, and oh so fun to do once the candy is gone.
Glow sticks — Trick or treating happens near sunset so glow sticks are a total win!
Erasers — Love all these fun shaped ones.
Baby pumpkins — Pass on your decor and let it live on through someone else's fall season.
Seed packets — Little gardeners will be thrilled! Buy them in bulk and commit to any leftovers for your garden in the spring.
Fidget toys — Guaranteed these will be popular.
Mini Play-Doh — Costco currently has packs of 50 minis for quite the deal!
Play-Doh cutters — In case you're the type who lets kids pick two!
Mini Rubix-ish cube — Only 50 cents each!
Halloween stamps — Such tiny fun!
Glow critters — Exactly what my boys would pick.
Bubbles — 64 for only $13!
Mini notepads — I love how cute these Halloween guys are.
Fruit leather — Grab a big pack on your next Costco run.
Band-aids — My toddler is a huge band-aid fan and these always come individually wrapped so you're all set! These are the cutest!
Mini hand sanitizers — 'Tis the season, right?
Fruit snacks — Annie's are some of the best!
Frosty coupons — Wendy's has a special where you can buy 5 Frosty coupons for just a $1!
Pirate's Booty individual packs — Such a great, crunch snack.
Applesauce pouches — Again, add them to your Costco list!
Slap bracelets — Annoying and yet, oh so fun.
Bouncy balls — The glow ones are particularly great!
Rings — Princes and princesses will love nabbing some pretty jewels.
Motivational rubber bracelets — Spread some encouragement this Halloween.
Invisible pens — Perfect for little ninjas and secret agents.
Putty — Neon colored WITH glitter, oh yes!
Joke cards — Gotta get those laughs in!
Best of all, if you have any of these non-candy treats left at the end of the night you can tuck many away to be re-purposed in Christmas stockings! I hear Santa is pretty frugal like that 🙂
If you'd like some Halloween dessert ideas, try Healthy Halloween Treats, Halloween Cookies, or Halloween Cupcakes.