Pancakes are definitely our family's favorite breakfast, especially these cream stuffed ones! Pancakes were actually one of my biggest cravings when I was pregnant with my now seven year old. My love for them never stopped and now he loves them too!
We have our standard recipe, but pretty often we like to fancy them up. A s'mores version, whipped cream and sprinkles, bananas and chocolate chips melted inside … Fancy pancakes just feel extra special, don't you agree?
Our recent fancy version merged a hint of orange, fresh berries, and the most delectable cream layer. And it didn't take much extra time at all! While the pancakes cooked on the griddle, I was able to prep the extras … done and done!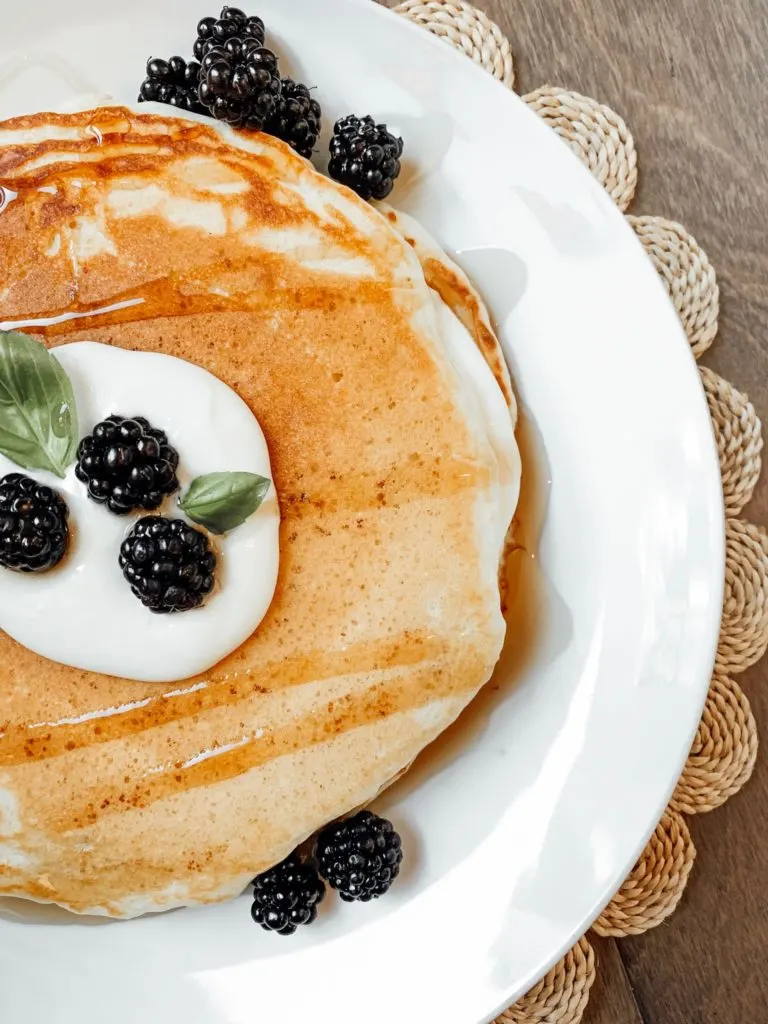 Pancake Ingredients
3 tablespoons butter, melted
1 1/2 cups flour
1 tablespoon baking powder
1 teaspoon baking soda
1 cup milk
3/4 cup sour cream
2 eggs
Cream Filling Ingredients
1/2 cup cream cheese, softened
1/2 cup ricotta or cottage cheese if you don't have ricotta handy
2 tablespoons half and half
Zest of one orange and a squeeze or two
Directions
In a mixing bowl, combine all pancake ingredients – dry first and then wet. Blend well with a whisk. While mixing, heat your griddle on high heat with a swirl of oil or butter so it is well-greased. Turn down to low heat and with a 1/3 cup scoop the pancake mixture onto the griddle. Allow to cook for 1-2 minutes, until you see bubbles rise and the sides pull away from the griddle, then flip and cook the other side for another 30 seconds.
For the cream filling, mix cream cheese, ricotta, half and half, zest, and orange juice with a hand mixer. Layer between two warm pancakes and add a dollop on the top. Sprinkle with fresh berries, a sprig of basil if you have some (it's the perfect herb with berries and orange flavor) and a swirl of real maple syrup. Then, get ready for a delicious, homemade breakfast! Next level fancy pancakes!