About a month ago, I was shopping at the brand-new LL Bean store in Oakbrook, IL when the heavens opened up to shine a light upon this amazing area of the store: The Bean Boot Custom Lace Bar.
Here, when you buy a pair of Bean Boots—not just the classic LL Bean duck boots, but anything labeled a Bean Boot apparently, as we found out a few weeks later—you can get a custom pair of bean boot laces for free. And not just any laces: colorful, fun, completely non-traditional LL Bean Boot laces at their lace bar.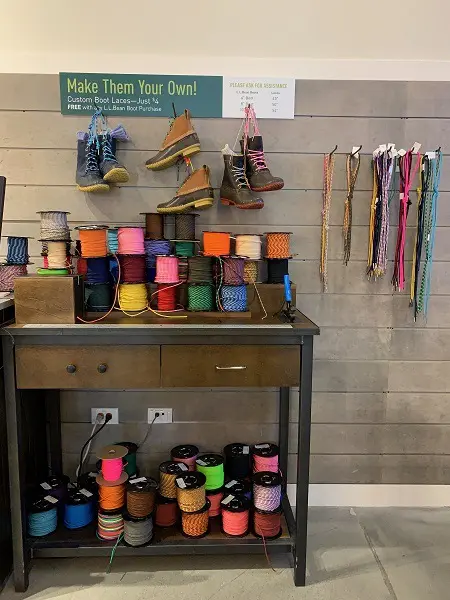 Now some of you may be asking why you may want a second pair of fun laces for your LL Bean Bean Boots. Not many of you, but I'll explain the Lace Bar's awesomeness for those in the back of the room.
When you buy a traditional pair of LL Bean duck boots, you get to choose navy blue or brown in 6" or 8" height. That's it. My sister-in-law, niece, and I (I GOT MINE FIRST!) look super-original when we all get together.
There are other options; over the past couple years, L.L. Bean has introduced other leathers like bison, and some 10" and taller boots, and some waxed canvas boots, and some small batch boots in colored leather, and even some with no laces at all. But if you have wider calves, or wide or narrow feet, those don't work for you. And sometimes, you really just want the classic, but you want a way to make it your own.
Enter the LL Bean Boot Custom Lace Bar, which offers a subtle (or not-so-subtle) way to put your own little twist on the classic duck boot.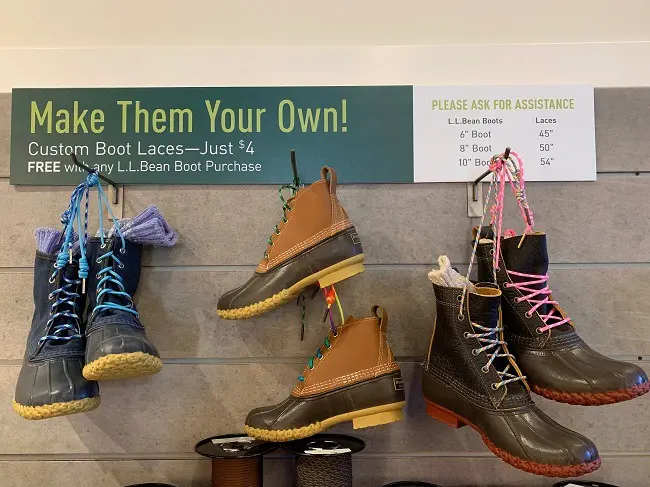 When I first saw the Lace Bar, I was literally next in line to pay, but I grabbed my husband and went bolting out of line to see if I could get laces even though my boots are several years old. The answer is yes, I could for just $4.00. Oh my gosh. What can you even get for $4.00 anymore?! So of course, I got a pair in rainbow so they'll got with everything, right? Then I got to watch the staff person make my custom laces.
The process is really neat. You choose your lace color and the color you want the metal tips on your laces to be. (The tips are a nice touch, because the laces that come with the boots are wax or plastic dipped, so the custom laces are more durable.) I went with brass so they'd match the eyelets on my boots.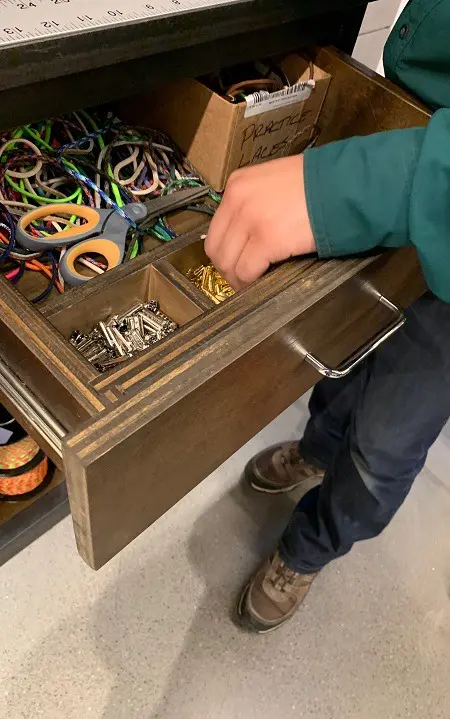 Next the staff person measures the laces for your 6" or 8" boots. My husband got a non-duck-boot style, so the staff person pulled the laces out of the boots and measure them before cutting his custom laces and did the same for my daughter.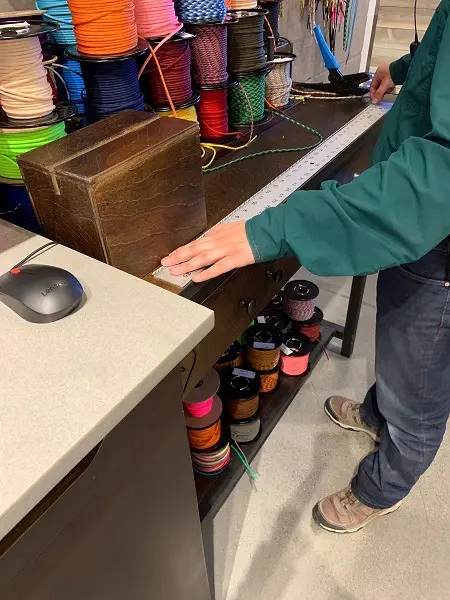 The laces are cut using a heated metal blade that kind of melts the ends of your lace and the lace on the roll so the fabric doesn't unravel.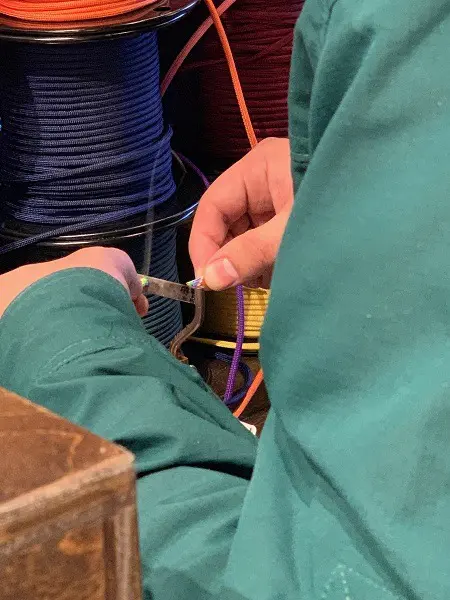 The final step is attaching the metal ends with a press and—voilà!—you have new custom laces for your LL Bean Boots! They will even teach you how to lace LL Bean Boots if you need help with that too! I mean who doesn't want to learn how to lace bean boots correctly, amIright?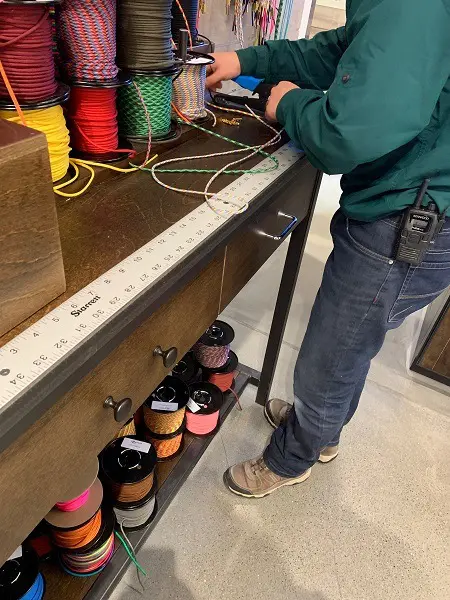 My first time through, I managed to leave with only one pair. But when we went back for some other things several weeks later, we left with a custom pair of laces for my husband's new boots, another pair of laces for me, two pairs of laces for the kid, and two pairs for my niece. These things are addictive! Although, I've figured out L.L. Bean's secret plot: It's to get you to buy more boots so you don't have to keep switching the laces back and forth…
The catch is that not all stores offer this service. So because I love you, I called all 41 retail stores, and the stores that offer the Bean Boot Custom Lace Bar are those located in
Freeport, ME (their flagship store)
New Haven, CT
South Windsor, CT
Oak Brook, IL
Boston, MA
Dedham, MA
Marlton, NJ
Albany, NY
Park City, UT
(Still, call ahead before going, just to be sure.)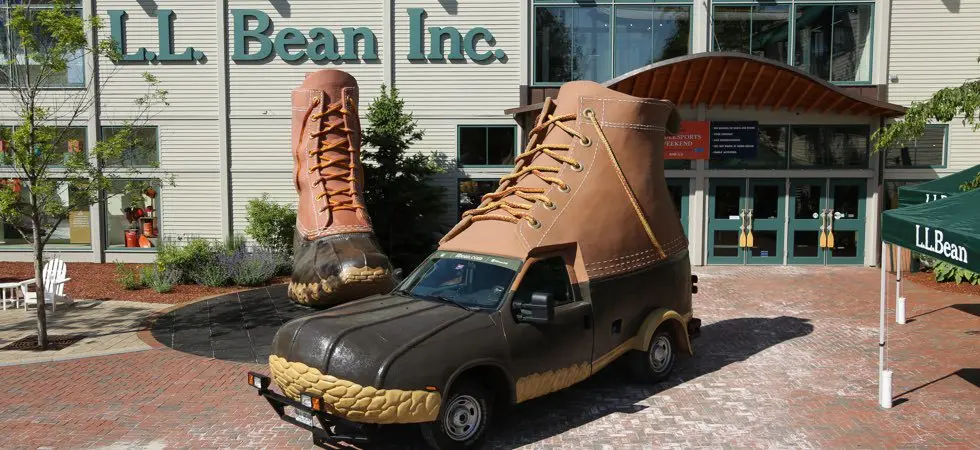 And we cannot forget: The Bootmobile. The L.L. Bean Bootmobile is literally a pair of Bean Boots on wheels that travel around the country "to help people enjoy the outdoors." Check out The Bootmobiles' webpage for their schedule and what types of activities you can enjoy at each stop. Most importantly, you can have custom laces made up at Bootmobile events, so if you're not near one of the stores above, keep an eye out for a Bootmobile event near you.
Have you scored custom laces for your Bean Boots? Show us your photos in the comments!