Gorgeous spring weather has arrived in the Pacific Northwest – projected to hit and maintain 70 degrees all this coming week! For me, that means moving some of my gym runs to the outdoors and I can't wait. There is nothing like running in the fresh air and that means my jogging stroller is along for the ride!
Spring is a mega busy season for my husband at work so when my runs take me outdoors that means the munchkins come along with me. They're not running alongside me though, they're riding in their bright orange chariot and acting as my 100 pound resistance. Seriously mamas, don't play around with joggers … just get yourself a BOB and you'll be a happy jogging mama 🙂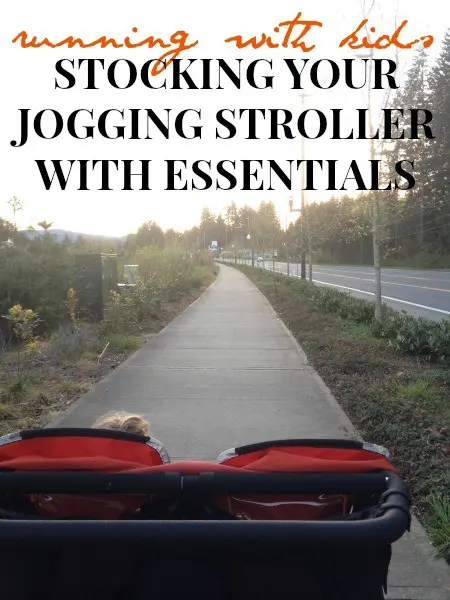 Running with kids does require a few accessories though. And thanks to the spacious basket on the BOB, mine is stocked for just about everything. Here's what you may want to consider storing in your jogging stroller basket too…
SNACKS & WATER
Is that too obvious? If there is any request from my little riders, it's for a snack. So, for our runs I pack 3 water bottles (one for each of us) and a less messy snack like puffs, cereal or crackers. Nothing sticky. Crumbs I can easily shake out, but after a long run I don't want to be scrubbing sticky fruit snacks or granola bars from their seats!
TISSUES
Another must? Tissues! Stuffy noses and tears often creep up and it's always good to be prepared.
DIAPER KIT
I'll be honest, I've never had to use this on a run, but I feel much more at ease having a spare diaper and wipes with us.
CHAPSTICK
This is for me 🙂 Mouth breathing while I run makes for dry lips and dry lips are the pits. So I've accumulated a little assortment of chapstick to have on hand. It keeps the kids pretty happy too when they get antsy. Anyone want a layer of chapstick on their arms, cheeks, legs and more? They do, lol!
BOOKS & BINOCULARS
On occasion the kids will ask to bring a favorite stuffed animal on our ride, but in most cases we stick to books and binoculars. My daughter will "read" to her brother and then he'll take a turn "reading" to her. It's pretty sweet and only prompts a squabble 50% of the time 🙂 Binoculars are a huge hit! They love looking for animals while I run. These are the ones we have and love.
BLANKETS
The weather can turn in a jif and so I keep two baby blankets in the bottom of the jogger in case we need to bundle up.
SUNGLASSES
On the note of weather, no one likes sun in their eyes and even though the BOB has a great sunshade, my kids still like to be able to see so they prefer sunglasses when the sun peeks out.
That's that! Everything I've got stocked in my jogging stroller basket.
What do you keep in your jogging stroller?