For years I collected those "5 Ingredients Or Less" type of recipes. Simple speaks to me. I love these recipes because they're easy, less expensive and almost always, quite delicious! That's why I'm sharing my recipe for roasted coconut cinnamon apples today. It is a big hit around here – the perfect breakfast side, afternoon snack or when topped with a dollop of whipped cream, dessert! Best of all, it falls into my "5 Ingredient Or Less" parameters!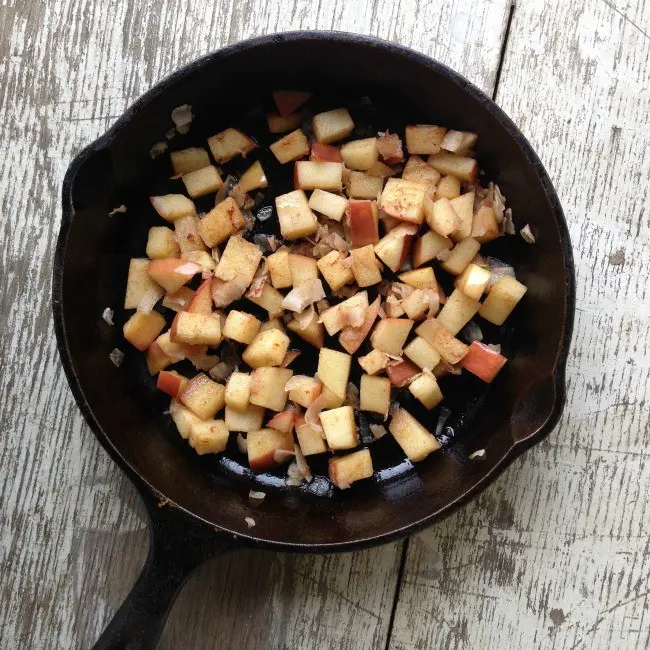 Here's what you'll need to whip these scrumptious cinnamon apples up. Count with me …
Coconut Cinnamon Apple Ingredients
2 apples, chopped
5 tablespoons coconut oil
1 teaspoon cinnamon
1/3 cup unsweetened coconut flakes
Optional: Whipped cream
To begin, add your tablespoons of coconut oil to a cast iron pan. Preheat your oven to 350 degrees and put your cast iron into the preheating oven. While it preheats, it will melt your coconut oil. In the meantime, chop your apples into bite size pieces. In a mixing bowl add apples, cinnamon and coconut and toss well. Remove your cast iron from the oven, pour in apple mixture and stir around until the apple mixture is well coated in the melted coconut oil. Bake for 20 minutes and serve warm.
Even better news than anticipating these delicious coconut cinnamon apples? As long as you leave off the whipped cream, this recipe is Whole30 compliant!
MORE APPLE RECIPES