​Today we are talking about swim safety. As a mom to twin girls, I know what a lifesaver it can be to have a great babysitter on call. In fact, especially this summer as our girls have gotten more into their own individual hobbies and activities, having a babysitter that can watch one of them while my husband and I are running the other one around town, has been an absolute lifesaver.​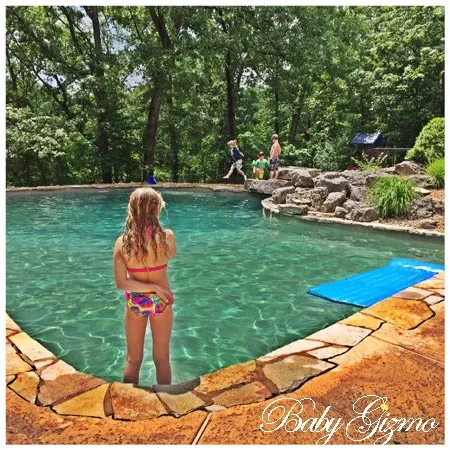 That said, I also understand the trepidation parents feel when leaving their children with a sitter. In fact, we put our sitter through a rigorous interview process. I wanted to be sure we found the most responsible, reliable candidate because this year I finally relented and decided to let our sitter take the girls to the pool if they wanted to go while she was watching them. It was a decision that wasn't made quickly or easily. The deciding factor for me was that our sitter had undergone CPR certification and water rescue training.
​But when it came time for her to take them to the pool for the first time, I couldn't help but offer a few specifics for her to keep in mind. Here they are:
1. Identify high-risk pool goers.
Sometimes we're able to go to our neighbor's backyard pool, but just as often, we head to our local community pool. And that's where my sitter takes the girls when she watches them. Before that first day, I was going to simply remind her to never take her eyes off of them, until I came across a great tip in this article on pool parties. It stresses the importance of knowing who might be a "high risk" pool goer. That list could include anyone from those who aren't good swimmers to children under five to pool rule breakers. I especially stressed that she be on the look out for the latter and asked her to remove the girls from the pool if anyone was exhibiting behavior—such as pushing people into the pool—that could put them in danger.
2. Set your own pool rules.
I don't think you'll find a parent out there who's going to tell you that it's okay to let their kids do whatever they want at the pool, but you might come across parents who have relaxed rules. If you don't feel that you can keep the kids safe given the rules their parents have set, it is perfectly okay, as this KidsHealth.org guide notes, to establish "new rules" for the kids to follow while they're under your supervision. If there is pushback, simply tell them that you can't allow them to swim unless your rules are followed. I think you'll find that they'll fall in line pretty quickly!
3. Remember, no child is drown-proof.
No matter how well a child can swim, they're never drown-proof. My girls are great swimmers, but my husband and I never let them swim without close supervision. If you'd like to learn more about the drowning risks for children of different ages, this fact sheet from a California fire department is very useful. Always be watching what your charges are doing. Don't let cell phones or any other distractions get in the way of your job as their caretaker. Their lives depend on it!
4. Clean up after pool time.
If you're swimming in a backyard pool, this is very important. As I mentioned earlier, we sometimes swim at my neighbor's house and she also has children. After every swim session at her house, we make sure that all the pool toys are put away. If a young child sees a toy in the pool after swim time is over, they may be tempted to try and go get it out themselves. And any toys left around the pool could become tripping hazards. So, when you're done with pool time, make sure everything is picked up.
​Summer is a great time to be a babysitter. There are many opportunities to help out busy parents—and trust me they'll love you for it! When you can let them know how well-versed you are in water safety, you can really put their minds at ease.
About the Author: Lindsay M loves cooking, biking, photography, and writing for PublicHealthCorps. She is happily married to her high school sweetheart and is the mother of twin girls.