I personally love packing up my diaper bags every time I use them. Through trial and error I have figured out what I need to pack, and things I can probably do without. Here are my ten must haves.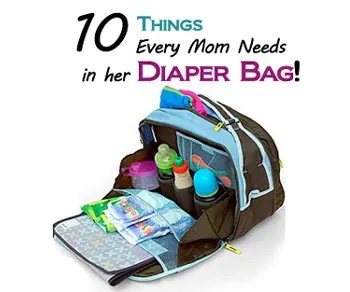 1. Diapers. I had to put that one. Always pack extra diapers, especially when your baby is extra tiny. Stick some hand sanitizer in there too in case you aren't near a bathroom when you change your little one.
2. Wet wipes. Lots and lots of wet wipes. Since having a baby I have learned that wet wipes can basically be used for anything. Cleaning little hands and feet, wiping up spills, cleaning surfaces, you name it.
3. Pacifiers. If your child likes pacifiers half as much as mine does you're going to want to stock up. We've found the glow in the dark pacifiers by MAM to be especially awesome. They are extra convenient when you need to find them in the middle of the night.
4. Baby food. I've always packed food pouches in my diaper bag like those from Ella's Kitchen or Plum Organics. They are much lighter than baby food jars and don't require you pack a spoon.
5. Toys. This could include teething rings, rattles, or toys of any kind depending on your child's age. I always keep something small on hand to quickly entertain and cheer up my son when need be.
6. A change of clothes. Poop explosions happen, dirt happens, spit up happens. When I first became a mother it never dawned on me to bring a back up outfit. My perfect child was always going to stay spotless, right? Wrong! I learned my lesson the hard way. Sometimes it's even necessary to pack two extra outfits.
7. A nursing cover if you're a breast feeding mom. I still carry a nursing cover with me to this day because I just never know when my son is going to demand he nurses. Packing a cover is much easier than running to find a bathroom nearby for privacy.
8. A mini first aid kit
. I use a small case to keep things like diaper rash cream, band aids, medicine, and ointments on me at all times. They are so tiny and hardly take up any room and you never know when you'll need them so better safe than sorry.
9. Mommy must haves. I use another small case to store my make up, hair products, and other essentials I want with me from day to day. Diaper bags aren't just for the baby, it's for you, too!
10. Your child's doctor chart. Before I started carrying my sons chart in my diaper bag, I forgot it every single visit. I had it filed away at home and every time I would go to the doctor I would embarrassingly state that I left it at home again. The chart is one single piece of paper and now I simply fold in in half and keep it in my wallet, in my diaper bag. I bring it every appointment and never run the chance of forgetting it. It has just been a simple thing I've done that's helped me immensely.
Don't forget to "LIKE" us on Facebook for more baby gear reviews, new parent ideas, videos, information and everything you need to know! 🙂