So I don't know if this is a parenting win or a parenting fail, but my daughter didn't have a birthday party until she turned six. For her sixth birthday the only thing she wanted for her birthday was a play house. She's an only child and thus a wee bit spoiled, so upon hearing her wish, her father and I set about making her wish come true.
However, when we researched the of cost a play house, we about died. Apparently once you outgrow the little preschool-sized plastic things, those suckers are insanely expensive. (Or so we thought at the time. After we committed to not buying one, I managed to track down some more reasonably-priced houses, but it was too late.)
Since it was the only thing she had asked for, I racked my brains for some other amazing gift when I suddenly remembered a constant theme in her imaginary play: parties. Her dad and I offered to throw her a birthday party. Despite this being about the least fun thing I could think of to do from my own perspective, it was worth it to watch her little face light up!
When we asked what kind of party she wanted to have, my daughter immediately said she wanted to have a WellieWishers party. This was actually an excellent choice, because it gave me an amazing theme to work with. For those who don't know, the WellieWishers are a set of dolls from American Girl, aimed at the five- to seven-year-old crowd.
The group of five girls have adventures in Aunt Miranda's backyard garden—while wearing their adorable wellie boots, of course! The WellieWishers books provided some inspiration, as did some of the accessories and play sets available for the dolls. I also found this lovely WellieWishers-inspired birthday party from Partyography by Alli, which had some amazing favor ideas and tutorials. So, here's our party!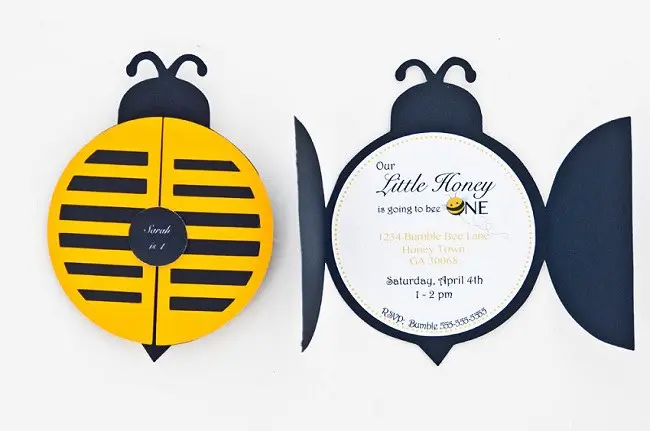 When I was shopping for party supplies, I happened to find the perfect invitation at our local party supply store. Sadly, it was on clearance and is no longer available, but it was similar to this custom style from Etsy.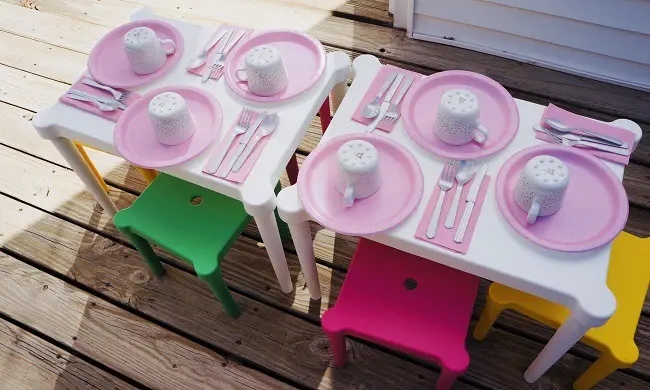 The book Ashlyn's Unsurprise Party is all about WellieWisher Ashlyn throwing a tea party for her friends, and the idea of throwing a tea party sounded really fun to my daughter. In order to make an outdoor tea party for a group of small children feasible, we hit IKEA for supplies. Because we didn't have enough outdoor seating to accommodate everyone—in child or adult sizes—we purchased two UTTER tables and enough matching stools for all the guests. (Our daughter uses the pieces in so many ways when she plays now; they were worth the purchase price!)
While we were there, we bought a tea pot and pretty polka dot mugs, figuring they were pretty enough to keep, but inexpensive enough that we wouldn't be upset if they got broken. I did try to find cheap or even disposable teacups, but wasn't able to find anything, so mugs it was! And while I'm generally not a fan of disposable dishes, because we were outside and it's sometimes hard to remember to use our best and most careful manners in the garden, I gave in and went with disposable dishes.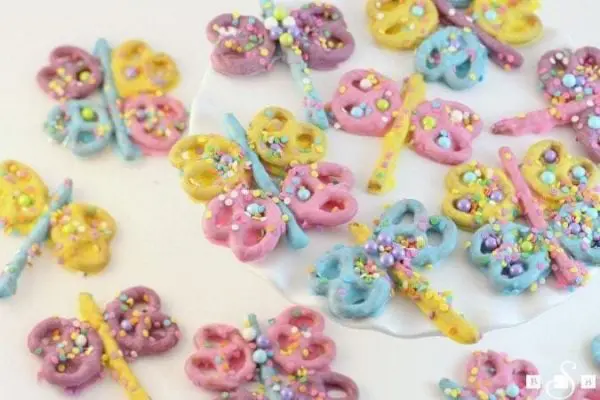 I loved coming up with the menu! I had some fun ideas like butterfly pretzels and ladybug Baybel cheese snacks. I even found a whole menu of woodland-creature-themed snacks. In the end, though, I went with something much more simple: rabbit food. The WellieWishers have a pet rabbit named Carrot, and my daughter really wanted her Carrot toy to make an appearance.
We decided to set out a veggie tray with Carrot and his hutch to watch over it. Granted the tray incorporated baby dill pickles and olives as well more traditional rabbit food (carrots), but that's okay. We also served lightly salted popcorn popped in my favorite silicone popper. Oh, and the tea for her tea party? Pink lemonade.
The guest were thrilled. And of course there were birthday cupcakes! Which had absolutely nothing to do with the theme, because the birthday girl insisted on "magic pink and purple cupcakes." I took many deep breaths and reminded myself that it was not my party. Anyway.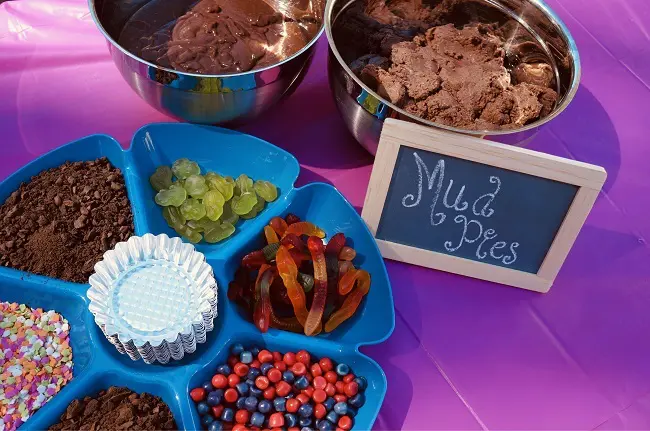 We had three activities. First up was mud pie making, which was a completely edible undertaking. The crust was based on an edible hot chocolate playdough recipe, but my husband ended up playing with ratios until he found something that was both playable and tasty.
We stocked the table with fun mud pie ingredients (gummy worms, crushed up chocolate cookies, candy berries, gummy frogs, candy flower sprinkles, and chocolate pudding) and let the kids go to town. Oh, and we covered the kids up with dollar store aprons that we sent home as party favors. The pies also went home with them (the tart molds were an Amazon find), covered with Glad Press-n-Seal.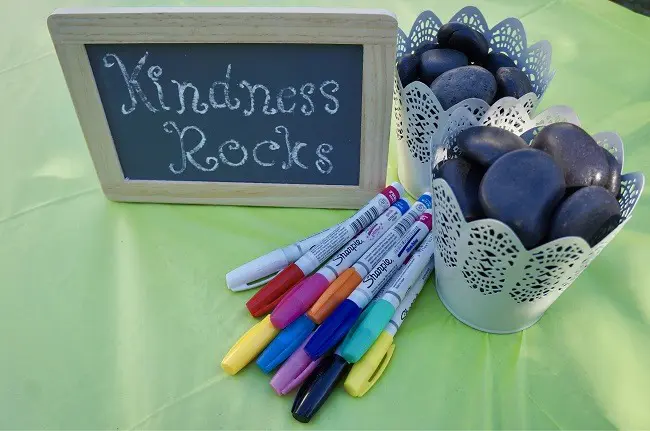 Second was making kindness rocks, in part because it really seemed like the kind of thing the WellieWishers would do and also because my daughter was really into it. Win-win! Instead of getting out messy paints, with the potential for spills and with all the post-party clean-up, I chose to get Sharpie paint markers. Pro tip: Go for the oil-based markers because the water-based ones didn't really show up on the rocks.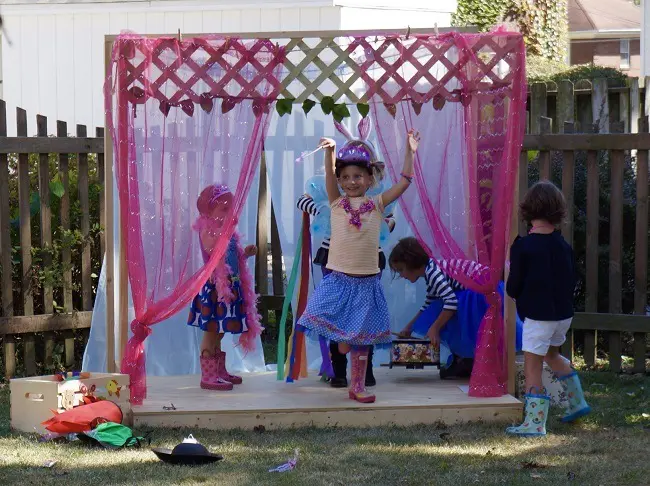 Finally—or really, throughout the party—was the stage. Now, this is going to make us sound like we went over the top, but trust me when I tell you we didn't. This was an easy project that has had a life well beyond just this one event. In the WellieWishers' garden, there is a both a play house, which we knew we couldn't recreate (after all, the lack of a play house is what got us into this whole party mess in the first place!).
However, there is also a stage, which we—or rather my husband—could recreate. So he did. He and my dad built a simple platform sided with lattice, and I hung curtains on the front and back and we were done. I put out all my daughter's musical instruments, and decorated a wooden crate filled with dollar store dress-up items to recreate the WellieWishers' dress-up trunk. The kids had so much fun playing on the stage! And it was wonderfully stress-free to not have to plan a bunch of activities to keep them busy.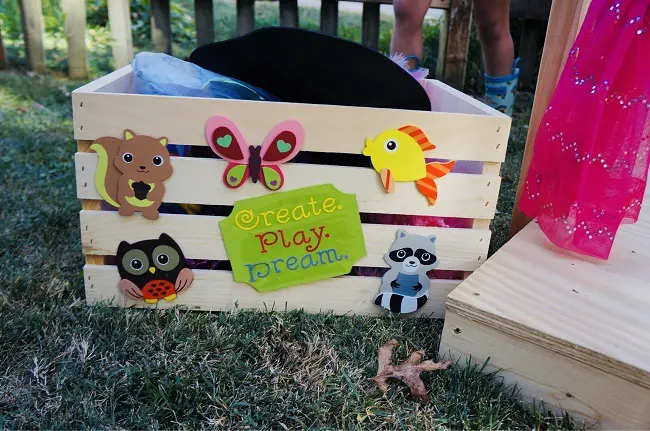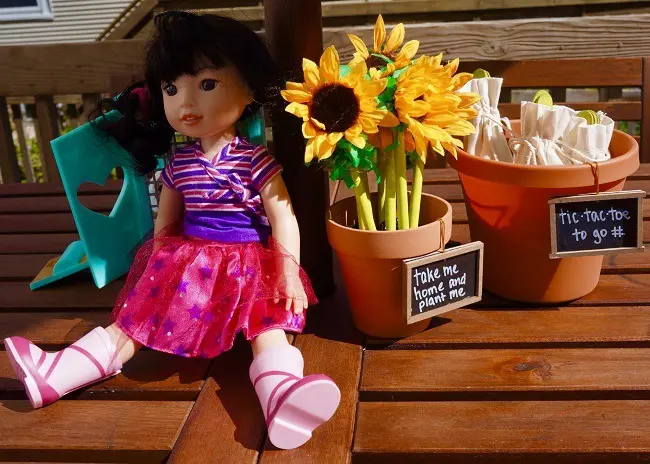 At the end of the party, the guests took home their apron, their mud pie(s), their kindness rocks, whatever dress-up items caught their fancy, and "official" favors. The favors were muslin drawstring pouches with a handmade tic-tac-toe set that was inspired by a WellieWishers play set, and a flower wand filled with sunflower seeds the kids could plant at home.
All in all, I think the kid chose a pretty awesome theme. From an adult perspective, the party went smoothly, but most importantly, the birthday girl and her guests had fun—and that's what matters.
PS: If you're wondering what kind of music you play at a WellieWishers-inspired garden tea party, the answer is bluegrass. In the original WellieWishers app, one of the activities involved interacting with the girls as they were gathered on their stage playing music. What did they play? You guessed it: bluegrass. So that's what I decided to play at the party. I chose Breathe: Vol 1 & 2: The Bluegrass Tribute To The Dave Matthews Band, which my daughter likes to listen to. It was a hit with the kids!