Two years ago, I gave birth in the heart of winter.
All my other babies have been born on warm days in the summer and fall. But this little one arrived with a snowfall, and it was the most beautiful experience. While the degrees plummeted outside, I was inside, bundled in flannel sheets with a brand new, precious baby in my arms. Heaven!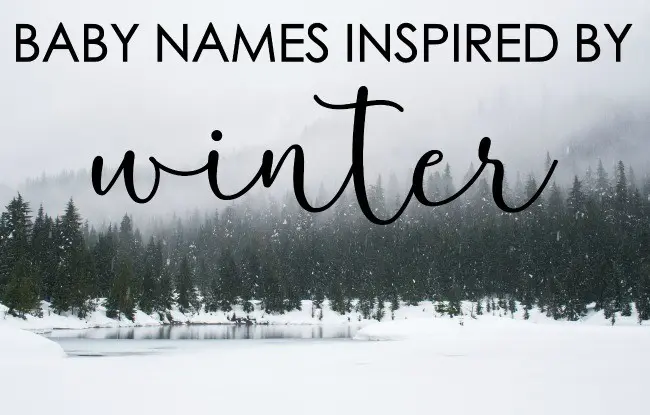 Winter is a lovely time to have a baby. Perhaps, my favorite. It was just so cozy!
The warmth, the weather, and the extra dark days inspire many names; some that might just be perfect for your baby! So whether you give birth during the winter months, conceive during this season, or just love what winter represents – consider one of the following for your little darling!
Winter — Too obvious? Well, Winter, or Wynter if you want to get fancy with the spelling, is a a great first or middle name for both boys and girls.
Neve — Italian for snow, isn't it gorgeous? Neva is another option.
Jenara — A derivative of January. Or, skip the spin on January and just go with that, like January Jones' parents did.
Jack — A la Jack Frost!
Holly or Ivy — Two beautiful winter plants.
Alaska — I just read a book, Looking for Alaska, and the character by that name is vibrant! Now I'm in love with it for a baby name. Strong and fierce!
Kodiak — On the Alaska theme with a great nickname of Kodi.
Aspen or Whistler — Think of your favorite ski resort and the sky is the limit.
Clove, Rosemary, or Cassia — All winter herbs/spices.
Bianca, Aubin, or Gwenyth — All mean white in various languages.
Eira — Welsh for snow.
Snow — After all, it worked for Snow White. Or maybe go with Rose Red?
Merry/Meri — Feels like Marie, but with winter flair.
December — With a nickname of Ember, I'm smitten! Works for November too!
Alder, Branch, Douglas, Juniper, or Noble — Oh yes, your tree can inspire baby's name.
Wren, Robin, Cardinal — Winter birds
Whittaker — It means white field and if you ask me, it's an amazing name for a little boy to grow into.
Elsa — Forever the name we will all think of when we imagine the power and beauty of snow.
Eve — In honor of Christmas Eve and New Year's Eve.
Coal/Cole, Ash/Asher, or Blaze — The glow of a fire is exudes inspiration for warm feeling names.
Last, but not least, there are a swarm of Christmas names like Nicholas/Nicolette, Noel/Noelle, Gabriel/Gabrielle, Christian/Christine, Shepherd, Natalie/Natalia, Luca/Lucia to honor babies born on or around the holiday.