Winter has always been my favorite season to be pregnant.
I don't swell as much as I do during my summer pregnancies, delicious food abounds, and holiday maternity outfits are truly stunning – what's not to love?
Well, for starters, the holidays can be an especially stressful time of year. There are so many obligations … gifts to buy, decorations to procure and set-up, photos to arrange, and more. Honestly, by the time October arrives, I'm cringing a little at all there is to do in the coming months.
This year though, as I enter my third trimester the week of Thanksgiving, I'm making a list of all the things I DON'T have to do this year. After all, I'm pregnant! What other excuse do I need to simplify and take it easy this holiday season?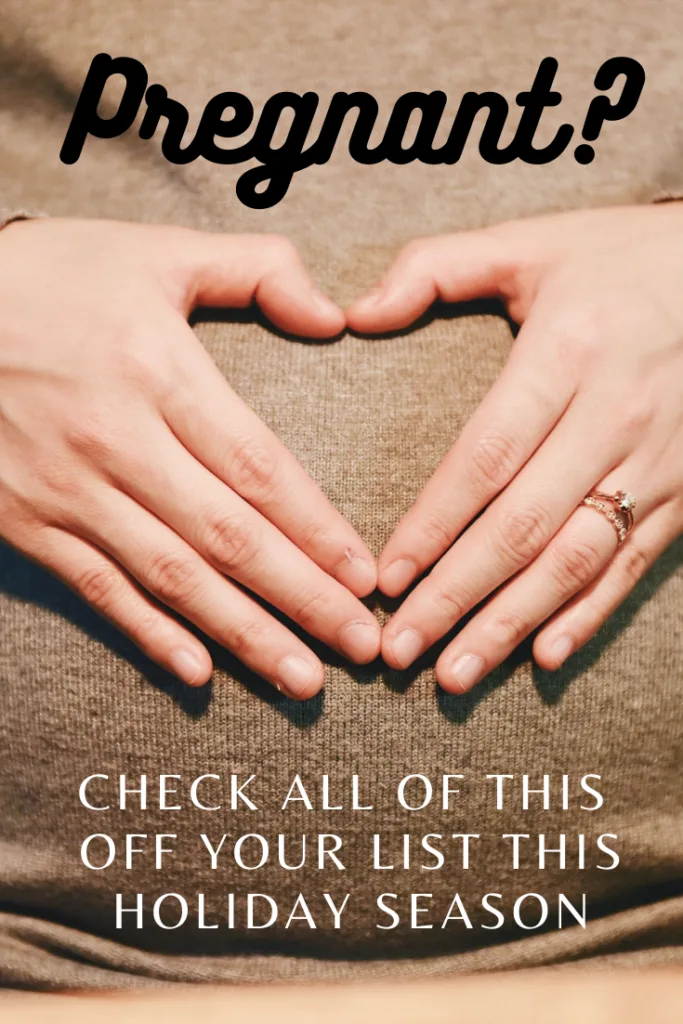 Pregnant Host
"You have such a lovely dining room, can Christmas dinner be at your house this year?" Just say no. No thank you. Not this year. You don't need to extra work of cleaning, cooking, or welcoming guests no matter if it's one or twenty when you are pregnant. Feel free to attend whatever you feel up to, but definitely pass on hosting gatherings while you're expecting.
Set up holiday decor
There are five large tubs of Christmas decor in my garage. This year though, only one will make the trek inside; the one with Christmas ornaments. Everything else will hold out another year. My banister doesn't need garland and my bookshelves don't need reindeer figurines. The tree will be plenty.
Wrap gifts
Normally I enjoy wrapping coordinating gifts with ribbons and pretty name cards. This year though, I really don't want to set up an entire wrapping station and be shuffling all over the floor measuring and cutting paper. Bags and tissue paper it is. Done and done.
Pregnant Travel
For 2020 especially, travel is no go. But generally speaking, when you're pregnant don't at all feel obliged to travel Christmas Eve, Christmas morning, or any other day during the holiday season. You are pregnant, take this year to rest, relax, and bond with your soon-to-be born baby.
Contribute homemade
For the things you do choose to participate in, don't for one minute feel like you have to wow the crowd with homemade cookies or side dishes. Bakeries and grocery store delis do a fine job at preparing those things so save yourself the trouble, take an afternoon nap, and pick up the goods on the way to wherever you're headed.
Now, I share all of this with the caveat that IF any of these things bring you joy – do it! My point is, when you're pregnant during the holidays it's best to take the time off to rest, savor, and enjoy the season rather than filling your to do list with things you think you need to do. At this point, you need to make YOU a priority. Because, in just a short while your baby will be here and they'll become the focus of your time and energy.