Have you ever attended a Pampered Chef party? If not, you're missing out! They have many kitchen tools that you'll want to have.
They're simple and fun and there is no doubt in my mind that Pampered Chef has the greatest kitchen tools around! Pampered Chef parties are usually hosted in your home. A consultant comes and makes a meal with ingredients you provide and their Pampered Chef tools.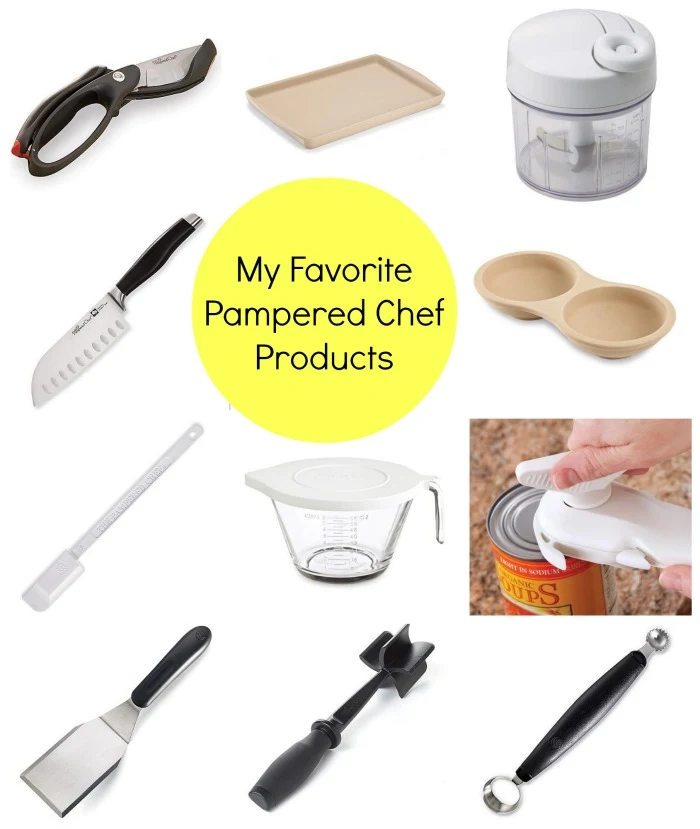 They showcase some of the best Pampered Chef products to your guests with the meal prep and then you all get to enjoy a labor-free meal! Catalogs are available to purchase your favorite Pampered Chef products and then you get to recreate the magic in your own kitchen!
I've both hosted and attended a number of parties over the years. Most recently being a bridal shower themed one for my sister. We had a registry wishing tree filled with the most popular Pampered Chef items she was hoping for, so when guests were placing their personal order they could select Pampered Chef products on the bride's wish list to purchase as their shower gift too!
Today I wanted to share a round up of my favorite Pampered Chef products; all the ones I couldn't cook without! Or in the least, truly appreciate the ease they bring to my kitchen! These Pampered Chef items will surely be your new favorites too. Here's my Pampered Chef favorites list…
Salad Chopper – These are one of my newest acquisitions – they are amazing for cutting bite-size salad, but even more, they're the best for chicken and pulled pork!
Large Bar Pan – I use this everyday! Cookies, pizza, fish sticks – you name it, my bar pan has cooked it.
Manuel Food Processor – Another newbie to my kitchen and just about a daily user. It creates perfectly diced or minced onions and tomatoes and can even whip up a yummy pesto in a breeze.
5″ Santoku – Good knives are a true kitchen commodity. This one is my most used by far.
Microwave Egg Cooker – Remember this recipe? Well, the microwave egg cooker has made it a billion times easier!
Skinny Scraper – Fits into everything and helps me not waste the bottom of containers. Woohoo!
Classic Batter Bowl – Love that it has a lid for easy leftover storage.
Smooth-Edge Can Opener – After an unfortunate run in with a sharp can edge, I made this smooth-edge can opener my next Pampered Chef purchase. Love it!
Large Serving Spatula – Most often used for pancakes and cookies at our house, but this serving spatula works for everything.
Mix 'N Chop – After our recent move, I tried to reduce the "gadgets" in the kitchen, but this is one I'm never letting go of. Perfect for chopping ground beef, making strawberry shortcake topping and guacamole!
Core & More – Speaking of strawberries … I'm always sad about the amount of berry I lose when using a knife to hull it. The Core & More takes off just the green.
Interested in hosting a party? Find a local consultant in your area. Hosting a party earns you great Pampered Chef rewards and free products! Or, if you want to quickly place an online order, feel free to connect with my favorite consultant, Rachel!