You know there are free Mother's Day gifts that moms will love, right? Mother's Day is one of my favorite holidays. Not because it's my special day and I get pampered, but because it gives me a reason to pause and remember how truly blessed I am. My kids and the intense task of raising them is a mountain I'm eager to climb each and every day. Some days I trip and fall, but for the most part, they're all wonderful, adventure-filled days with my favorite little people. This journey of motherhood isn't an easy one, but it is a good and worthwhile one.
As much as I appreciate a thoughtful gift from the mall in celebration of Mother's Day, truly, it's the thoughtful gifts that don't cost a thing that mean the most to me. If you're a dad, take note of these extra thoughtful gifts and encourage your kids to join in. Or, if you're grown and looking for a way to celebrate your own mom who poured into you for some many years, I can almost guarantee that she'll still love and appreciate these gift ideas too.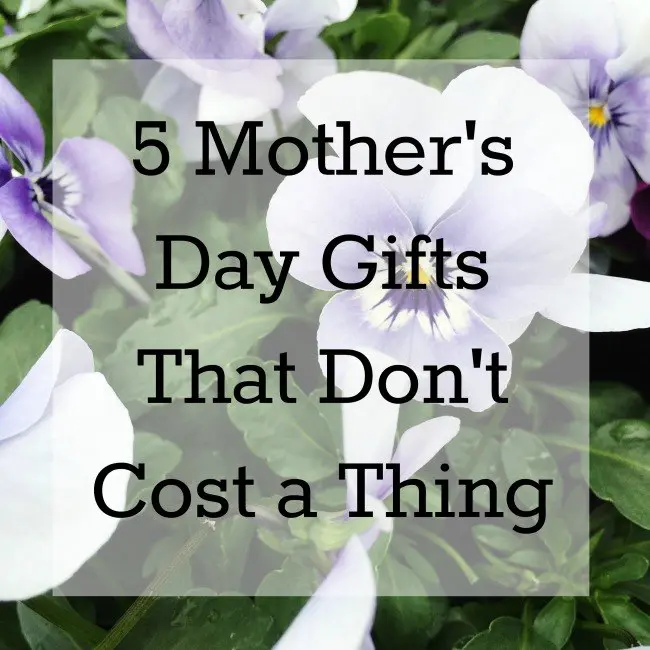 Breakfast In Bed… Or Any Planned Meal
Moms tend to bear the weight of feeding their family. Give your mama a break and take over the kitchen for a day! Simple can be wonderful so don't feel overwhelmed trying to plan a restaurant style meal. Think grilled sandwiches with extra ingredients (my personal favorite is turkey, havarti and apple slices on sourdough!) or a pasta salad picnic. Most important, leave the kitchen cleaner than when you entered it!
A Quiet Hour, Alone!
All my mama friends agree, peace and quiet is on the top of our wish list this Mother's Day. Find a calm corner in your home, brew your mama's favorite tea, and set her up with a candle and a book. Tell her to breathe deep and relax!
Outdoor Adventure
Arranged bouquets are gorgeous, but you know what I enjoy even more? A visit to a fancy garden! Plan a morning or afternoon and drive your mama to a local garden. Walk, visit, and enjoy time together! If you want to spend a little, bring home a potted plant and plant it together. Or, if your mama is a real adventurer, skip the garden, and head out on a hike to catch a glimpse of wild flowers!
A Happy Cleaning Crew
Before Mother's Day, ask your mama for a list of home priorities. Every mom has a list of things spinning in her mind that she just doesn't have time for. Mine includes scrubbing the dusty air vents, moving a bunch of boxes in the garage, and reorganizing the pantry. Plus there is all the daily stuff that is always piling up. Get the whole family involved and bust through mama's cleaning list, whistling while you work, of course!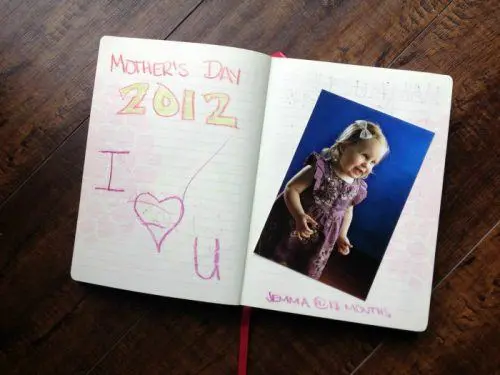 The Never-Ending Card
Cards can get expensive holiday after holiday, that's why I'm a huge fan of this never-ending card – invest one year and never have a card expense again! This ties in well to my kids love for art work. I cherish the homemade pictures from my son and daughter and especially love when they draw photos of our family or one of us reliving a fun adventure. Those pictures can easily be glued into this journal of cards and appreciated year after year.
What free Mother's Day gifts do you appreciate as a mom?