Dear mamas … your special day is around the corner and I'm crossing my fingers that the day will greet you with healthy children, sweet husbands and a mimosa or two first thing in the morning 🙂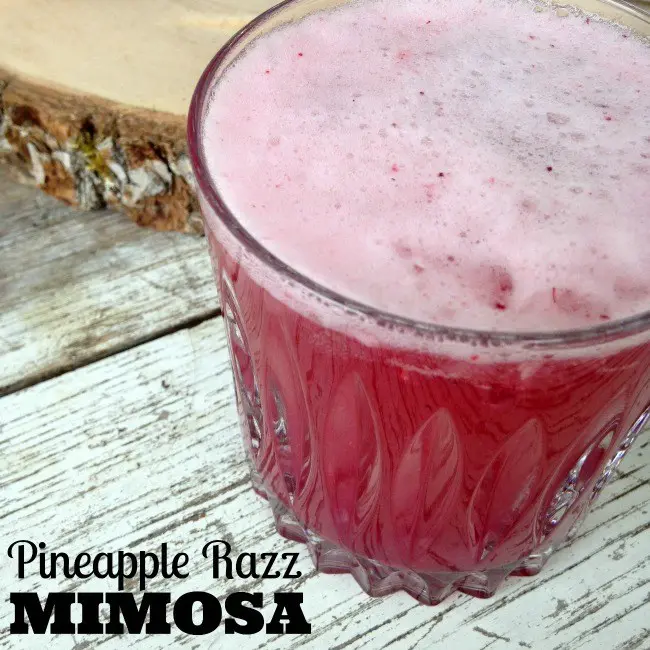 I'm all about my evening cocktails on occasion, after the littles are tucked snug in bed and I'm alone, quiet on the couch with a good book or movie. But Mothers' Day? It calls for a whole day of celebration and mimosas are just the way to do it! Traditional ones integrate citrus, but I thought a pink spin would be perfect.
So, cheers mamas on your special day … forward this recipe to your husbands and make sure he knows that if these arrive Mother's Day morning that he'll get one to sip on too!
PINEAPPLE RAZZ MIMOSAS
This recipe will yield one cocktail so double, triple or quadruple depending on how many you're serving.
INGREDIENTS
5 tablespoons raspberries – fresh or frozen + thawed
1 large scoop of ice
1 part pineapple juice
1 part champagne
Pinapple Razz Mimosas DIRECTIONS
In a small tumbler muddle your raspberries in the bottom until they're crushed into small pieces. Add 1 scoop of ice. Pour 1 part pineapple juice into your glass and top with 1 part champagne … watch for the bubbling so it doesn't overflow 🙂 Serve immediately and enjoy!
MORE DRINK RECIPES
Fall Drinks You Can Make at Home
Patriotic Drinks for 4th of July