The first few months with twins were some of the roughest days of my life. The sheer physical and emotional exhaustion was ridiculous, but now, 18 months later, I can see that there were a few things I did (or could have done) to make those early months less painful. So here are my 5 tips for surviving the first few months with twins. I hope they help out some expectant moms!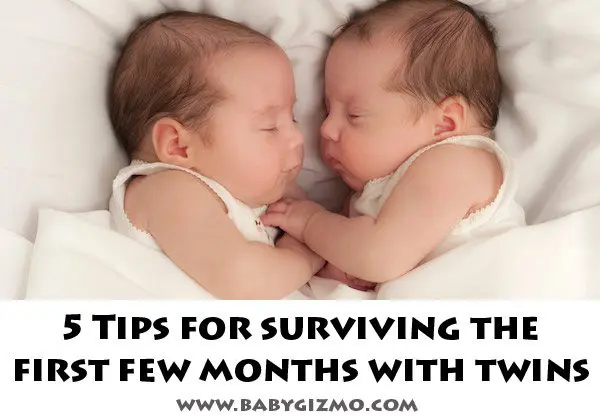 1) Keep Them on the Same Schedule
From the beginning, I fed the babies at the same time and made them sleep at the same time. This made my life a million times easier. Keeping them on the same schedule was the only way I could preserve my sanity.
2) Share the Night Shift
My husband and I would split the night feedings. Since he did better staying up late than getting up early, he would take the first part of the night. I would do a feeding around 9 pm, then immediate go to sleep. My husband would stay up till midnight or 1 am to cover the next feeding or two, then he would immediately go to sleep. I would cover all feedings after that. I usually got to sleep for a solid 5 hours in a row. This made a HUGE difference in those very early days when the girls were feeding every 2 hours.
3) Netflix to the Rescue
I binge-watched so much TV while nursing those girls. I had no brain cells to think or converse or interact at all, but Netflix helped the time pass and kept me entertained along the way.
4) Your Favorite Snacks
I kept dark chocolate trail mix on my night stand 24/7. If you are stuck in bed, nursing day and night, and wearing spit-up stained pajamas, you better have tasty snacks to put a smile on your face.
5) Strong Support System
Your husband, mom, mother-in-law, sister, grandmother, aunt, friend, neighbor, whoever. Let anyone who offers help. Ask anyone who doesn't offer to help. Save your pennies and hire someone to help. And if all else fails, request notes of encouragement, friendly text messages, prayers, letters, e-mails, any and all forms of daily support. Don't do this alone. Get help, practical as well as emotional.
Any other ideas for surviving the first few months with twins?